Nashville Hot Chicken Pizza
The Starving Chef is supported by Hungry People like you. When you make a purchase through an affiliate link on my site, I may earn a little bit of cash on the side (at no extra cost to you) to help keep my kitchen running. Read our disclosures here.
If you're looking for a taste of some Tennessee heat, look no further than this Nashville hot sauce chicken and PIZZA mash up.
That's right ya'll.
It's NASHVILLE HOT CHICKEN PIZZA. Completed with a drizzle of sweet, sweet honey this pizza has a blazing hot sauce topped with fried chicken and chilled pickles and onions. Tell me a better combo. I'll wait.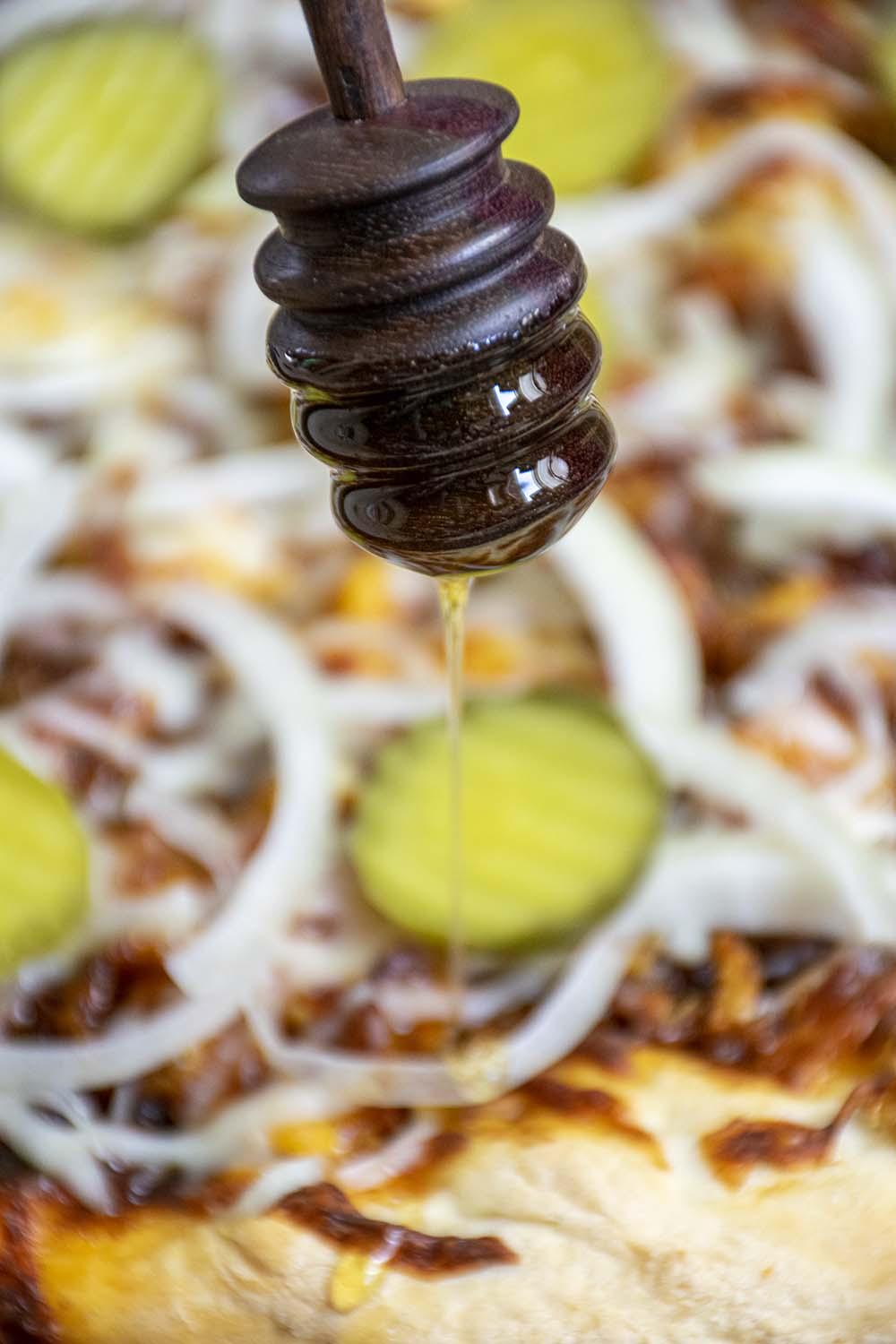 It's all about that 'ZA
There are a few ways you can go about making this pizza. The recipe below will walk you through the easiest version possible, with ingredients that are accessible for anyone to use!
However I don't recommend using just any pizza dough. Especially 'canned' varieties or precooked crusts that you can usually spot near the pizza sauces section at the grocery store. Recently, I've seen many of my local grocery stores selling bagged, premade pizza dough for you to take home and make your own pizza! Which is great since most people don't have all day to make their own crust, considering all that rise time.
If you don't see any in your chilled deli area, you might also have some luck finding pizza dough in the freezer section. I've had luck finding frozen pizza dough myself, but be warned that the thaw time is nearly just as long as a rise time at the end of the day.
But if you really want a gourmet pizza, feel free to make the dough from scratch. Or make your own chicken wings, dredged by hand. Heck, you can even make the mozzarella at home if you're so inclined.
Regardless of how you aquire your dough the most important factor is letting the dough reach room temperature (or even a touch warmer) to get a rise bubbly crust.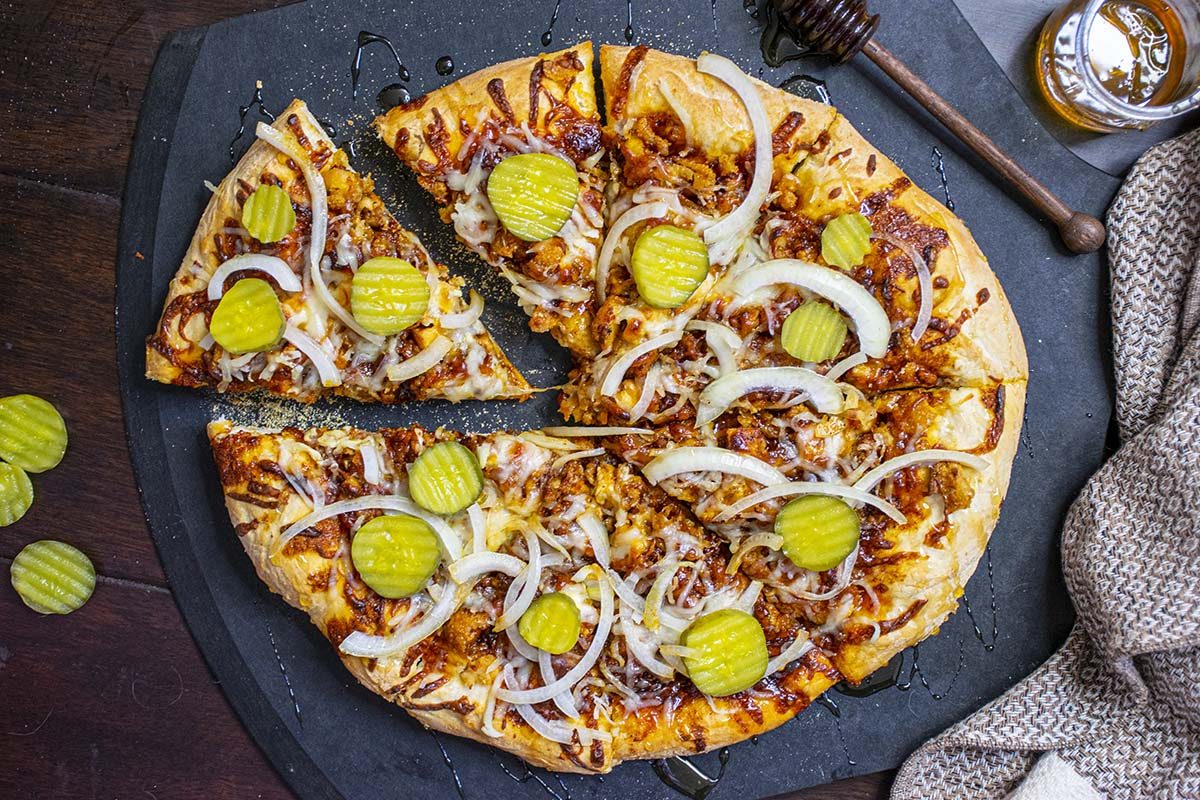 What's in Nashville HOT Sauce?
If you are craving the authentic flavor of a Nashville hot sauce with some actual HEAT then look no further. While this sauce makes the base of the pizza in this recipe, there is plenty left over to use on traditional wings, pork chops and more!
butter – other recipes might call for oil but the real key to getting a rich and thick sauce is to use LOTS of butter
honey – start of sweet to trick your taste buds into craving MORE heat
brown sugar – adds notes of caramel under the heat
apple cider vinegar – adds some twang to the sauce
cayenne – I'm going to use A LOT of cayenne pepper in this recipe, but feel free to adjust the amount to fit your personal taste (though authentic Nashville hot sauce should make you SWEAT!)
smoked paprika – make sure it's SMOKED for more in depth flavor
black garlic – you can also substitute for regular garlic, but black garlic adds sweet AND earthy notes the sauce
chili powder – what, you scared of MORE HEAT?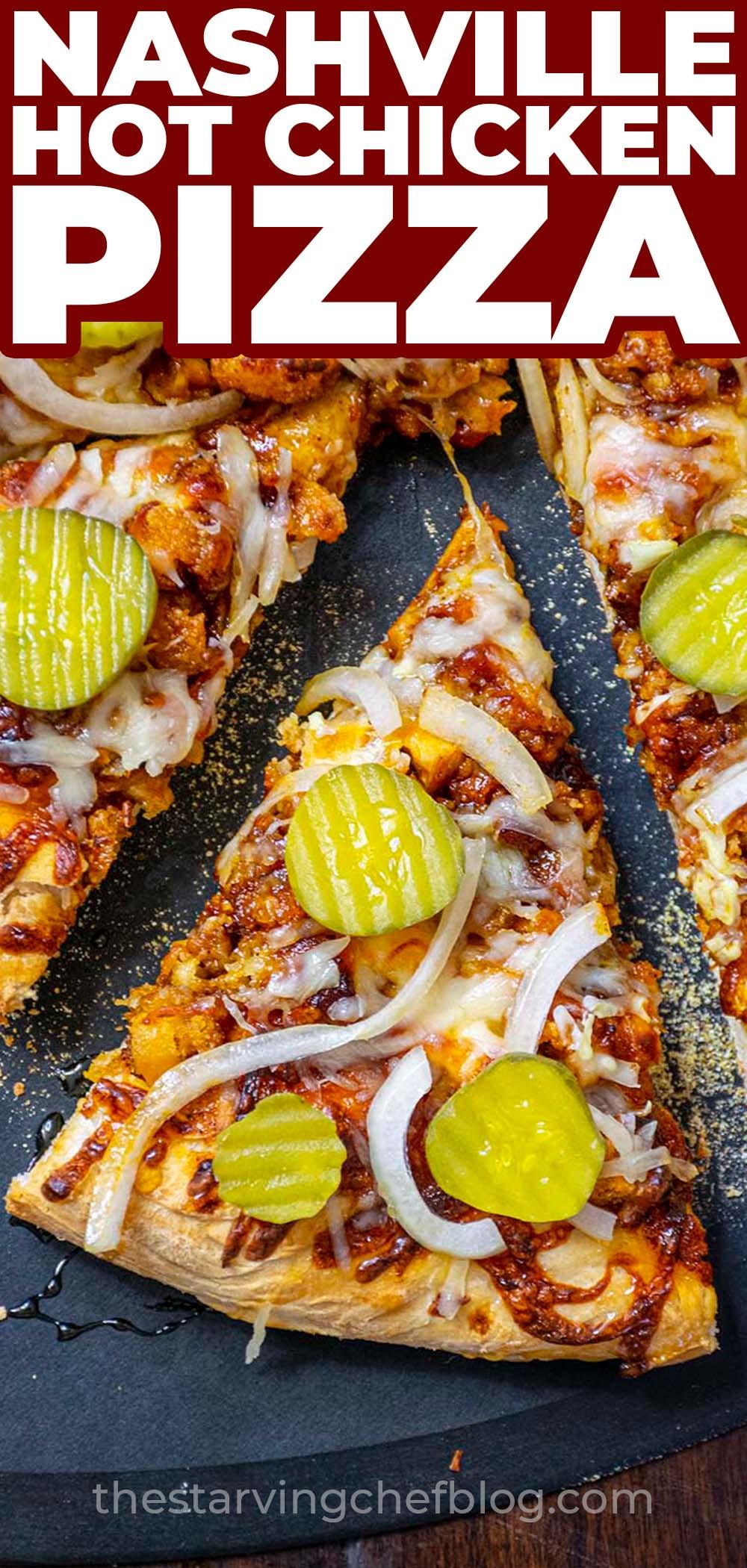 Mix 'n' Mash HOT & COLD Toppings
During the initial baking of the pizza, we're only going to top it with mozzarella and our chopped Nashville hot chicken. This will ensure the sauce is baked into the crust and the cheese will hold it all together.
But to really give your tastebuds a one-two PUNCH we're going to leave our onions and sweet pickle slices chilled and wait to toss those on at the very end.
Your mind will be blown not only by the sweet-meets-heat Nashville Hot flavors but the mishmash of the hot pizza combined with the chilled pickles and onions will leave you craving this pizza long after you've eaten it.
(Good thing you can make it whenever you want!)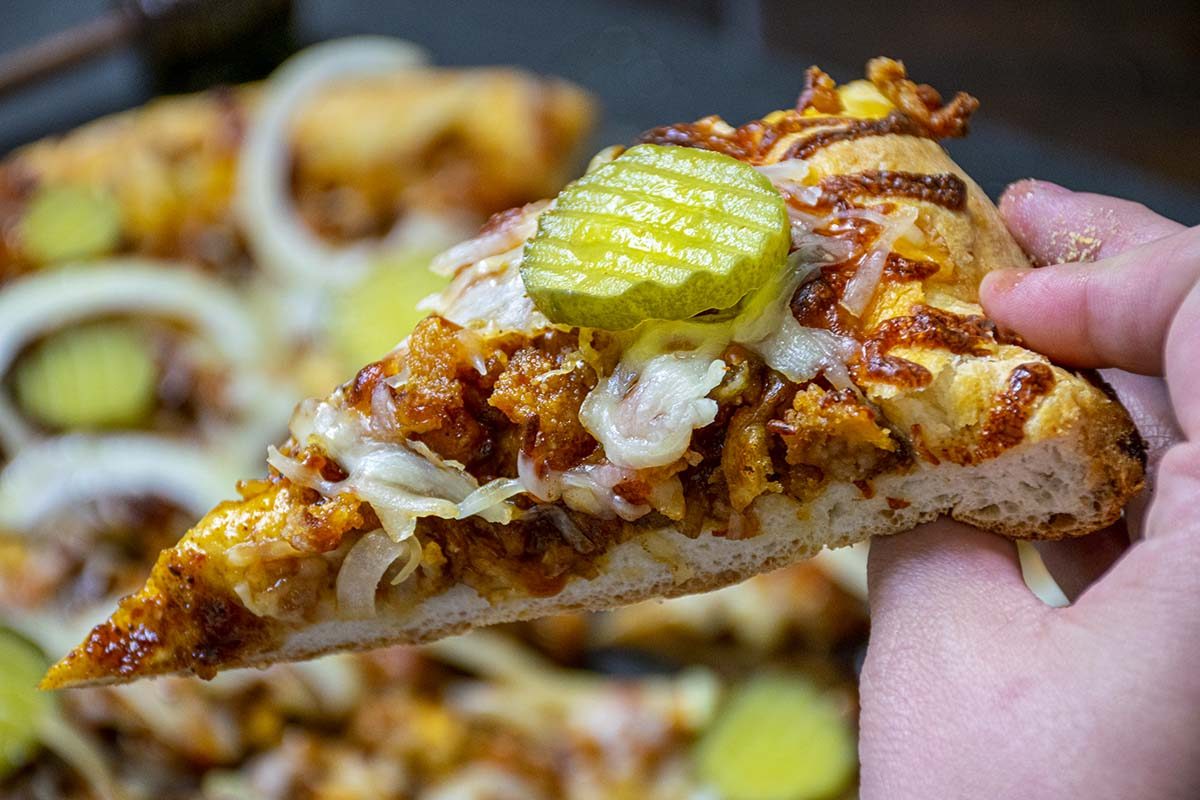 Nashville Hot Chicken Pizza
Looking to make your very own Nashville Hot Chicken Pizza at home? Here's how you can make your own Nashville HOT pizza at home!
Ingredients
16

oz

raw pizza dough

store bough or homemade equivalent

2

tablespoons

flour

for dusting

8

popcorn chicken tenders

cooked & roughly chopped

½

cup

mozzarella cheese

shredded

2

tablespoons

honey

for drizzling

¼

cup

Nashville Hot sauce

recipe follows

chilled dill pickle slices

for topping

chilled sweet onion

sliced for topping

corn meal

for dusting
Instructions
If using a pizza stone, preheat at 425 F for at least one hour or while prepping the pizza.

Cook the chicken according to the instructions on the package. Cool while preparing the sauce and then roughly chop.

Prepare the Nashville hot sauce by first melting ½ cup of butter over medium heat until frothy and beginning to brown. Whisk in the honey, apple cider vinegar and brown sugar. Then add the cayenne pepper, smoked paprika, and garlic and chili powders. Season with salt and pepper, to taste.

Simmer sauce over medium heat for 10 minutes then reduce the heat to low and cook for another 15-20 minutes, until the sauce has thickened. When the sauce has thickened, stir in the remaining butter. Remove from the heat and keep warm.

Dust a flat surface with flour and roll out the pizza dough to a quarter inch thick and about 12-14 inches round. If using a pizza stone, transfer the dough to a pizza peel dusted with corn meal.

Brush on about a quarter cup of Nashville hot sauce, leaving a crust around the edges. Top with the chopped chicken and mozzarella cheese. Bake 10-15 minutes, until the crust is golden brown.

Top the pizza with chilled pickle slices and sweet onion. Drizzle with honey as desired. Slice and enjoy!