Nepali Momos
The Starving Chef is supported by Hungry People like you. When you make a purchase through an affiliate link on my site, I may earn a little bit of cash on the side (at no extra cost to you) to help keep my kitchen running. Read our disclosures here.
Nepal has always held a special place in my heart, especially since that is where my sister was adopted from. I recently reached out to her biological mother and sister for suggestions on the most authentic Nepali meal there is – and they both agreed that momos were the way to go. Thanks for the help, Tara and Binita! I did a little research and came to find that momos were brought to Nepal from Tibetan monks and the dish quickly gained popularity from there, spreading even into India and China. With all of the different combinations of momos you can make, I can see why these tasty treats took off.
For my momos, I used a 50% turkey, 50% veal combination – mostly because I accidentally grabbed ground turkey instead of ground pork – but you can use any mix of chicken, pork, or veal for your meaty filling. Momos, the food, are the inspiration behind Momo, the flying lemur's name, in Avatar: The Last Airbender, and this may or may not be a brief sneak peak into the other recipes you can expect to see this week on The Starving Chef. Also, if you have never seen Avatar, drop everything you are doing and go watch the series now. Not the movie. THE SERIES. It's worth the time, I promise.
Start by creating a crumbly dough with the oil, salt, and flour. Add just enough water for a firm dough to form. Cover with plastic wrap and let the dough sit in a warm place for about 30 minutes.
While the dough is resting, combine the meats, spices, and vegetables in a bowl. At this point, things will start smelling extra good. I love a nice curry scent in the afternoon.
Use your hands to really work everything together. Let the filling cool in the refrigerator for a while as you work out the dough.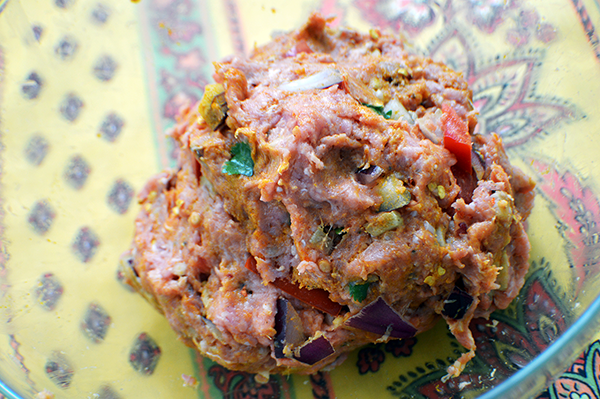 After about 30 minutes, the dough should have softened slightly. Coat a surface in flour and gently knead the dough.
Separate the dough into eight evenly sized portions. Use a rolling pin to draw the edges away from the center to make a circle. You want the center of the dough to be just thicker than the edges, so it holds up better in the steamer.
Use a tablespoon to measure out one to two scoops of the filling into the center of each wrapper.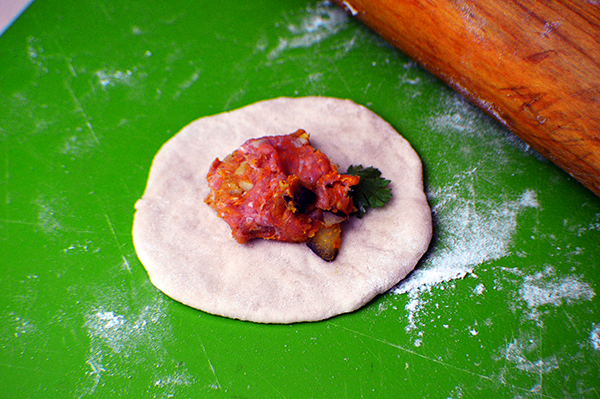 Then just draw in the edges and seal with a pinch of water.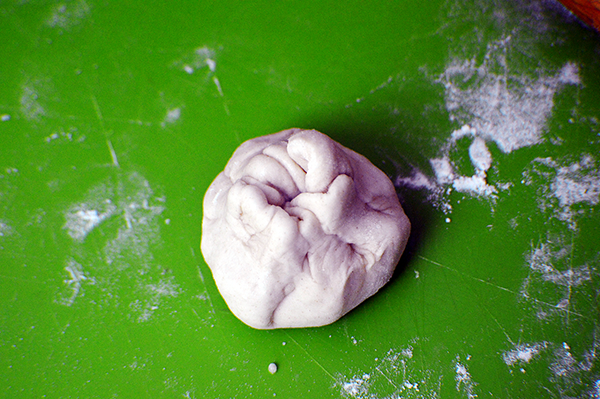 I don't have a fancy bamboo steamer, but I do have a vegetable steamer, which I merely lined with parchment paper (and cut slits though for the steam) and used that instead! I let the momos steam for about 20 minutes to make sure that the meat cooked through.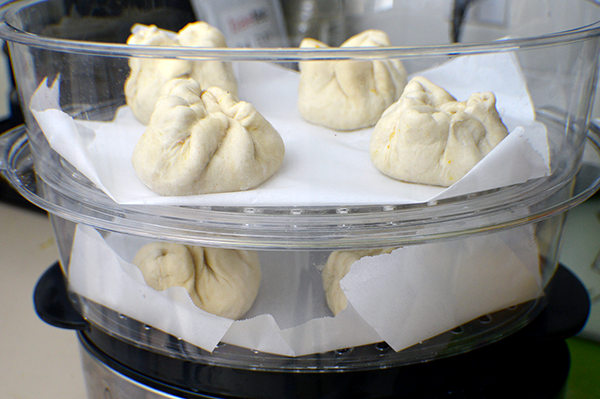 I served mine alongside a major grey chutney and a homemade pudina chutney for dipping sauces. I hope to visit Nepal one day so I can have the real deal, but until then, I suppose these momos will have to do!
Nepali Momos
Make Nepali inspired momos right at home.
Ingredients
FOR FILLING:
8

oz

ground veal

8

oz

ground turkey

¼

cup

red onion

sliced

2

tablespoons

tomatoes

chopped

1

tablespoon

fresh cilantro

chopped

1

tablespoon

ginger

minced

2

tablespoon

curry powder

2

tablespoons

turmeric

¼

teaspoons

nutmeg

1

teaspoon

chile peppers

chopped
FOR DOUGH:
1

cup

flour

+ more for dusting

¼

cup

water

+ more as needed

1

tablespoon

ghee or olive oil
Instructions
Prepare the dough for the wrappers by combining the oil, a pinch of salt, and flour until a crumbly dough forms. Add just enough water until a firm dough can be kneaded. Knead a few times, then place in a bowl, cover with plastic wrap, and let rest in a dark, warm place for 30 minutes.

While the dough is resting, combine the veal and turkey with the onions, tomatoes, cilantro, ginger, curry, tumeric, nutmeg, and chile peppers. Use your hands to mix completely. Chill for 30 minutes.

When the dough is softened, dust a counter top with flour and knead out the dough. Split the dough into 8 evenly sized dough balls. Roll out each dough ball with a pin, making the edges thinner than the center.

Measure out 1-2 tablespoons of the meat filling on to the center of each wrapper. Fold the edges together in the center above the meat. Seal with a brush of water along the edges and pinch closed.

Arrange the momos in a steamer and steam for 20-25 minutes or until the meat is cooked through. Alternatively, if you do not have a steamer, the momos can be sauteed on the stove top in a tablespoon of ghee (or butter).

Serve alongside a heaping plate of chicken biryani and naan. Enjoy!