Nutty-Chocolaty Ohio Buckeye Fudge You'll Love
The Starving Chef is supported by Hungry People like you. When you make a purchase through an affiliate link on my site, I may earn a little bit of cash on the side (at no extra cost to you) to help keep my kitchen running. Read our disclosures here.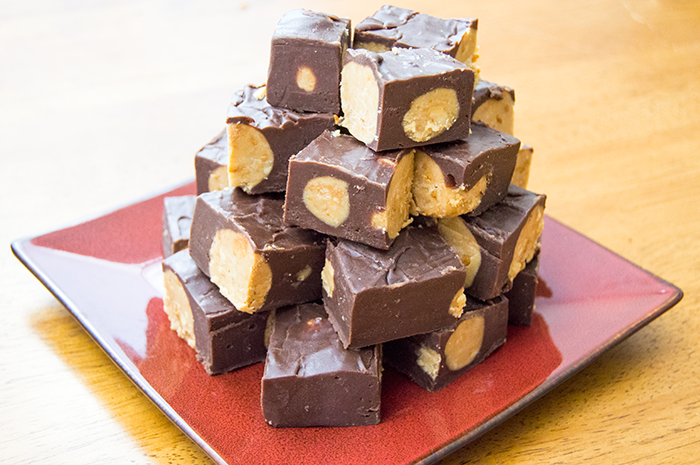 What's Up, Hungry People?
If you're an Ohio native like yours truly, you're no stranger to our state's iconic dessert: the buckeye! But if you're scratching your head, wondering why Ohioans are so obsessed with a nut, let me enlighten you. A dessert buckeye is essentially a heavenly globe of sugary, creamy peanut butter encased in luscious, melted chocolate.
Yep, it's designed to mimic Ohio's beloved state nut.
Now, don't let the word "nut" fool you. The actual buckeye is no joke— it's a menacing sight encased in its spiky shell and, let me tell you, it's as painful as stepping on a Lego if you're barefoot (which I've personally experienced one too many times, as we have three buckeye trees in our very own backyard).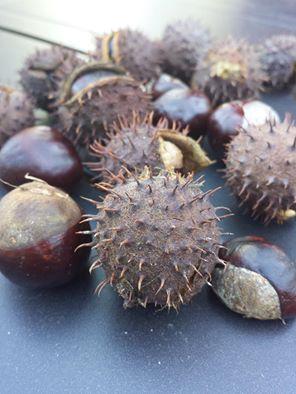 The buckeye is a type of nut that comes from the Ohio Buckeye Tree, scientifically known as Aesculus glabra. Oddly enough, it's not a true nut but rather a seed. These "nuts" are dark brown and glossy with a pale, tan patch, making them somewhat resemble the eye of a deer—hence, the name buckeye. While they may look inviting, beware: they are toxic to humans and most animals when ingested, so don't get any funny ideas!
As for the beloved buckeye dessert in Ohio, it's one of those culinary gems that has its roots firmly planted in local tradition. The buckeye treat was created as a homage to the Ohio Buckeye Tree, the state tree of—you guessed it—Ohio. It's a simple yet genius concoction that mimics the look of an actual buckeye.
Think peanut butter balls partially dipped in chocolate, leaving a small circle of peanut butter exposed. This gives it the appearance of a buckeye but with a taste that's far more inviting. Over time, this dessert has become a staple in Ohio, especially around Ohio State University events and during the holidays. In fact, the buckeye dessert is so well-loved in Ohio that you'll find it at pretty much any local gathering or celebration, because let's be real—nothing unites people like a good, old-fashioned dessert that tastes like home!
This time around, I'm taking that iconic duo of peanut butter and chocolate and giving it a bit of a remix—transforming it into a fudge! We're not just talking any fudge; we're talking about a slab of fudge riddled with mini peanut butter balls.
One bite and you won't help but shout "O-H-I-O!"
Here's What You Need
Chunky Peanut Butter: The heart and soul of the buckeye, providing that nutty, creamy base.
Melted Butter: Adds richness and helps in binding the peanut butter mix.
Vanilla: A subtle flavor enhancer that plays backup singer to peanut butter and chocolate.
Powdered Sugar: Adds sweetness and helps solidify the peanut butter balls.
Sweetened Condensed Milk: The creamy element that makes your chocolate layer dreamy.
Chocolate Chips: The critical second half of our iconic duo, providing the chocolaty coating.
Room-Temperature Butter: Helps in melting the chocolate and adds a creamy texture.
Let's Cook!
Alright, grab a small bowl and your trusty hand mixer. You're going to whisk together the peanut butter, melted butter, vanilla, and powdered sugar. Mix 'em up until the whole thing turns into a crumbly mixture that screams "I'm ready to be rolled!"
Time for some action! Use the palms of your hands to press those peanut butter crumbles. Keep going until they're rollable—yes, that's a word now—into one-inch balls. Roll enough of these tasty orbs to fill a 9×9-inch pan. Lay 'em down in a pan that you've lined with parchment paper and give them some chill time in the fridge.
While your peanut butter warriors are getting icy, focus on the chocolate magic. Melt the remaining room-temperature butter, toss in the chocolate chips, and don't forget the sweetened condensed milk. Stir until smooth. It's like turning rocks into gold but in a kitchen!
Once that's done, cascade that liquid chocolate over your peanut butter balls. Make sure you're not stingy; coat those balls till they're swimming in a chocolate pool. Any gaps? Fill 'em with chocolate. Trust me; no one ever complained about too much chocolate.
Finally, patience is a virtue, Hungry People. Chill your soon-to-be fudge masterpiece for a solid 8 to 10 hours. Cut it into 1×1-inch cubes so that some peanut butter balls are dramatically cut in half, revealing their glorious insides. Keep 'em chilled till you're ready to wow your taste buds.
The Ohio Buckeye Fudge Focus Tips
Chilling Time: Don't rush the chilling process; your fudge needs time to firm up. Aim for at least 8 hours; patience pays in delicious dividends.
Consistency Check: If your peanut butter mixture isn't crumbly enough, add a bit more powdered sugar. If it's too dry, a smidgen more butter can do the trick.
Pan Preparation: Always, I repeat, always line your pan with parchment paper. It makes your life easier when you're trying to lift out the fudge for cutting.
Cutting Technique: Use a sharp knife and possibly even a ruler to get those 1×1-inch cubes. You want each piece to showcase that beautiful peanut butter ball interior.
Alright, Hungry People, there's your Ohio buckeye fudge in all its glory—part creamy peanut butter, part chocolaty heaven, and fully Ohio! Whether you're an Ohio native with buckeye love flowing through your veins or a curious foodie wondering what all the fuss is about, this treat won't disappoint. Heck, you'll probably even start chanting "O-H-I-O" without even realizing it. And the best part? It's easier to make than you think, which means more time for face-planting into this heavenly fudge.
Don't forget to share your experiences and pictures, because we're all just Hungry People at the end of the day, searching for our next foodie fix!
Ohio Buckeye Fudge
Transform the classic Ohio buckeye into an easy-to-make, creamy fudge that's a nutty-chocolaty delight.
Instructions
In a small bowl, use a hand mixer to whisk together the peanut butter, melted butter, vanilla, and powdered sugar. Beat the mixture until it becomes combined and crumbly.

Using the palms of your hands, press the peanut butter crumbles together so that they can be rolled into one-inch-sized balls. Make enough balls to fill a 9×9-inch pan. Place them into a pan lined with parchment paper and put it in the fridge to chill.

While the peanut butter balls are chilling, melt the remaining room-temperature butter, chocolate chips, and sweetened condensed milk. Stir the mixture until a smooth chocolate texture forms.

Pour the melted chocolate over the peanut butter balls, ensuring that all the balls are completely covered and the chocolate fills the spaces between them.

Chill the fudge for 8-10 hours or until it becomes solid. Cut it into 1×1-inch cubes, making sure that some of the balls are cut in half and exposed on the sides. Keep the fudge chilled until you're ready to serve it. Enjoy!
Video