Old Fashioned Chicken Paprikash Soup
The Starving Chef is supported by Hungry People like you. When you make a purchase through an affiliate link on my site, I may earn a little bit of cash on the side (at no extra cost to you) to help keep my kitchen running. Read our disclosures here.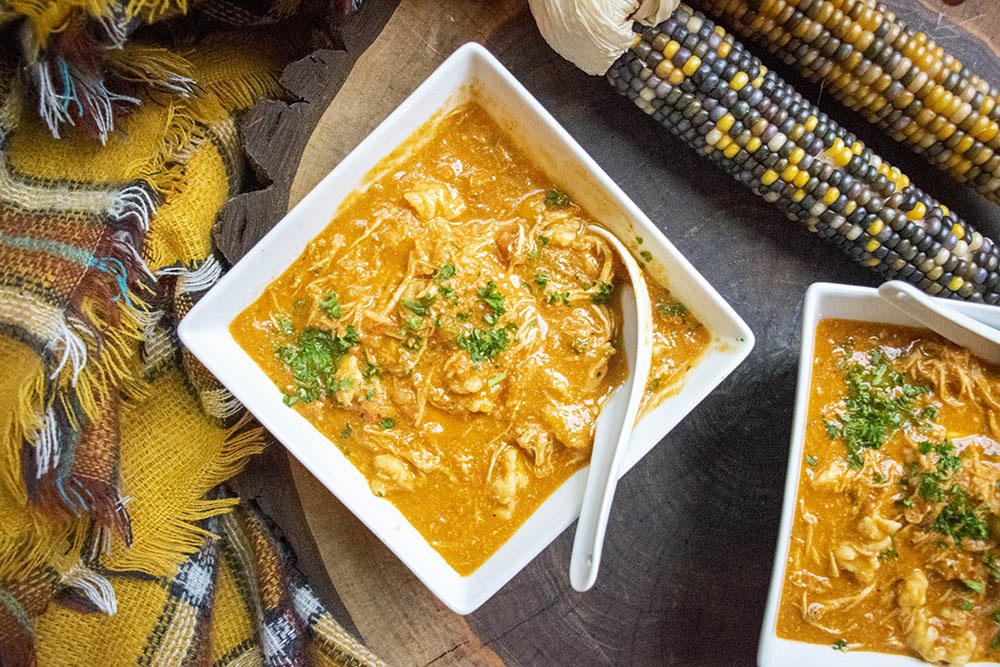 It's the most wonderful time of the year – SOUP SEASON!
This is hands down one of my favorite recipes. Chicken paprikash only came onto my foodie radar a few years ago, and it wasn't until one of my favorite local restaurants transformed the traditional Hungarian dish into a soup that it really caught my attention.
Traditional chicken paprikash is made with bone in chicken legs or breasts that are slowly simmered in a paprika infused sauce.
What kind of paprika should I use?
Sweet paprika is where it's at when it comes to making a traditional paprikash. Paprika is a variety of sweet red peppers that have been transformed into a powdered form. It's a little bit sweet and a tiny bit bitter but adds wonderful depth of flavor to many different dishes.
If you can find it at your store, traditional Hungarian style paprika will really put forth a wonderful soup.
What about hot paprika?
There is such a thing as 'hot paprika' – and if you really want a soup that can clear out your sinuses, you can swap out the sweet for the heat in this recipe if you want.
I find that a blend of sweet and hot paprika can really add a new level of deliciousness to this soup, but do whatever your taste buds prefer!
Paprika to AVOID!
The only kind of paprika I would recommend avoiding for this recipe are smoked varieties. Unless you're into that smoky flavor, traditional paprikas are much better off as the star of this dish!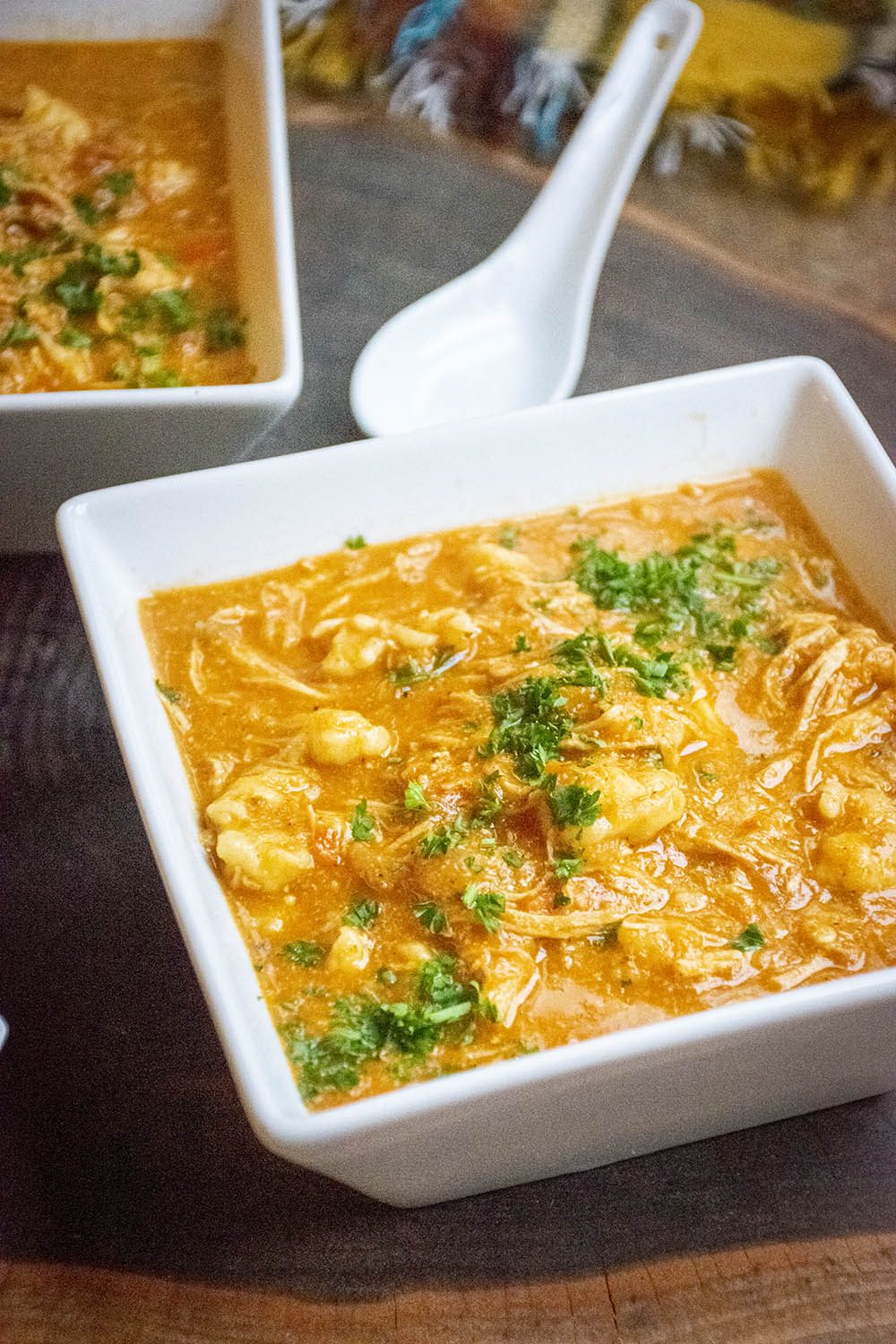 Chicken Shredding Tips!
I used to think that shredding meats by using two forks was tedious and time consuming – not to mention unless you were meticulous, the end result would be more of a chunky meat rather than a shredded one.
That is, until I learned the hand mixer trick.
The best way to shred your chicken – not only for this recipe, but for any recipe that calls for shredded chicken – is to first boil it until it has been cooked through then while it's cooling, use a hand mixer to shred the meat!
I just have your run of the mill hand mixer. While the chicken is still steaming hot, place it into a large bowl and put in the hand mixer whisks. I usually start on a low speed and gradually increase the speed for a finer shred.
Instead of taking 10 minutes to get a nice fine shred, you can achieve the same effect in just seconds with your hand mixer! I'll truly never use a different method – this one works way too well.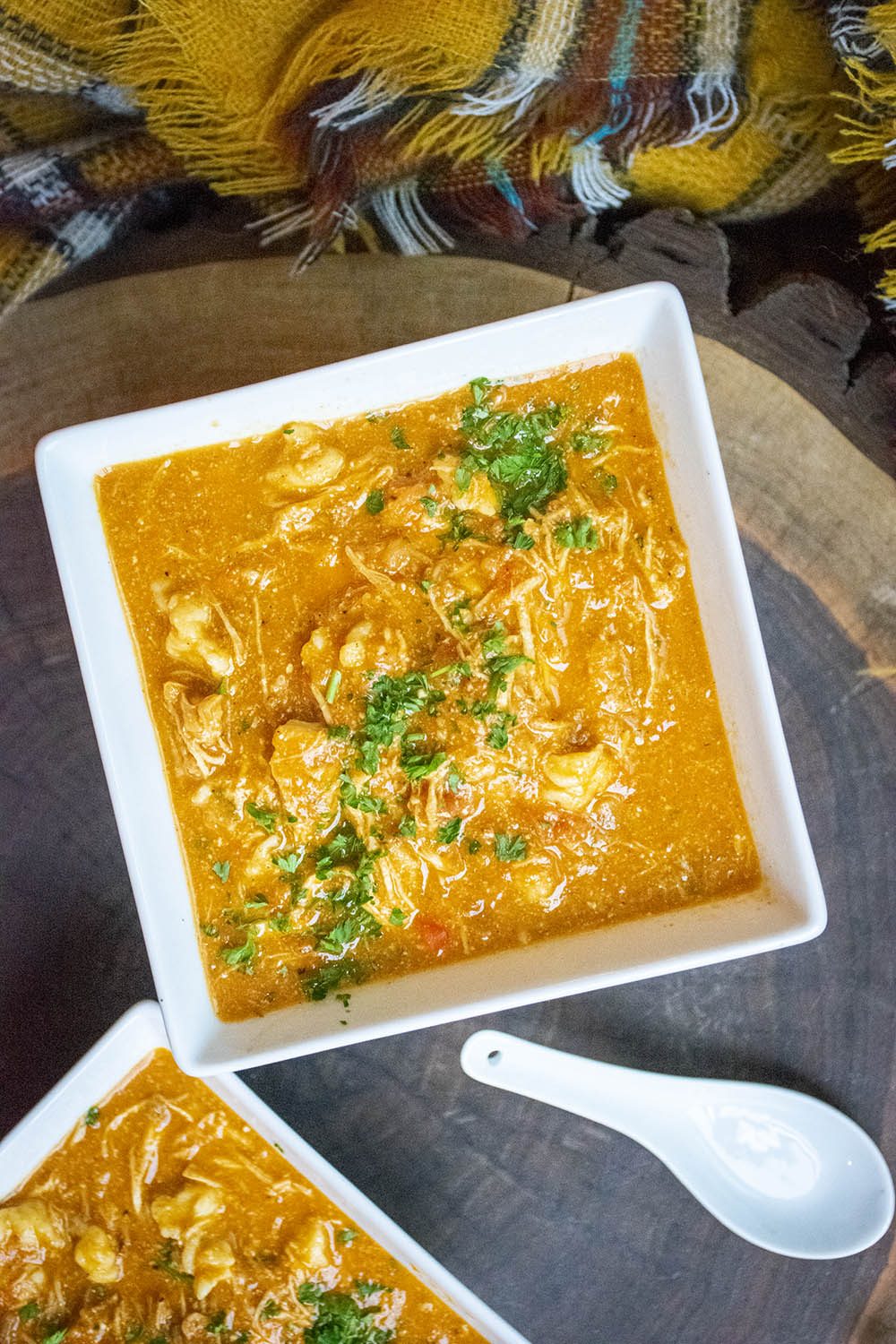 The secret ingredient to this soup, in fact, is not the chicken nor the paprika. Instead, it's the SPAETZEL. Spaetzel is a type of Hungarian noodle that is small, almost chunky bits of egg noodles. Think: a cross between orzo and dumplings.
Spaetzel add awesome texture to many kinds of soup, but nothing short of spectacular when added to paprikash soup! The soup is almost a like chicken and dumplings in a paprika sauce – which is a-okay by me.
You can either make your spaetzel from scratch or scope out your local grocery deli for premade varieties. I've had luck finding spaetzel located near the pierogies and frozen noodles at my home stores. Though I haven't tried it myself, you can probably get away with subbing gnocchi if you can't find spaetzel at your grocery store.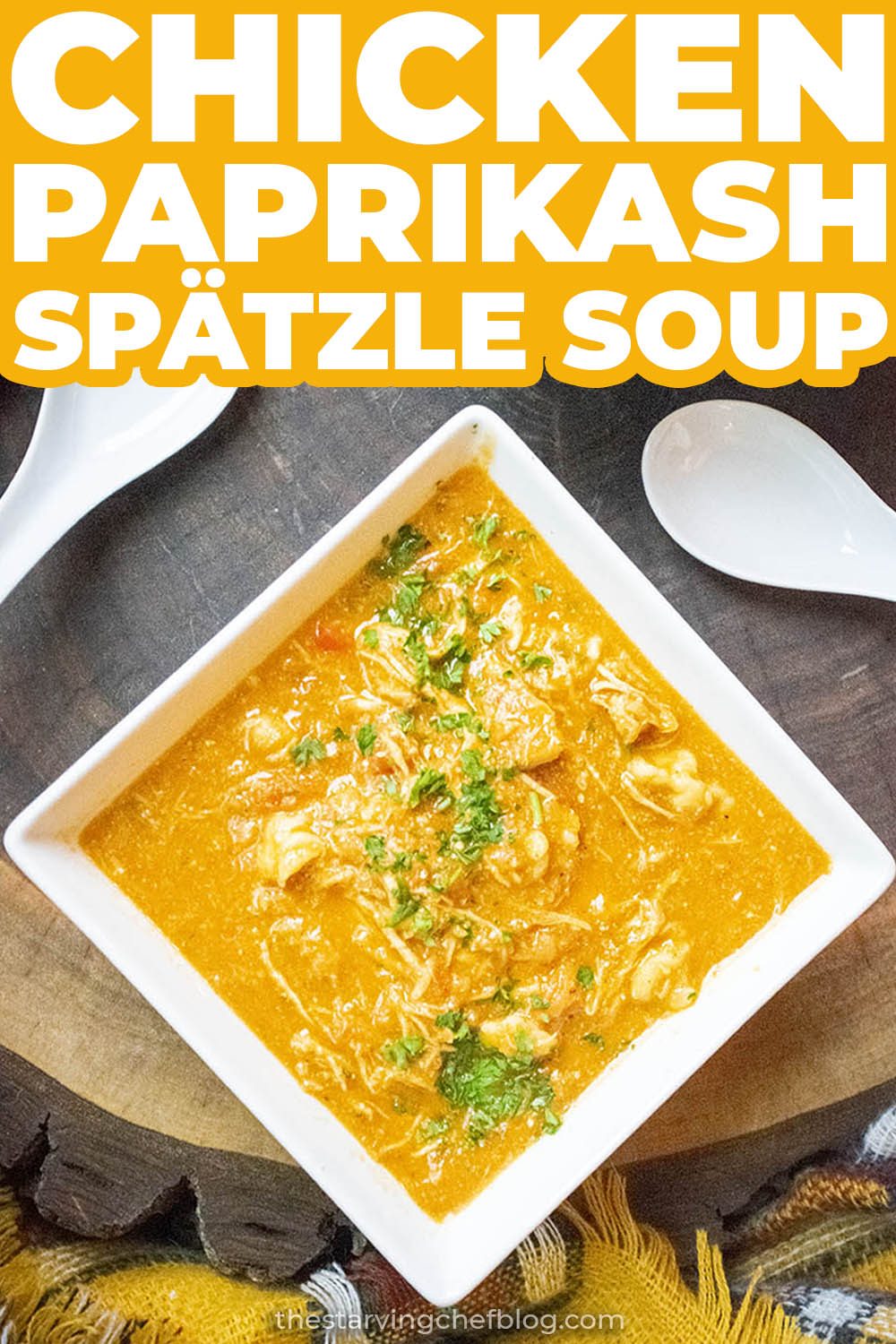 There's nothing better than a steaming bowl of soup on a cold December evening.
Old Fashioned Chicken Paprikash Soup
This modern twist on an old fashioned chicken paprikash dish adds spaetzel to make an incredibly simple soup perfect for any weeknight.
Ingredients
1

chicken breast

cooked & shredded

1

onion

chopped

1

carrot

chopped

1

tablespoon

garlic

minced

6

tablespoons

butter

¼

cup

flour

6

cups

chicken broth

2

tablespoons

sweet paprika

1

teaspoon

Hungarian paprika

or smoked paprika

1

teaspoon

white pepper

¼

cup

sherry

or white wine

1

tablespoon

sugar

2

cups

spaetzel

1

cup

plain Greek yogurt

+ more for topping

salt & pepper

to taste

fresh parsley

for topping
Instructions
Boil the chicken breast until cooked through, about 20-30 minutes. Use a hand mixer to finely shred the chicken. Season with salt and pepper, to taste and set aside.

In a soup pot over medium high heat, add two tablespoons of butter. Saute the onions and carrots until tender, about 5-10 minutes. Add in the minced garlic.

Sprinkle the flour over the contents of the pot and add the remaining butter to form a simple roux. Stir constantly until the flour and butter is coating the onions and carrots.

When the roux is golden, season with paprika, cayenne pepper (optional), sugar and white pepper. Deglaze the bottom of the pot with the sherry, scraping up any browned bits on the bottom.

Pour in the chicken broth and bring to a rolling bubble. Simmer for 30 minutes.

Reduce the heat to medium and add the spaetzle and shredded chicken. Simmer for 10 minutes to cook the spaetzle and heat the chicken through.

Stir in the Greek yogurt and remove from heat. Serve garnished with a dollop of yogurt and parsley for a pop of color. Enjoy!