One Bowl Chocolate Chip Muffin Bread
The Starving Chef is supported by Hungry People like you. When you make a purchase through an affiliate link on my site, I may earn a little bit of cash on the side (at no extra cost to you) to help keep my kitchen running. Read our disclosures here.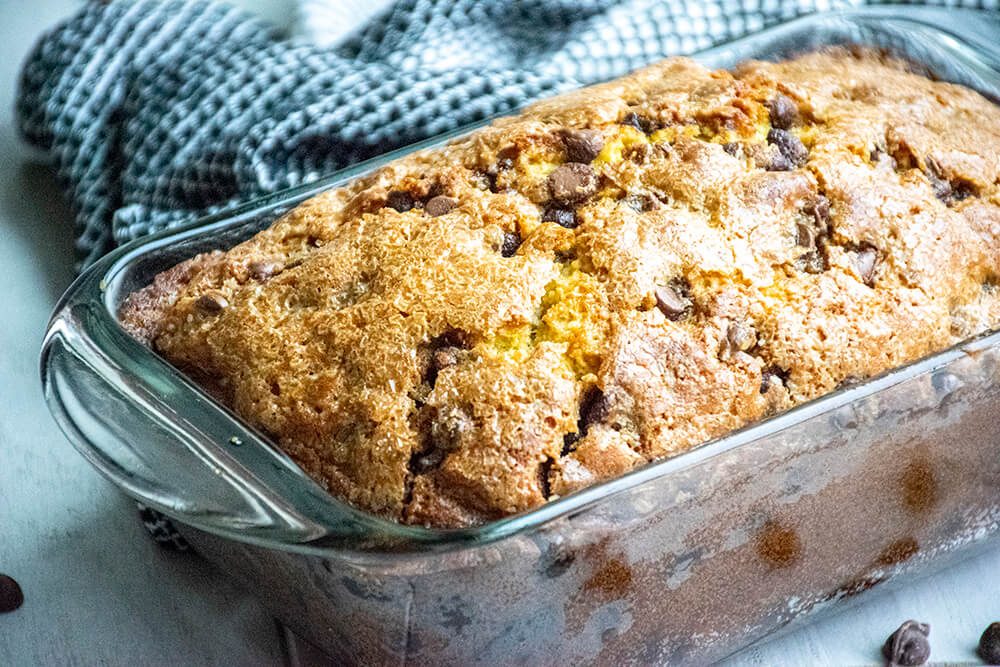 If you love muffins then you are going to LOVE muffin bread. It's my favorite muffin batter, baked into a sliceable loaf.
Another bonus point? You only need ONE BOWL to make it!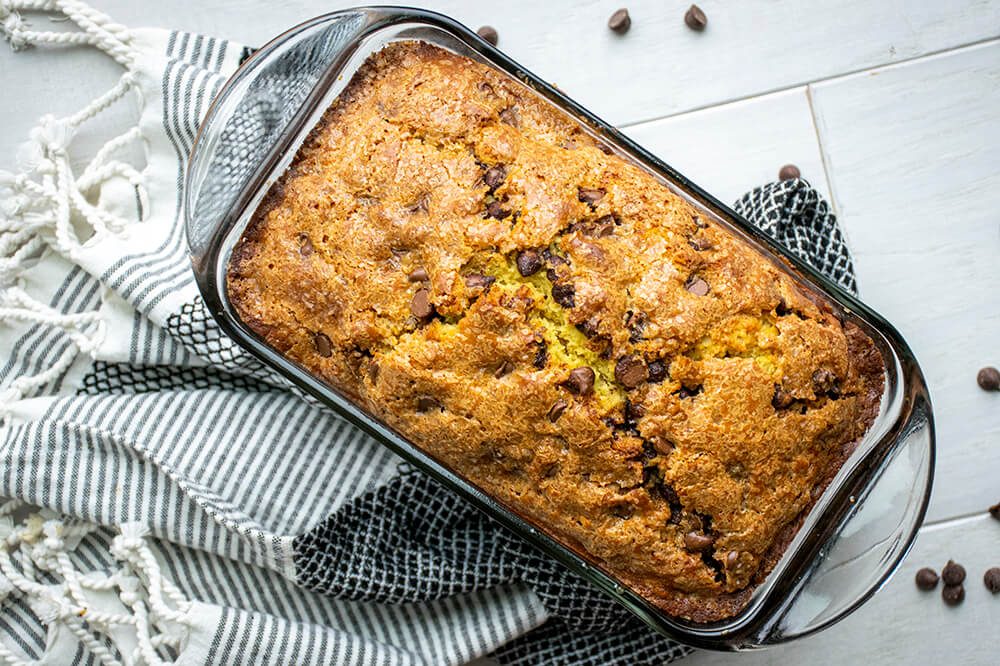 And as if you needed more reasons to love muffin bread, you don't have to clean up a pesky muffin tin afterwards. It's a win, win, win.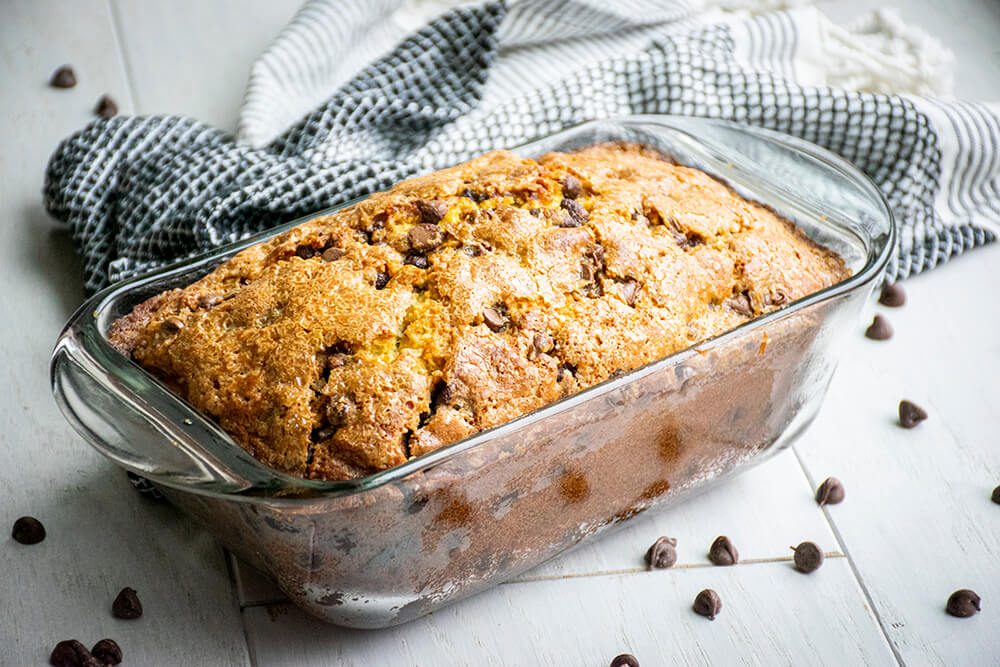 What's a MUFFIN BREAD?
Did I just make it up? Sorta, kinda. Am I declaring it a thing now? Absolutely!
Muffin bread is literally the lazy way out of making muffins. Pour the batter directly into a bread pan and – POOF – you got yourself some muffin bread.
Not all muffin breads are created equal – you want to make sure that the batter is slightly thicker than regular muffin batter since there's more opportunity (and further distance) for add-ins like chocolate chips to sink to the bottom. Some sinkage is inevitable, but if the batter is thick enough, you should end up with a more or less even distribution of chocolate chips throughout each slice.
Oh, and if you've ever wanted a behind the scenes look at how I photograph my food, this is a little sneak peak to what is actually going on in the background: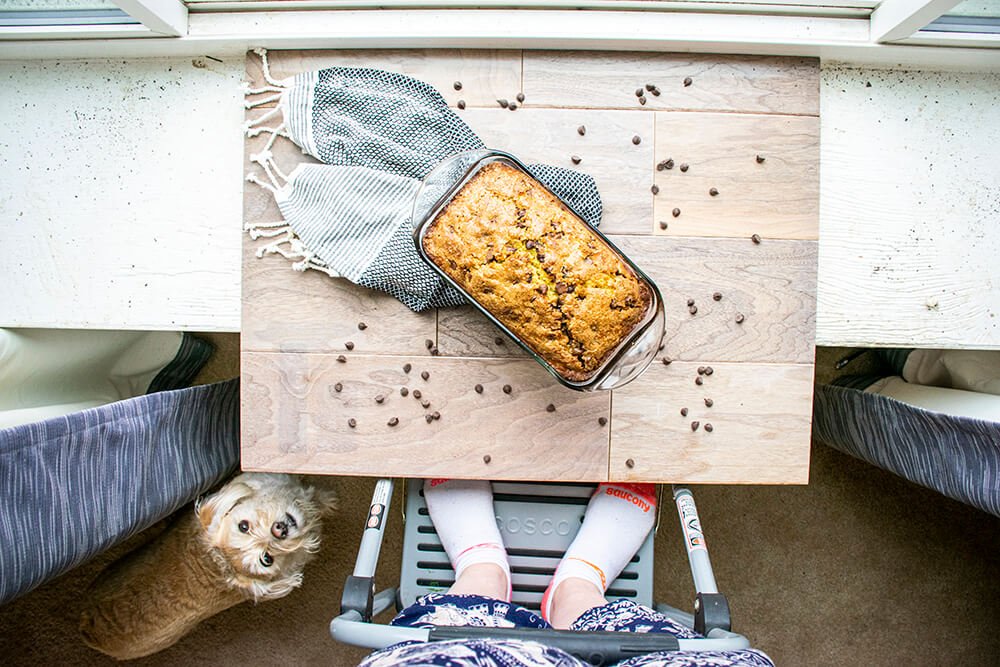 Because muffin bread is a "quick bread" there is no rise time involved. Similar to banana bread or beer bread, muffin bread starts as a very thick batter and ends up as a thick, chewy bread with a soft crust.
For a little bit of added crunch, I like to sprinkle demerara sugar on top of my muffin bread to imitate a crunchy crust while adding pops of sweetness.

Here's What You Need:
The basic ingredients to make a perfect muffin bread!
flour – all purpose will do just fine
sugar, butter, eggs – the base for most desserts
baking powder – for added airiness and rise
baking soda – boost the rise higher (remember, no yeast is in this recipe!)
whole milk – the added fat in whole milk helps create a thicker batter
vanilla – for some added flavor
chocolate chips – semi-sweet are the most commonly used
demerara sugar – can be found near the brown sugar and/or specialty sugars, adds some CRUNCH to the crust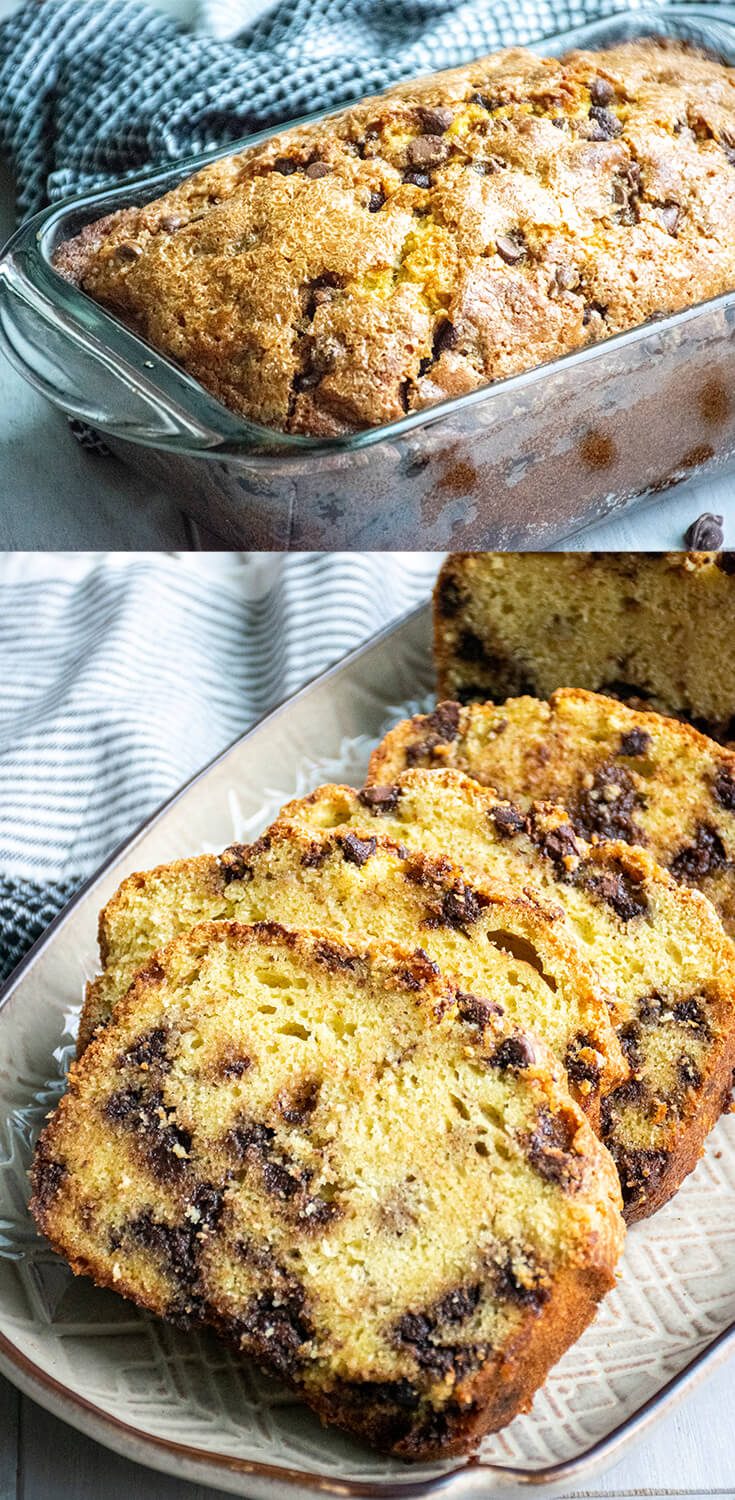 One Bowl Chocolate Chip Muffin Bread
Only one bowl is needed for this delicious homemade chocolate chip muffin bread recipe.
Ingredients
2

cups

flour

¾

cup

sugar

½

teaspoon

baking powder

½

teaspoon

baking soda

1

teaspoon

salt

8

tablespoons

butter

melted

3

eggs

room temperature

1

cup

whole milk

room temperature

1

teaspoon

vanilla

11.5

oz

semi-sweet chocolate chips

3

tablespoons

demerara sugar

for topping
Instructions
Preheat the oven to 350 F. Grease a glass bread loaf with butter or cooking spray. In a large bowl, whisk together the flour, sugar, baking soda, baking powder and salt.

Then stir in each of the wet ingredients one at a time, stirring between the addition of each new ingredient until a thick batter forms. Stir in half of the chocolate chips.

Pour the batter into the greased loaf pan. Sprinkle the remaining chocolate chips on top and use a knife or toothpick to swirl them into the top of the bread (some chips will sink). Sprinkle on about half of the demerara sugar.

Bake at 350 F for 45 minutes. Sprinkle on the remaining demerara sugar, then continue baking for another 15-20 minutes. Check every five minutes after 60 minutes until a toothpick inserted into the center of the bread comes out clean.

Cool the bread in the pan for at least 30 minutes before flipping out onto a cooling rack for another 30 minutes. Cool to room temperature for optimal slicing. Cover and keep at room temperature for up to two days; or cover and chill for up to week. Enjoy!