Garlic Vinaigrette Orzo Salad with Fresh Veggies
The Starving Chef is supported by Hungry People like you. When you make a purchase through an affiliate link on my site, I may earn a little bit of cash on the side (at no extra cost to you) to help keep my kitchen running. Read our disclosures here.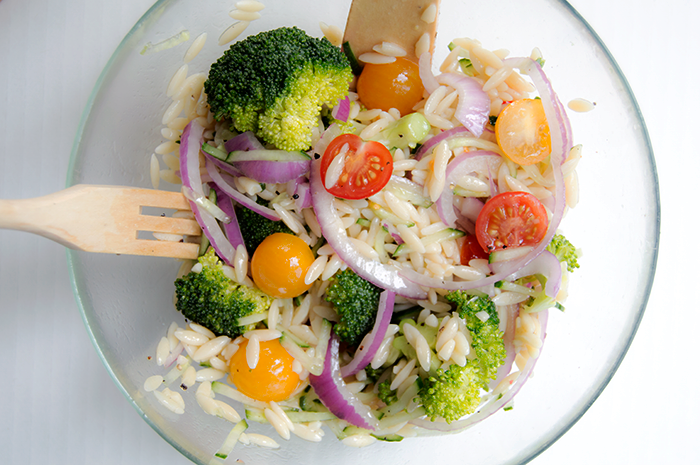 What's Up, Hungry People!
A bit ago, I dished out the details on those super satisfying healthy chicken wraps that were my go-to for the week. And, guess what? A ton of you were curious about the orzo salad that made an appearance as my trusty sidekick.
So, here's the scoop on that orzo salad. The magic? Oh, it's all in the sauce! Ever heard of Garlic Expressions? If not, do yourself a favor and grab a bottle as soon as you can. And no, they aren't paying me to sing their praises – I just genuinely adore it. Heck, I might even sip it straight from the bottle if no one's watching!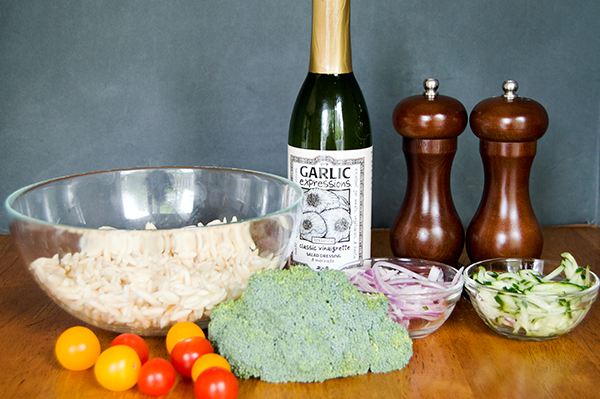 Here's What You Need:
Orzo: A rice-shaped pasta that serves as the base of the salad.
Garlic vinaigrette: Adds flavor, moisture, and zing to the dish.
Broccoli: Provides a crunchy texture and rich nutrients.
Cherry tomatoes: Offers a juicy burst and a touch of sweetness.
Red onion: Brings a sharp, tangy flavor to complement other ingredients.
Cucumber: Adds a refreshing crunch and hydration to the mix.
Salt & pepper: Seasoning to enhance and balance overall flavors.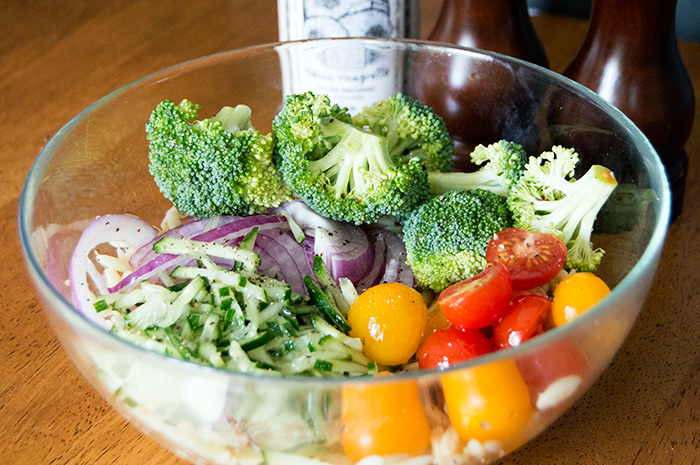 The Secret Sauce
Now, onto a little tip that might surprise some of you seasoned pasta salad makers. When whipping up this dish, toss in the veggies while the pasta's still steaming hot. Why? Because it lightly steams the broccoli, gives those tomatoes a nice tender touch, and lets that onion flavor really pop. Oh, and about that divine dressing? Drizzle it over the salad in two phases – once as you slide it into the fridge, and once more right before you're about to dig in. Trust me, it makes all the difference.
Orzo Salad Tips & Tricks:
Chill Time: Chilling the salad melds flavors better, making the taste even more robust over time.
Orzo Cooking: Don't overcook the orzo; keep it al dente to maintain its shape and texture in the salad.
Vegetable Freshness: Ensure all veggies are fresh for the best taste and texture. Stale veggies can make the salad soggy.
Garlic Vinaigrette Choices: If you can't find Garlic Expressions, any quality garlic vinaigrette will work. Explore and find your favorite!
Serving Ideas: This salad pairs wonderfully with grilled chicken or fish, offering a balanced, hearty meal.
Storage: Keep the orzo salad in an airtight container in the fridge for up to 3 days. The flavor often improves on day two!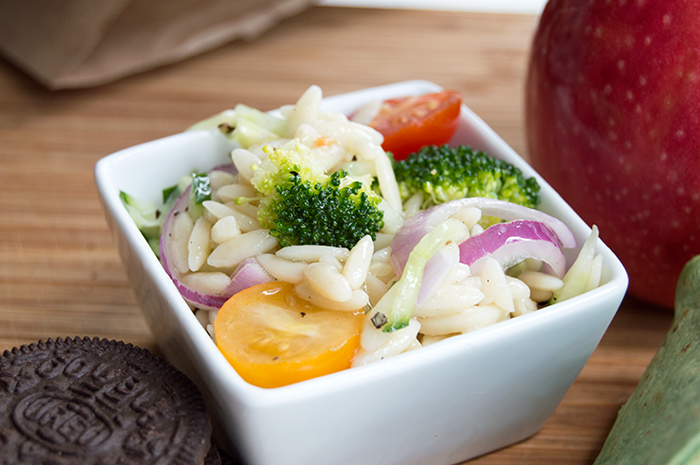 Alright, Hungry People! Sharing this orzo salad has been such a treat, and I'm hoping it becomes a staple in your kitchen just as it has in mine. The real game-changer is that garlic vinaigrette and the clever step of blending when everything's toasty warm. Don't forget, every forkful combines unique flavors and textures, making it the ideal companion for those healthy chicken wraps. Here's to whipping up dishes that not only satisfy our cravings but also bring joy to our tables. Keep those culinary vibes going strong!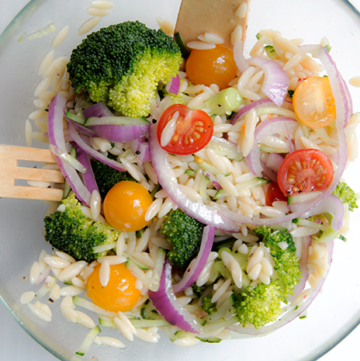 Orzo Salad
A flavorful orzo salad enriched with fresh veggies and a standout garlic vinaigrette.
Ingredients
2

cups

orzo

1

cup

garlic vinaigrette

1

cup

broccoli

chopped into florets

10

cherry tomatoes

halved

½

cup

red onion

sliced

½

cup

cucumber

julienned

salt & pepper

to taste
Instructions
Cook the orzo according to the instructions on the packaging. Drain the cooked orzo and return it to the pot.

While the orzo is still piping hot, add the broccoli, red onion, and cherry tomatoes. Stir well to combine. Add the cucumber and pour in half of the garlic vinaigrette. Transfer to a heat-resistant bowl.

Cover and chill for about 2 hours, or until all ingredients have cooled completely.

Pour on the remaining garlic vinaigrette and stir well. Serve as a side to healthy chicken wraps. Enjoy!