Otter's Fizzy Orange Juice COPYCAT Recipe
The Starving Chef is supported by Hungry People like you. When you make a purchase through an affiliate link on my site, I may earn a little bit of cash on the side (at no extra cost to you) to help keep my kitchen running. Read our disclosures here.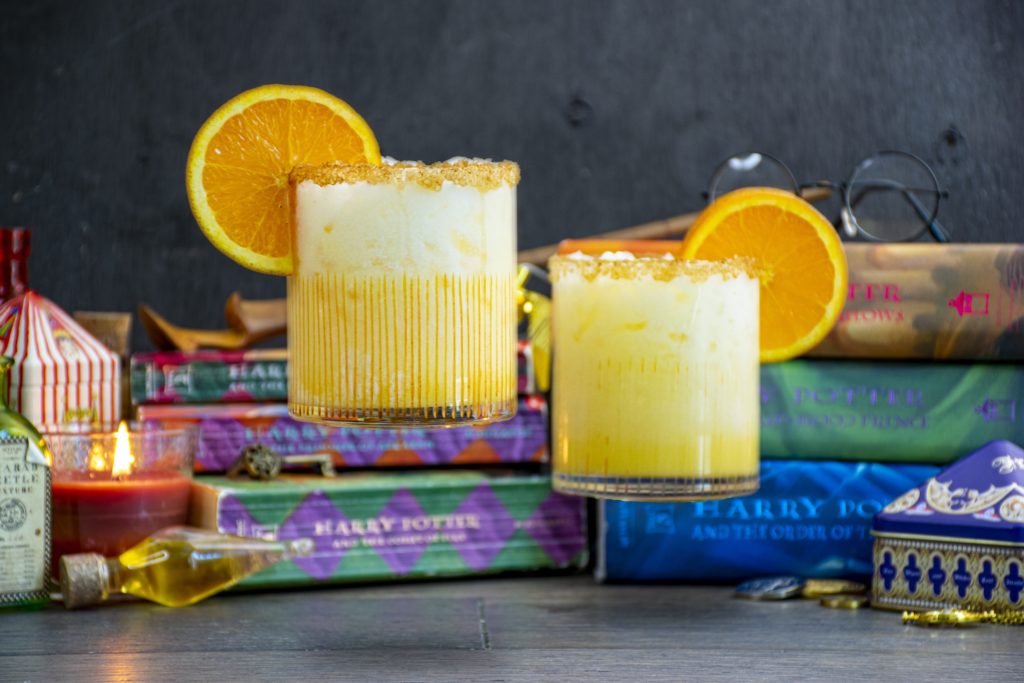 Welcome back, Hungry Muggles.
Another day, another magical recipe. Every year I dedicate the last week of July to celebrating the wonderful wizarding world of Harry Potter.
Today we are once again aparating back to the real life Hogsmeade to recreate one of my favorite drinks that you can find at the Three Broomsticks: Otter's Fizzy Orange Juice!
While I can't seem to find anything cannonical about this character 'Otter,' but he (or she) at the very least has some great tastebuds.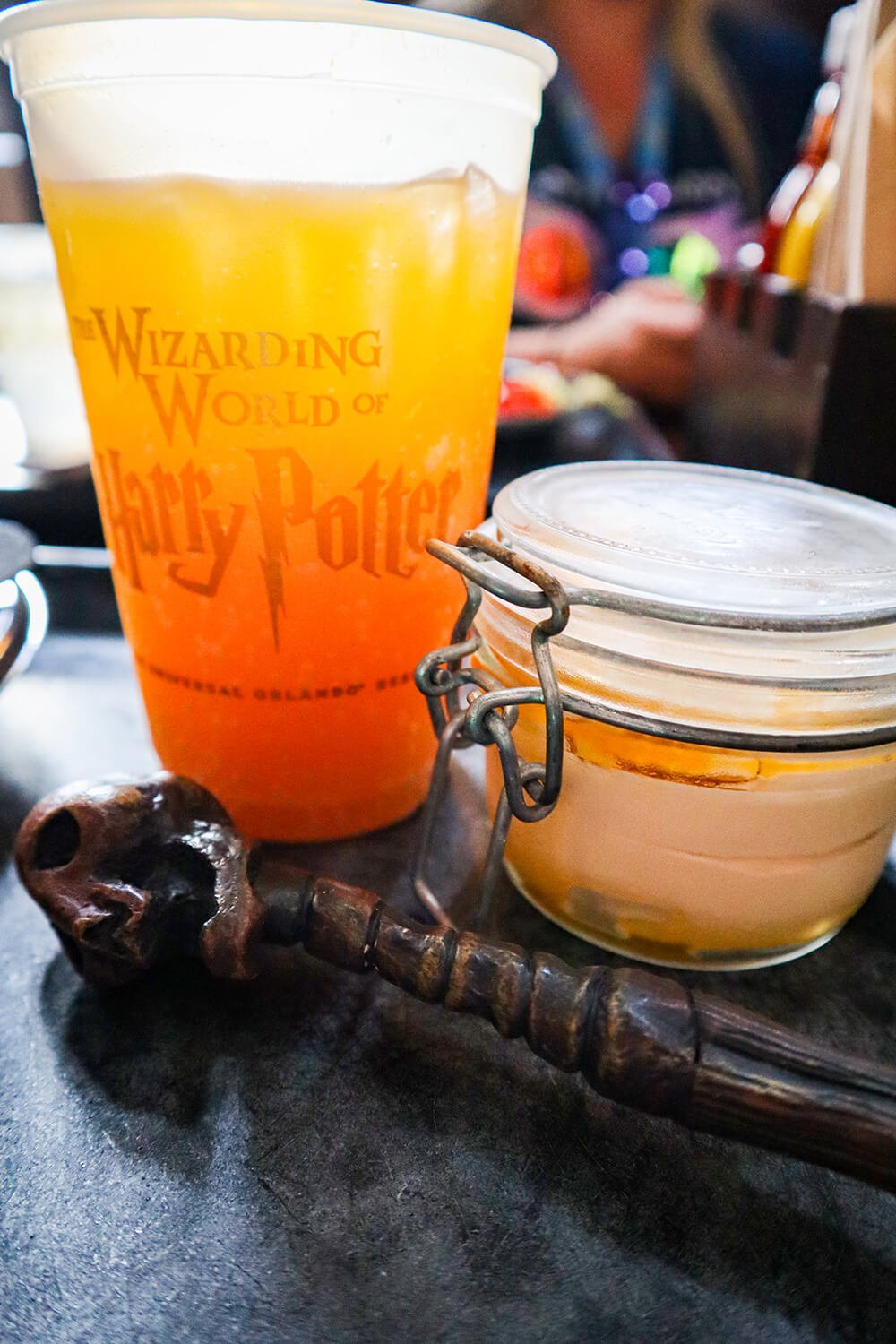 Otter's fizzy orange juice tastes like a lightly carbonated orange juice with a hint of vanilla and (sometimes) a sugared rim with a hint of cinnamon. Basically, it's like a magical creamsicle for us muggles.
Seen here with a potted cream, Otter's fizzy orange juice is an underrated alternative to butterbeer at Universal Studios!
It's certainly a very refreshing drink to finish off a long day of wandering the streets of Hogsmeade.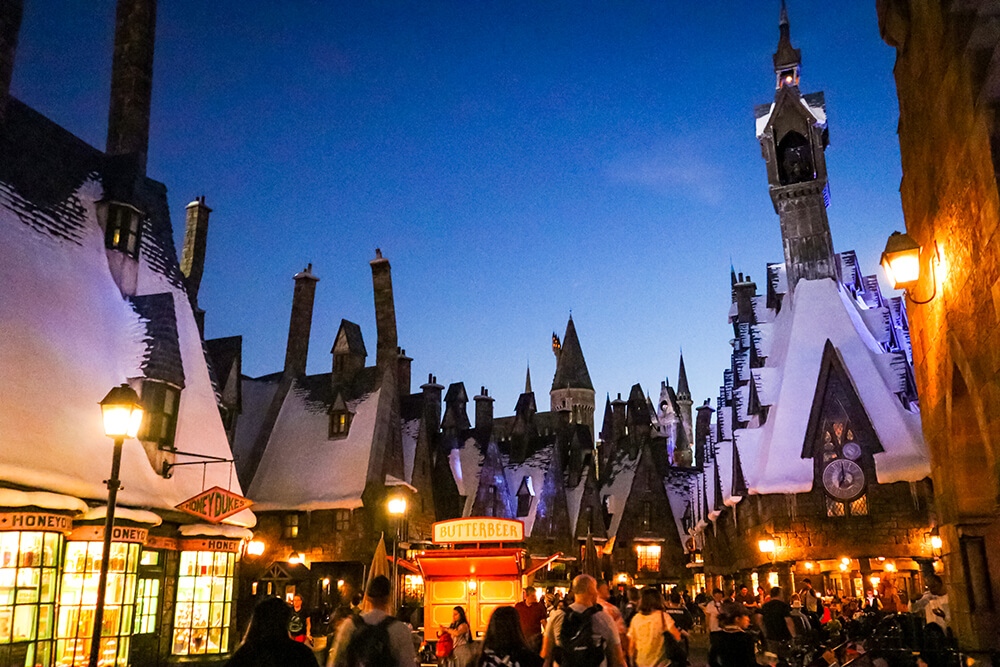 What's in Otter's Fizzy Orange Juice?
While witches and wizards likely have their own magical supplies for this potion, here are the muggle-friendly ingredients that you'll need to make this drink at home!
orange juice – I recommend a low-pulp or pulp-free version of your favorite OJ brand.
soda water – if you have an SodaStream, now is the time to bust that bad boy out! If not, you can substitute plain soda water.
French vanilla creamer – you can find this with the coffee creamers! I used sugar-free French vanilla creamer from International Delight.
cinnamon and sugar – I used demerara sugar for my rim to give it some crunch, but regular sugar works as well. You can sub out turbinado sugar for the same crunchy effect!
honey or simple syrup – for my recipe, I simply used honey on the rim of my glass and it held the sugar on the rim perfectly. For best results, use a chilled glass!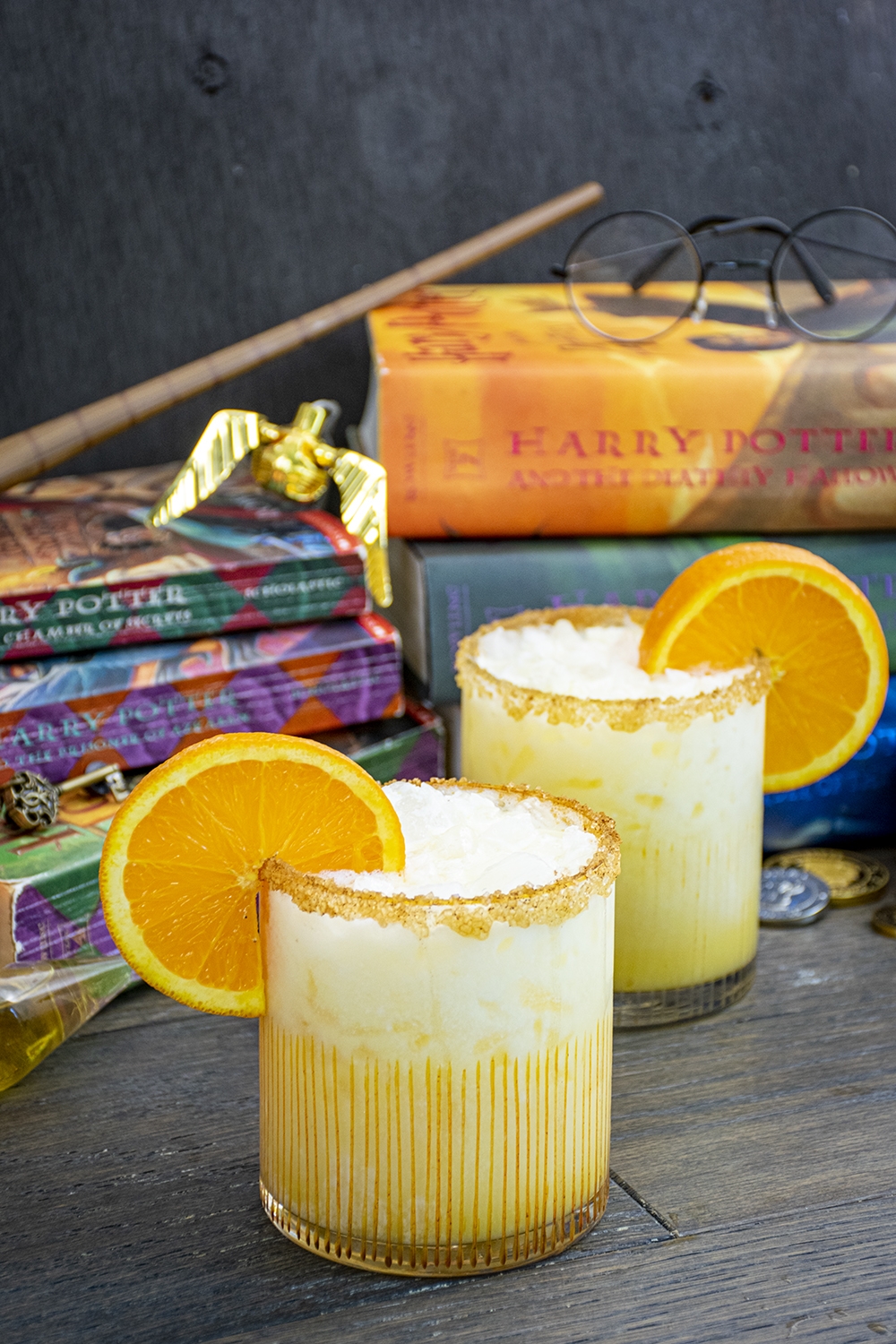 ALTERNATIVE METHOD TO TRY!
My method to recreate this delicious drink uses coffee creamer to give a creamy taste and texture. But if you prefer a dairy free option, you can sub out the coffee creamer and soda water and replace them both with cream soda! The result will taste nearly the same without any creamer involved.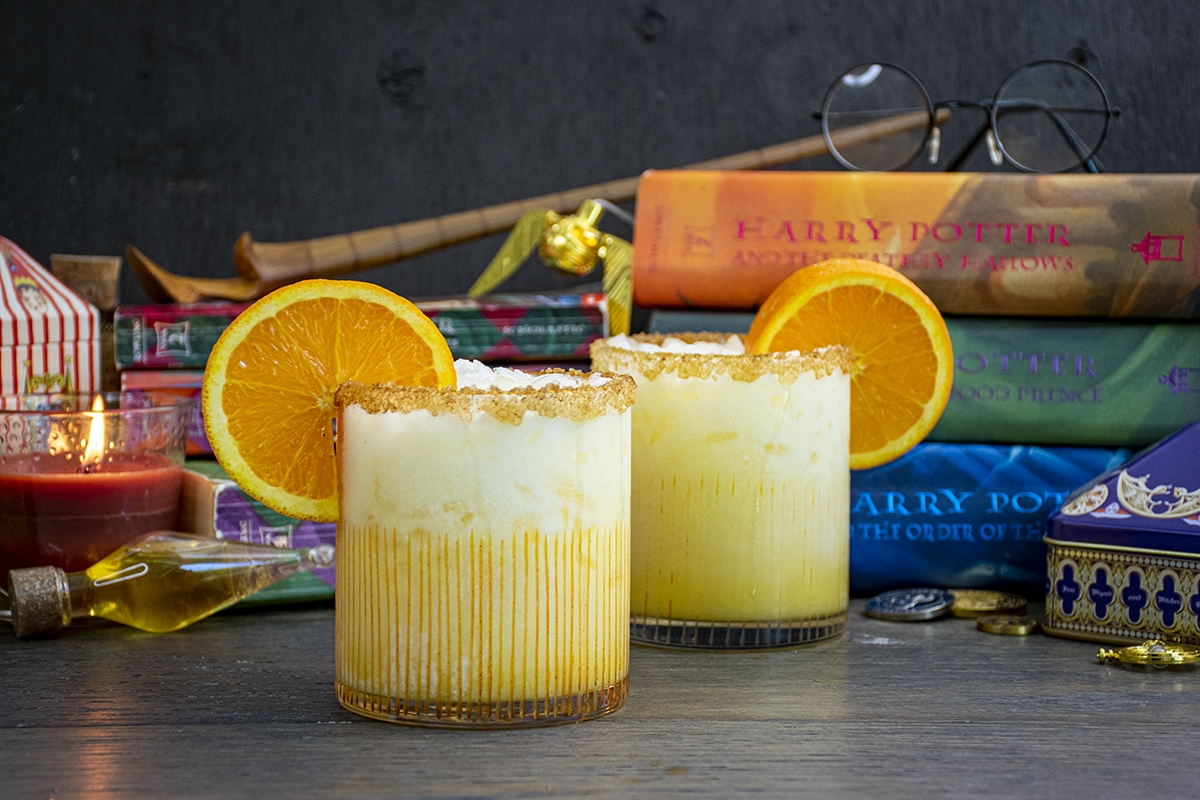 How to make Otter's Fizzy Orange Juice!
It's very simple to make Otter's fizzy orange juice right at home.
Chill the serving glasses for at least an hour for best results
Flip the glasses over and dab in honey
Dab the glass in the cinnamon sugar
Add crushed ice 3/4 of the way full
Pour the creamer on top of the ice
Pour in the orange juice until it covers the ice
Top off with soda water and serve!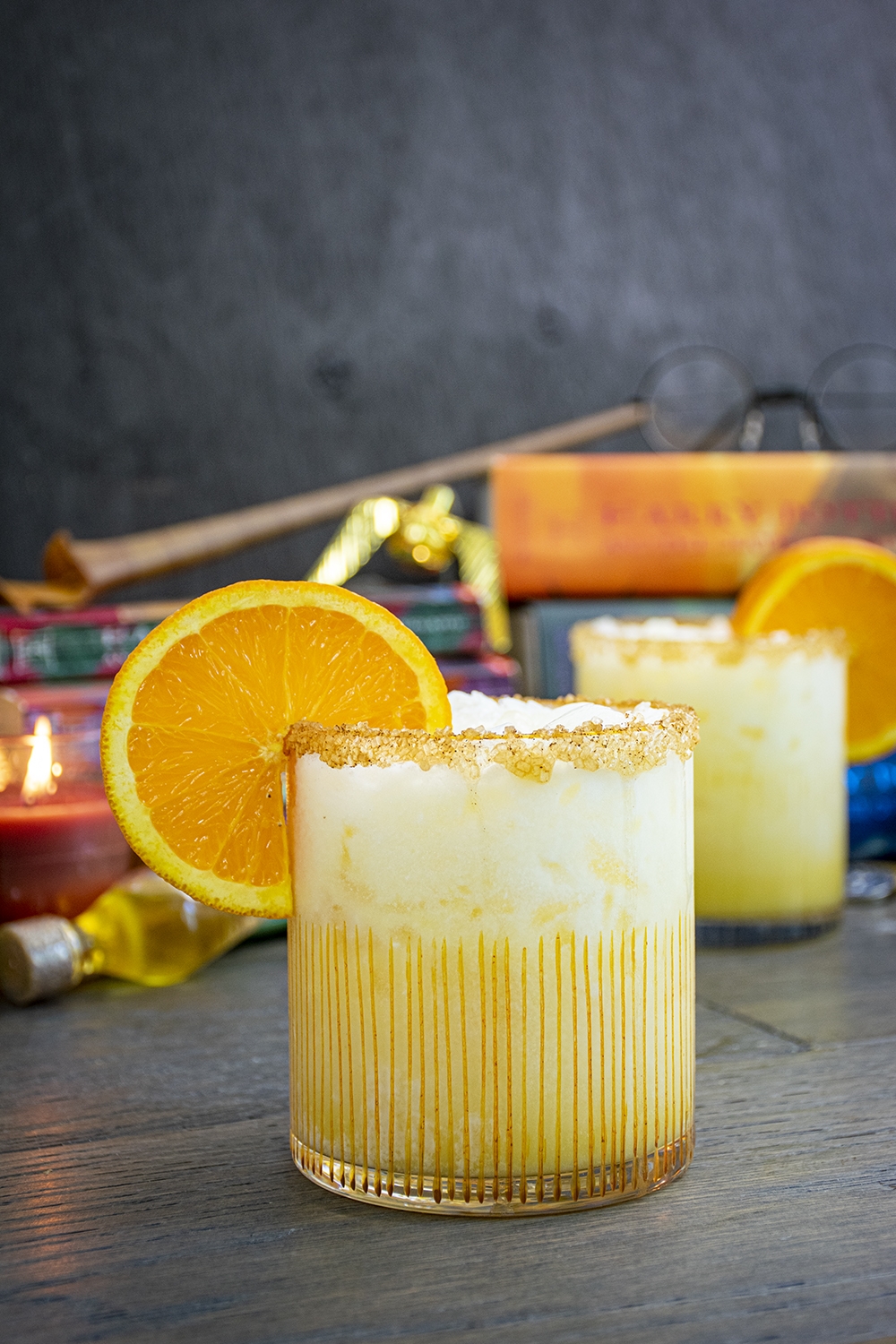 Harry Potter week continues – don't forget to check back every day until July 31st for more magical recipes.
What Harry Potter inspired recipe are you most looking forward to seeing? Let me know down in the comments below!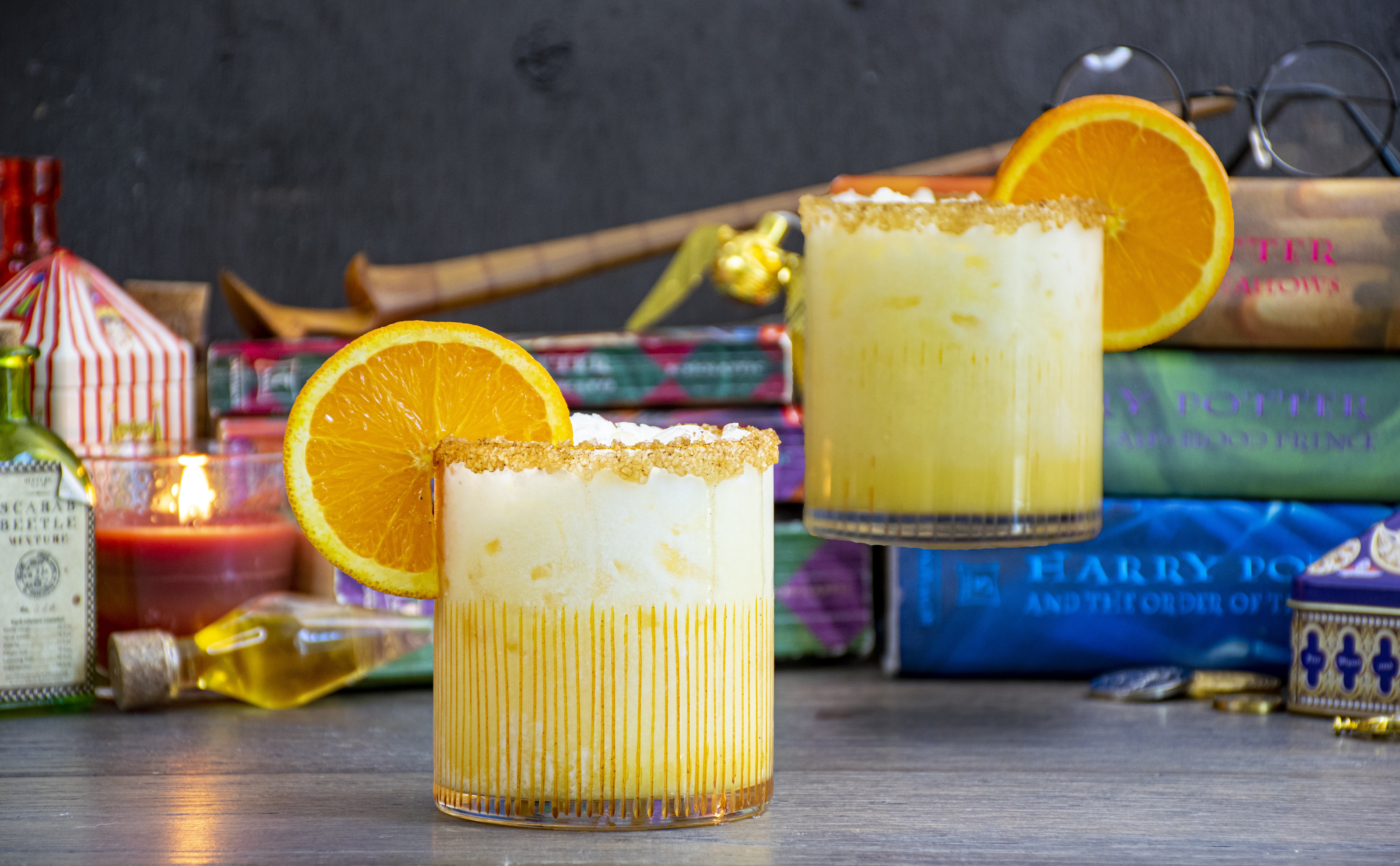 Otter's Fizzy Orange Juice COPYCAT Recipe
Make your own magical version of Otter's Fizzy Orange Juice right at home! Inspired by the drink found at Universal Studios' Wizarding World.
Ingredients
FOR SUGAR RIM:
FOR DRINKS:
2

cups

crushed ice

6

oz

orange juice

2

teaspoons

French vanilla coffee creamer

¼

cup

soda water

to top off drinks
Instructions
For best results, chill all ingredients, including the serving glasses, for at least one hour prior to making the drinks. Prep soda water if doing DIY carbonation (see below).

In a shallow dish or plate, drizzle the honey so that it is thick enough to coat the rims of each glass. Flip each glass over into the honey to coat the rim. Don't overcoat the rims in honey – if the room temperature is too warm (and the glasses are not chilled) the honey may drip down the sides.

Whisk together the cinnamon and sugar. Dip the honeyed rims of the glasses into the sugar so that the rims are covered completely.

Fill each glass about 3/4 of the way full with crushed ice. Pour the creamer over the ice so that it seeps to the bottom. Then fill each glass with enough orange juice to cover the ice. Top off the glass with soda water (or to taste: more for a fizzier drink; less for a more juice-like drink). Serve immediately and enjoy!
FOR DIY SODA WATER:
If using a SodaStream, prep the water with 3-5 pumps of carbonation. Chill for at least one hour.