Peruvian Ceviche
The Starving Chef is supported by Hungry People like you. When you make a purchase through an affiliate link on my site, I may earn a little bit of cash on the side (at no extra cost to you) to help keep my kitchen running. Read our disclosures here.
As I continue to work my way through the 52 Weeks of Cooking challege, I'm always looking for the most authentic AND delicious version of the challenge topic as I can. Ceviche is one of those foods I've always wanted to give a shot – but have always been scared of 'undercooking' the raw fish! Which admittedly, is strange, considering my LOVE for sushi, which is essentially 100% raw fish anyways.
In fact, ceviche is a great way to ease someone into trying "raw" fish before they try real sushi. While the two may come from complete oppsite sides of the world, the element of "raw" fish remains the same and can provide an introductory exploration into the world of other "raw" meats.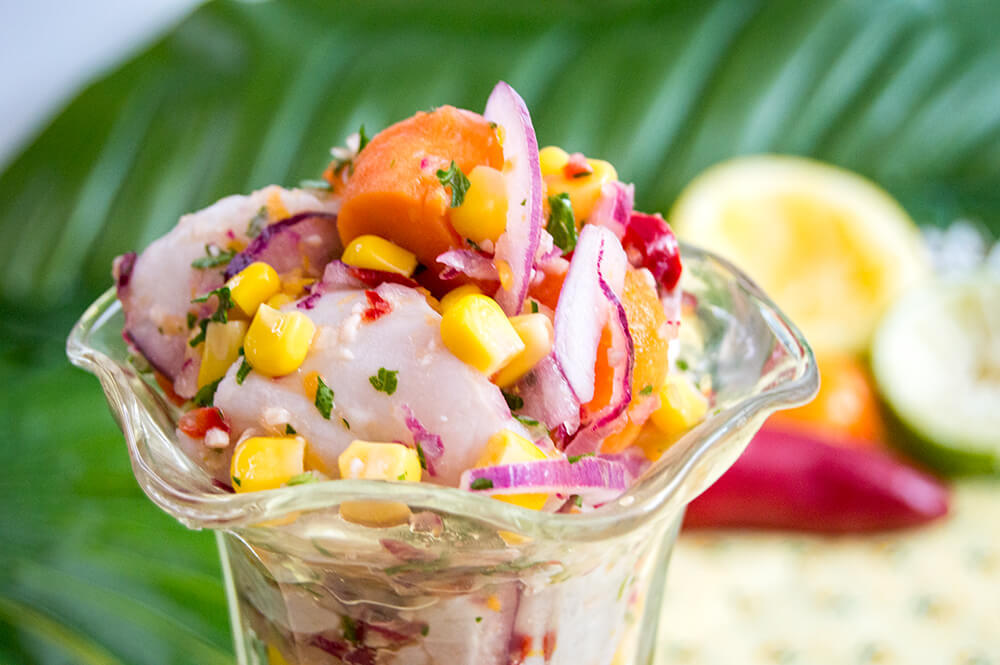 The reason I say "raw" in quotation marks is because ceviche ISN'T actually raw at all. Sure you start with raw fish, but the acid in the citrus effectively "cooks" the fish so that the only comparison to be made between actual raw fish and ceviche is the texture.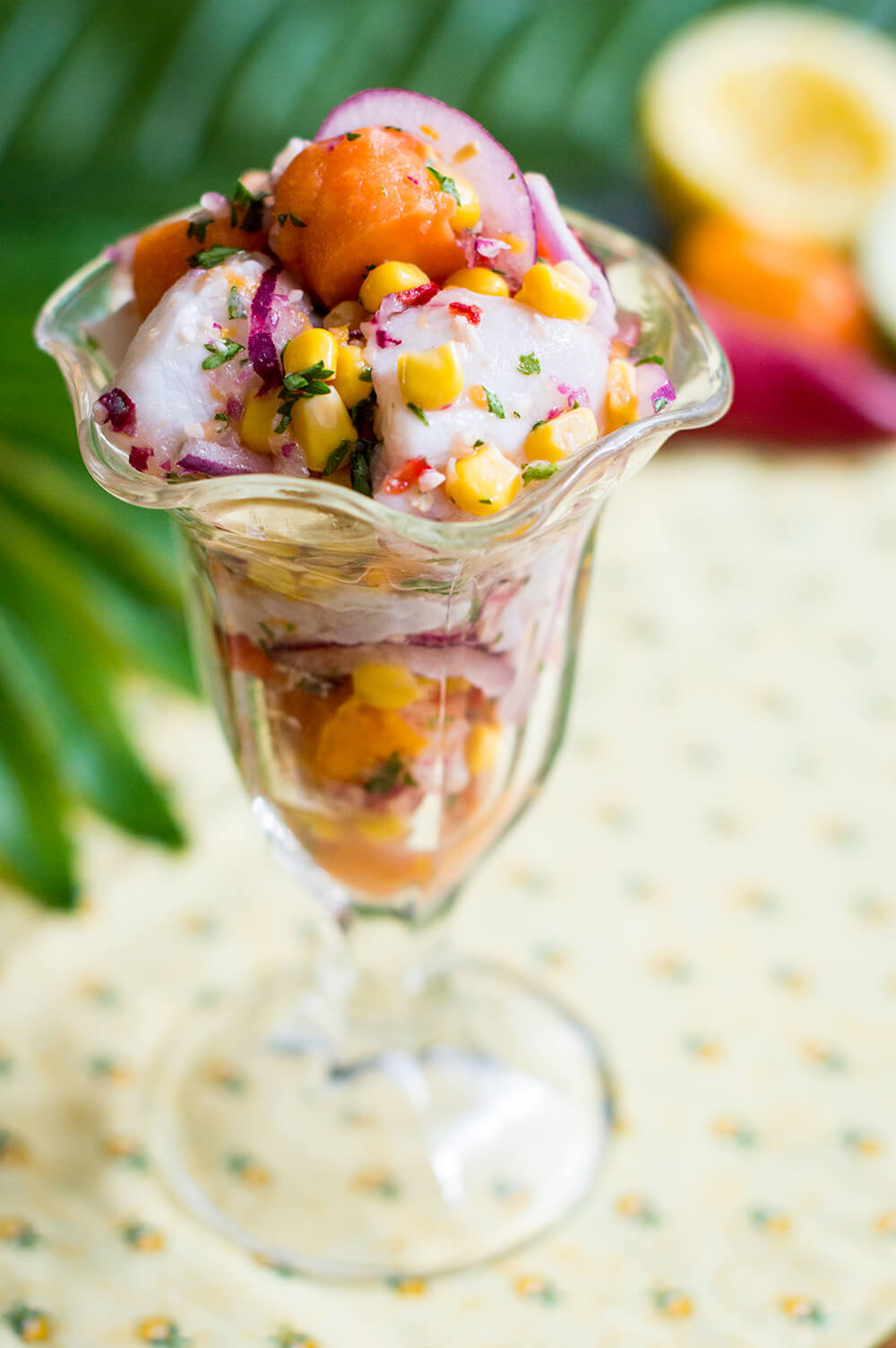 While this ceviche recipe may not be 100% authentic to Peru, it is certainly packed with flavor.
And if you don't like the ceviche in its "raw" form – you can cook it up into fish tacos instead!
In fact, I recommend doing this with any uneaten ceviche since it won't last very long once it's been "cooked." I totally made simple fish tacos with my leftovers and they were quite the hit!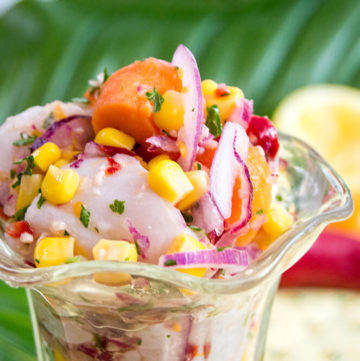 Peruvian Ceviche
While this ceviche recipe may not be 100% authentic to Peru, it is certainly packed with flavor.
Ingredients
FOR CEVICHE:
16

oz

raw flounder or fluke filet

chopped into pieces

1

sweet potato

1

habanero pepper

finely diced

2

fresno peppers

1

shallot

sliced

½

cup

sweet corn

¼

cup

fresh cilantro

chopped

salt & pepper

to taste
FOR LECHE DE TIGRE:
⅔

cup

lime juice

⅓

cup

lemon juice

2

tablespoons

garlic

minced

1

tablespoon

fresh cilantro

½

cup

red onion

chopped

2

tablespoons

clam juice

4

ice cubes
Instructions
Bring a pot of water to a rapid boil. Boil the sweet potato until it is fork tender – about 15 minutes. Remove from the pot and let cool completely. Cut it in half lengthwise and use a melon baller to scoop out bite size pieces of sweet potato. Set aside and chill.

In a food processor, combine all the ingredients for the leche de tigre. Pulse until smooth then strain through a sieve over a small bowl. Reserve 2-3 tablespoons of the liquid. Cover and chill the pureed leche de tigre.

Cut the fish into bite size pieces. In a large bowl, stir in the sweet potato balls, corn, shallot, habanero and cilantro (or parsley). Pour the 2-3 tablespoons of reserved liquid plus half of the leche de tigre over the flounder mixture. Stir well to combine and let "cook" in the sauce for 5-8 minutes – until the fish is no longer opaque.

Use a slotted spoon to serve the ceviche. Garnish with the remaining leche de tigre and cilantro. Serve right away and enjoy!