4-Ingredient Campfire Pineapple Upside Down Cake
The Starving Chef is supported by Hungry People like you. When you make a purchase through an affiliate link on my site, I may earn a little bit of cash on the side (at no extra cost to you) to help keep my kitchen running. Read our disclosures here.
What's Up, Hungry People!
My sister has always been a big fan of pineapple upside down cake. So, on a recent weekend visit back to our parents' place, I thought, "Why not put a campfire spin on this classic?" We're talking pineapple upside down cakes cooked over an open flame in the great outdoors—or our parents' backyard, to be precise.
For this recipe, you'll need just a handful of pantry staples. We're talking sliced pineapples, maraschino cherries, and brown sugar. And for the cake part? You'll never guess—I'm using store-bought vanilla shortcakes! Yeah, you heard that right. Those shortcakes, traditionally paired with strawberries and whipped cream, make the perfect base for these upside down cakes.
Here's What You Need
Vanilla Shortcakes: These act as the cake base, offering a light, fluffy texture that pairs well with the rich toppings.
Maraschino Cherries: Serve as a colorful, sweet center to the pineapple ring, adding a pop of flavor and color.
Pineapple Rings: These provide a juicy, tropical flavor that caramelizes during cooking, enhancing the cake's sweetness.
Brown Sugar: Used for caramelization, it melts to form a sweet, sticky layer that coats the fruit and soaks into the shortcake.
Getting Things Prepped
So how does it work? Start by placing a tablespoon of brown sugar on a piece of foil. Next, layer on a pineapple ring and a cherry. Oh, and don't forget another tablespoon of brown sugar on top. After that, place your shortcake open side down right on the pineapple ring.
The Campfire Experience
We were a little short on foil during our camping stint. So, I got a bit creative and cooked three cakes on a single sheet of foil. Wrapping it up, I was extra cautious to seal the edges properly—no one likes a caramel leak.
Serving It Up
Now for the grand reveal! To serve, just open the bottom of the foil and cover it with a plate. Then do the quick flip trick: flip the plate, peel off the foil, and let all that gooey caramel goodness drip onto each cake. It's as easy as that.
Additional Tips and Troubleshooting for Bonfire Cakes:
Foil Wrapping: Make sure the foil is tightly sealed to prevent leaks, especially if cooking directly on coals.
Grill Preheating: If using a grill, preheating is crucial. A cooler grill might result in incomplete caramelization.
Cherry Substitution: If you're out of maraschino cherries, you could use fresh cherries, though the flavor will differ slightly.
Pineapple Texture: For softer pineapple, you can pre-cook the rings on a grill or stovetop before assembling the cake.
Sugar Distribution: Be careful not to heap the brown sugar in one spot; spreading it evenly ensures uniform caramelization.
Serving Technique: When flipping the cakes onto a plate, do it quickly to maintain the cake structure and avoid spills.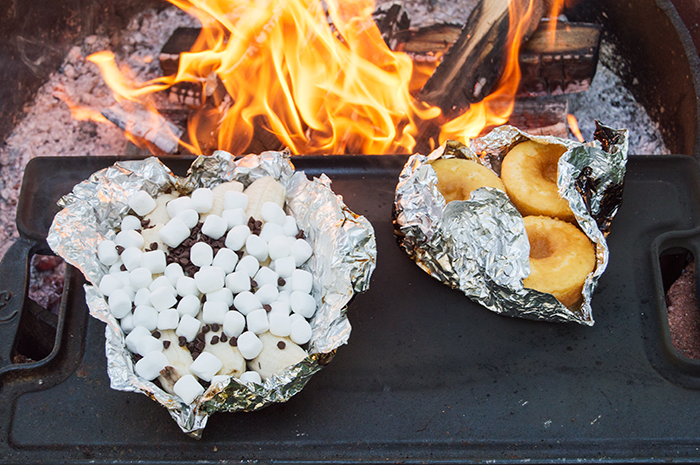 And just like that, you've got yourself a campfire twist on a beloved classic. Whether you're cozied up next to a bonfire or simply enjoying the comforts of your own backyard, this cake is sure to make any outdoor gathering a little sweeter. Happy camping, Hungry People!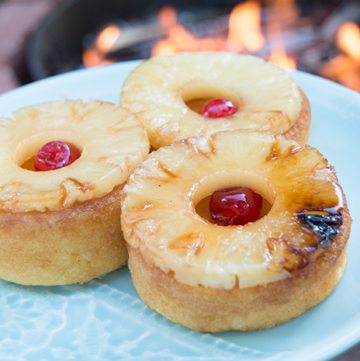 Pineapple Upside Down Bonfire Cake
Turn your favorite classic pineapple upside down cake into an easy-to-make campfire delight using just four simple ingredients.
Ingredients
3

vanilla shortcakes

3

pineapple rings

6

tablespoons

brown sugar
Instructions
Preheat a cast-iron grill over an open fire for at least one hour. Alternatively, you can use the hot coals of a dying fire directly.

On an 8×8 sheet of foil, place a tablespoon of brown sugar in the center and spread it into an even layer about three inches round.

Place a cherry in the center of the sugar and a pineapple ring around the cherry. Spread another tablespoon of brown sugar on top of the pineapple ring.

Take a shortcake and place it open side down on top of the pineapple ring. Loosely wrap the foil around the cake. (If baking in coals directly, tightly wrap in double layers of foil.) Repeat steps for remaining cakes.

Bake pineapple side down for 10-15 minutes, until the brown sugar has melted and the pineapple is just starting to caramelize.

Remove cakes from the fire and arrange pineapple side down on a plate. Open the bottom of the foil to reveal the cakes. Place another plate over the tops of the cakes and flip over quickly.

Gently remove the foil from the cakes, letting the sugar drip off onto the cakes. Serve warm. Enjoy!
Video