Pink Ombre Valentine's Day Cookies
The Starving Chef is supported by Hungry People like you. When you make a purchase through an affiliate link on my site, I may earn a little bit of cash on the side (at no extra cost to you) to help keep my kitchen running. Read our disclosures here.
Valentine's Day just got a whole lot more… pink-ish. These aren't your standard sugar cookies either – they are packed with white chocolate chips and made from a classic chocolate chip cookie recipe, making them super soft and chewy.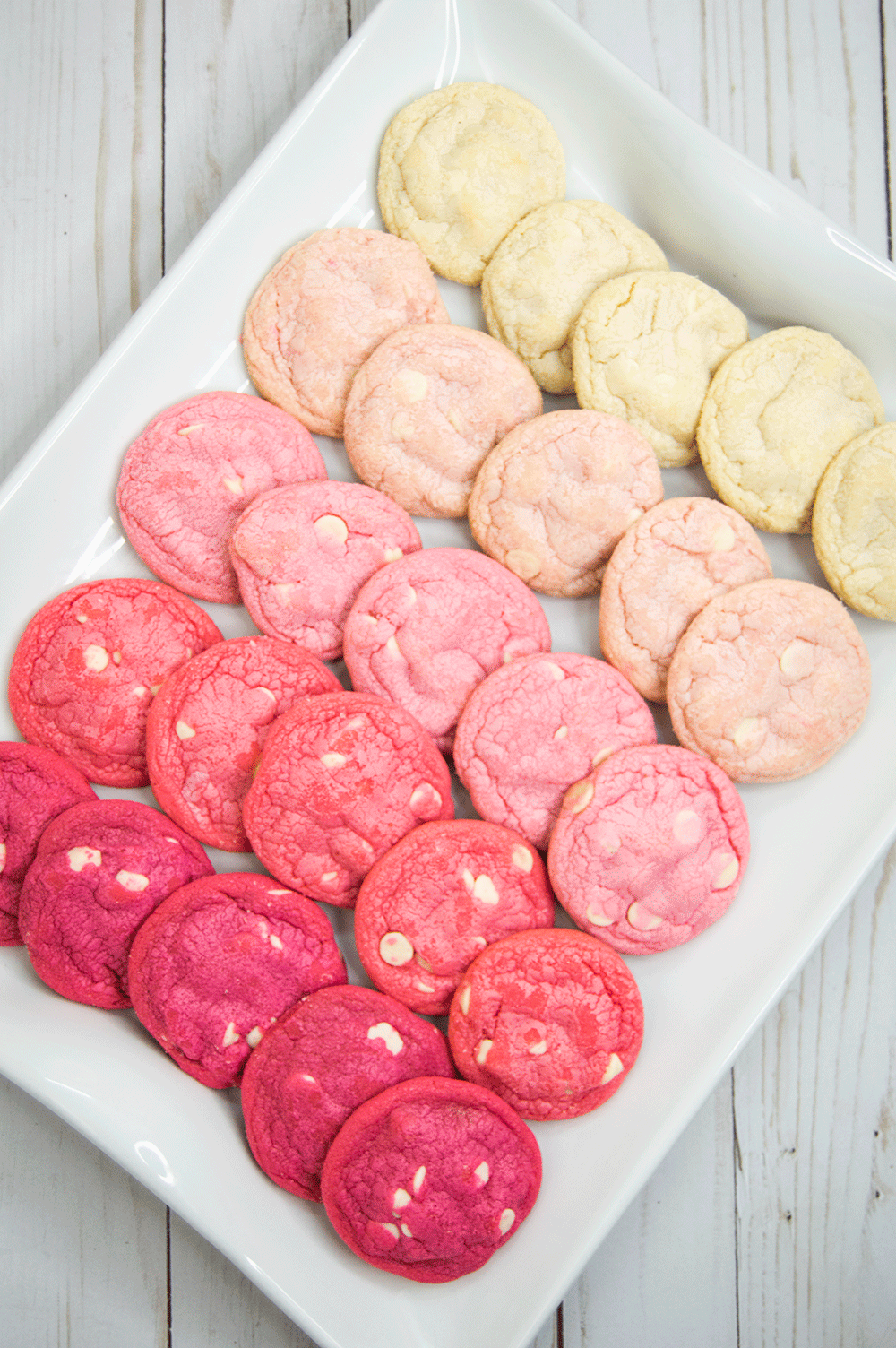 As an adult, I find that I miss exchanging silly Valentine's Day cards with friends – so I've adopted the cookie method to appease my inner child (even though I totally gave out paper Valentine's Day cards all the way up to college).
Plus, who doesn't love a deliciously soft and chewy cookie to munch on while thinking about their sweetie?
These cookies have that perfectly crispy bottom but are still soft and moist in the middle. By adjusting a run of the mill chocolate chip cookie recipe, we end up with incredible sugar cookies that are million times better than their traditional sugar cookie counterparts.

So instead of handing out printed Valentine's, I've decided to show off my love through cookies – and it just so happens you can eat as many as you want. And they are WAY better than those little chalk-like "conversation hearts" that are somehow still a thing.
Truly, if I hand you a cookie – it means I very much like you.
Going Ombre
I did my cookies in an ombre fashion – gradually adding more and more pink or red food coloring to each batch of cookie dough until I finally achieved my desired colors.
The best way to do this is start with the whitest, plainest colored dough possible. Remove enough for about six cookies then add the food dye gradually, removing enough for about six cookies after every new addition of food die.
You can make your cookies all the same color, or half white and half pink, whatever floats your boat. You don't even have to make them pink if you don't want to! Ah, the joys of baking…
Use Food Gels
For the best results, I recommend using food gel dye rather than liquid food dye, like these:
Get your food gel dyes here (affiliate link)!
Valentine's day is coming up, but these cookies can be made for a variety of events; from baby showers to workplace meetings – I just so happen to work for a company that flies a pink logo, so these worked out perfectly for our start of the year meeting.

Truly, any chocolate chip cookie recipe can be used, just subsitute brown sugar for white and remove any yolks from the eggs to make sure you can get the perfect cookie canvas for your colors!
Happy Valentine's Day!
Pink Ombre Valentine's Day Cookies
These aren't your standard sugar cookies either – they are packed with white chocolate chips and made from a classic chocolate chip cookie recipe, making them super soft and chewy.
Ingredients
2

cups

sugar

1

cup

butter

room temperature

½

cup

vegetable shortening

4

egg whites + 1 yolk

4

cups

flour

+ more as needed

1

teaspoon

baking soda

1

teaspoon

salt

16

oz

(1 package) white chocolate chips

½

teaspoon

vanilla

food coloring gel

pink or of desired color
Instructions
Preheat the oven to 375F . In a stand mixer with the paddle attachment and beat butter, Crisco shortening and sugar together until light in color and fluffy. Add in the egg whites and yolk one at a time and mix until incorporated between each egg white. If using, add the vanilla.

In a small bowl, whisk together the flour, salt, and baking soda. Slowly add the flour mix, about a quarter cup at a time, to the bowl while the mixer stirs at a low speed. Right before adding the last bit of flour, add the chocolate chips. The dough should be thick and not stick readily to the sides of the bowl.

Separate the dough into separate, smaller bowls. I divided MY batch into 5 different bowls, about one to two cups of dough in each bowl, and each bowl produced 5-8 cookies.

For the ombre effect, leave one bowl of dough plain. Use a tablespoon to measure out dollops of dough. Arrange the plain dough balls on a cookie sheet lined with parchment or a silicone mat. Bake for 8-10 minutes – check these carefully and note the time they finish cooking. They should be cooked through but not yet browning. The cookie should not appear moist in the center when they are finished cooking.

In the other bowls of dough, add a few drops of food coloring to each ball of dough until the desired colors are achieved. I used a combination of pink, red, and burgundy gel colors – starting with 1-2 drops in the first for light pink; 3-4 drops pink plus one drop red for second; 3-4 drops pink plus 2-3 drops red for third; 1-2 drops red plus 1-2 drops burgundy for the fourth. You may need to adjust the amount of food coloring for each cookie, depending on the type of food coloring you are using.

Based off the cooking time for the plain batch of cookies, form dough balls from the remaining dough and cook in batches for 8-10 minutes, or about the same amount of time for the first batch. Let the cookie finish cooking on the baking sheets 2-3 minutes once out of the oven and then transfer to a cooling rack. Serve warm or room temperature. Enjoy!