Pizza Date Night Ideas
The Starving Chef is supported by Hungry People like you. When you make a purchase through an affiliate link on my site, I may earn a little bit of cash on the side (at no extra cost to you) to help keep my kitchen running. Read our disclosures here.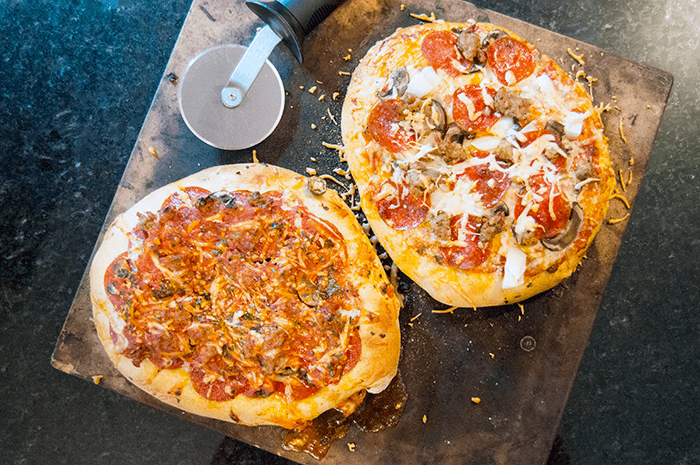 I'm always looking for fun new date ideas – whether we stay in or go out! Tonight Nick and I had our own DIY pizza date night where we each made our own personal pizza to our specific tastes.
First, I had to show Nick how to properly flatten his dough so it didn't lose all the air trapped within it. Even though we got flour pretty much…everywhere, we both were able to settle on a thickness that we preferred. I love my pizza thick crust, while Nick enjoys thin crust.
We seasoned our crusts with a garlic infused olive oil with some parsley and red pepper flakes added for flavor.
We took a risk and put our toppings onto the dough on the preheated pizza stone, but I definitely recommend using a pizza board dusted with corn meal if you have it available. Makes it much less likely to burn yourself, which I may or may not have done.
Nick was determined to make himself a Chicago style pizza (which he mostly thinks is just pizza, but with the sauce on top… no one tell him). He decked his out with mushrooms, jalapenos, sausage, and pepperoni.
My pizza, on the other hand, was made in the proper order of sauce first followed by cheese, pepperoni, mushrooms and sausage (and a touch more cheese).
We baked the pizzas on the stone until the cheese was melted and the crust was golden brown perfection.
Most nights Nick has to put up with me plating a dish for a blog-worthy pic, but when it's up to him, all that's on his mind is actually eating it.
His beautifully plated pizza: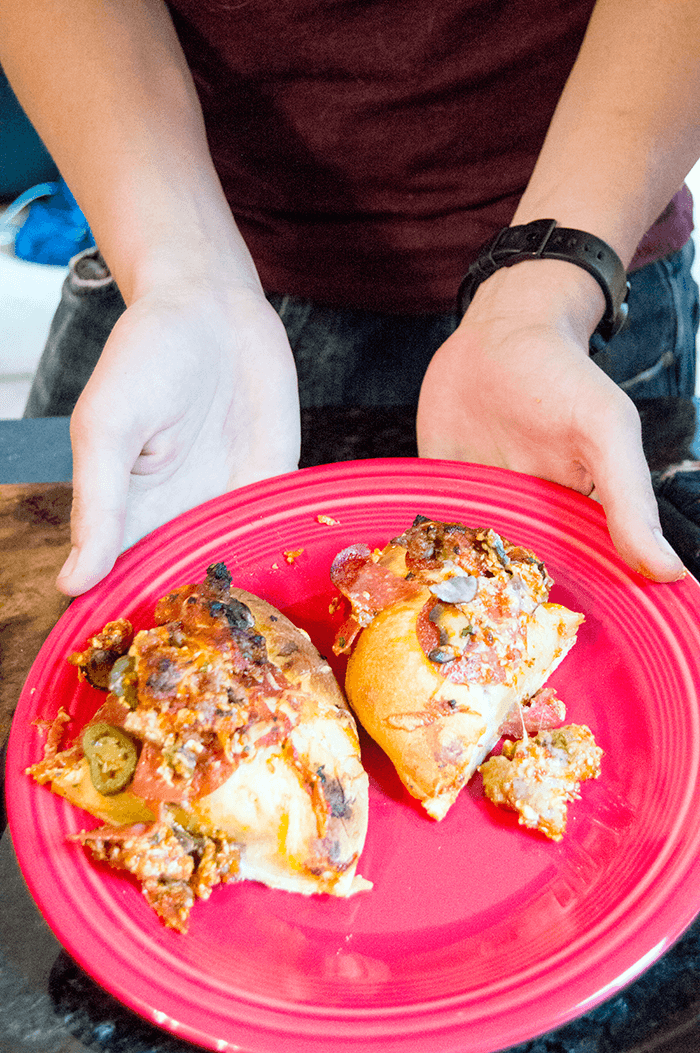 Pizza date nights are fun for all ages and require little to skill to actually cook – so perfect for couples trying to learn to cook together or who just want something fun to do on a Friday night.
Just pick out your personal favorite toppings and buy some premade dough and sauce and you are on your way to a delicious date!
Pizza Date Night Ideas
Looking for at home date ideas? Why not have pizza night in? Get to know each other with DIY pizzas made to your personal preferences.
Ingredients
16

oz

(2) raw pizza dough

room temperature

2

cups

pizza sauce

2

cups

mozzarella cheese

shredded

1

cup

pepperoni

1

cup

mushrooms

sliced

1

cup

sausage

cooked & crumbled

1

cup

jalapeno

chopped

1

cup

bell pepper

chopped

your favorite pizza toppings!

1

cup

corn meal

¼

cup

flour
Instructions
Preheat the oven (with a pizza stone, optional) to 425 F. Roll out your pizza dough on a clean surface dusted with flour. Roll the dough to be a half inch or thinner. The pizzas should be about 10 inches round.

Place the flattened dough(s) on a flat board (like a wooden cutting board or pizza peel) dusted with corn meal.

Spoon 1-2 tablespoons of sauce on with your desired amount of cheese and toppings. Shift the made up pizzas to the pizza stone by sliding them off the flat surface you built them on with the pizza peel, directly onto the pizza stone. You can also preheat a baking sheet in the oven if you don't have a pizza stone.

Bake for 10-20 minutes, until the pizza crust is baked through and the toppings are melted together. Cool 5 minutes prior to cutting. Enjoy with your sweetheart!