Puppy Cake Smash
The Starving Chef is supported by Hungry People like you. When you make a purchase through an affiliate link on my site, I may earn a little bit of cash on the side (at no extra cost to you) to help keep my kitchen running. Read our disclosures here.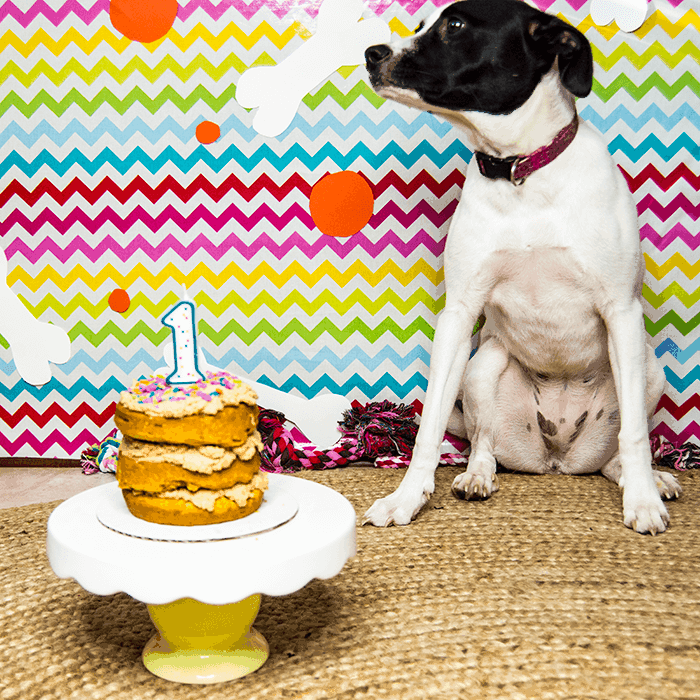 It's a BIG DAY here in the Starving Chef's household! That's right, Luna turned ONE today! HAPPY BIRTHDAY, LOONEY LUNA!
Who doesn't throw their puppy a birthday party? After doing a cake smash for my nephew's first birthday, I knew the tradition had to extend to my own puppy-child.
Her birthday cake was made from all natural and organic ingredients – no added sugar and low fat too. While Luna's stomach is iron clad (as evidenced by her ability to eat ten pizza rolls in one sitting, with no remorse), keep in mind your pup might need their recipe tweaked for their specific diet. However, this puppy cake is made to be as friendly on the tummy as possible – pumpkin even helps with digestion!
The icing is sugar-free too – made with natural peanut butter, plain Greek yogurt and a little cream cheese to help hold it all together.
While she was at first apprehensive of the delicious feast in front of her – normally mommy and daddy yell at her when she tries to sneak a taste of people food – she quickly figured out this cake was in fact for her! The icing was definitely her favorite part.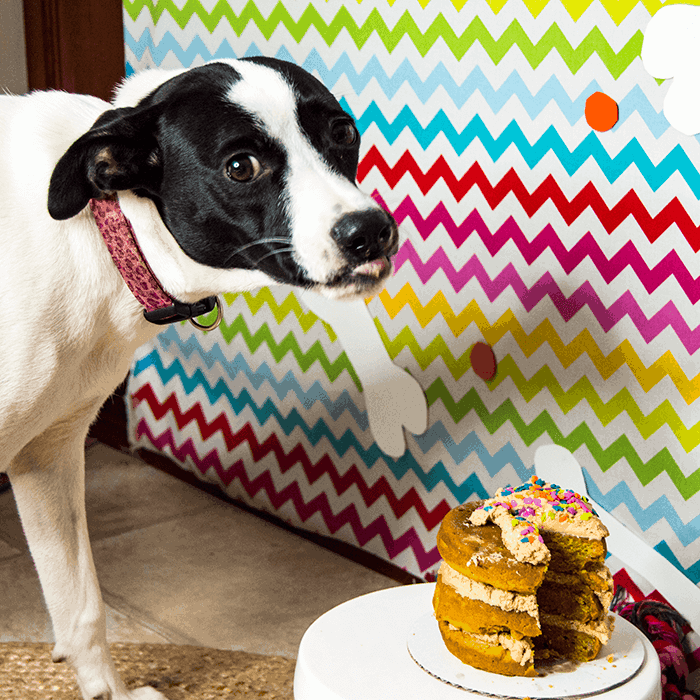 Even Theo got to share in on the cake eating – and I may have had a taste or two myself. The cake is made with people-friendly ingredients too, it just probably isn't as sweet as you'd expect a cake to be. But that's okay – it's for the dogs anyways!
Happy First Birthday, Luna!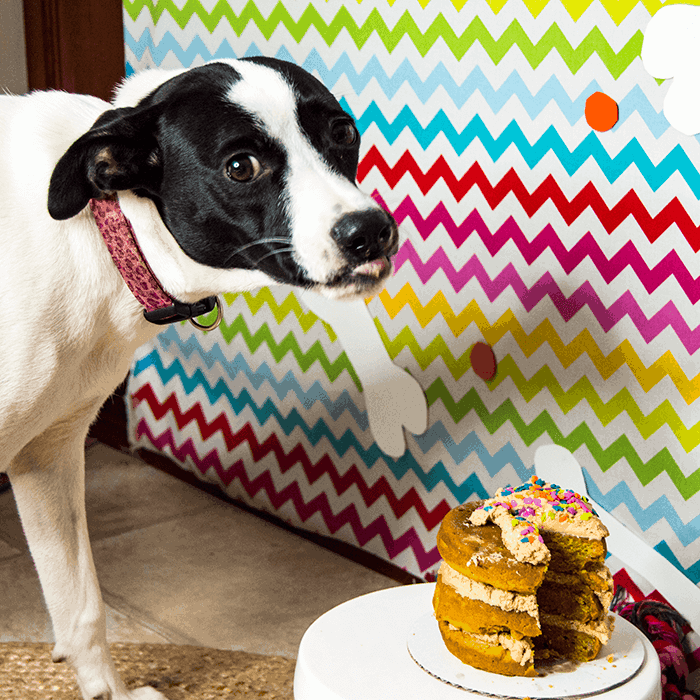 Puppy Cake Smash
This puppy cake is make to be as friendly on the tummy as possible – pumpkin even helps with digestion!
Ingredients
FOR PUPPY ICING:
¼

cup

organic peanut butter

¼

cup

plain Greek yogurt

or beef broth

2

tablespoons

cream cheese

optional, room temperature

organic sprinkles

optional
Instructions
Preheat the oven to 350 F/175 C. In a large bowl, mix together the vegetable oil, peanut butter, pumpkin puree, apple sauce and honey. Add in the flour and egg, then whisk until smooth.

Grease three 5 inch ramekins and split the cake batter evenly between them. Bake for 20-25 minutes or until a toothpick inserted in the center comes out clean. Cool completely.

While the cakes cool, whisk together the remaining peanut butter, Greek yogurt and cream cheese. The icing may be lumpy (but if your dog doesn't mind, that's okay!).

Spread the icing between the layers of cake, including the top. Add sprinkles, as desired, to the cake. Light a candle and sing happy birthday to your pup, then cut into bite sized pieces – this cake has 6-8 individual servings for a 30 lb dog. Enjoy!
Video