Puppy Popsicles aka PUPSICLES
The Starving Chef is supported by Hungry People like you. When you make a purchase through an affiliate link on my site, I may earn a little bit of cash on the side (at no extra cost to you) to help keep my kitchen running. Read our disclosures here.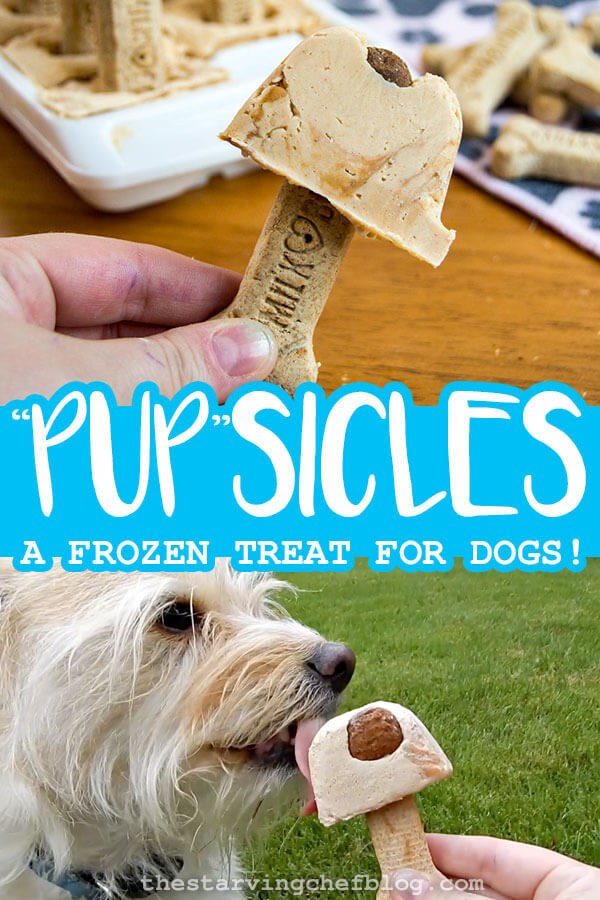 My dogs love to hang out in the backyard, no matter how hot it is outside. So to help keep my dog chillin' outdoors in the sun all summer, I made them "pup-sicles!"
Using an ice cube tray as the mold for the frozen treats, the "ice cream" portion of the pupsicle is made from just two ingredients: plain Greek yogurt and natural peanut butter. You can fill the pupsicles with your dogs favorite treats and then use a medium-length bone for the "stick" to the pupsicle.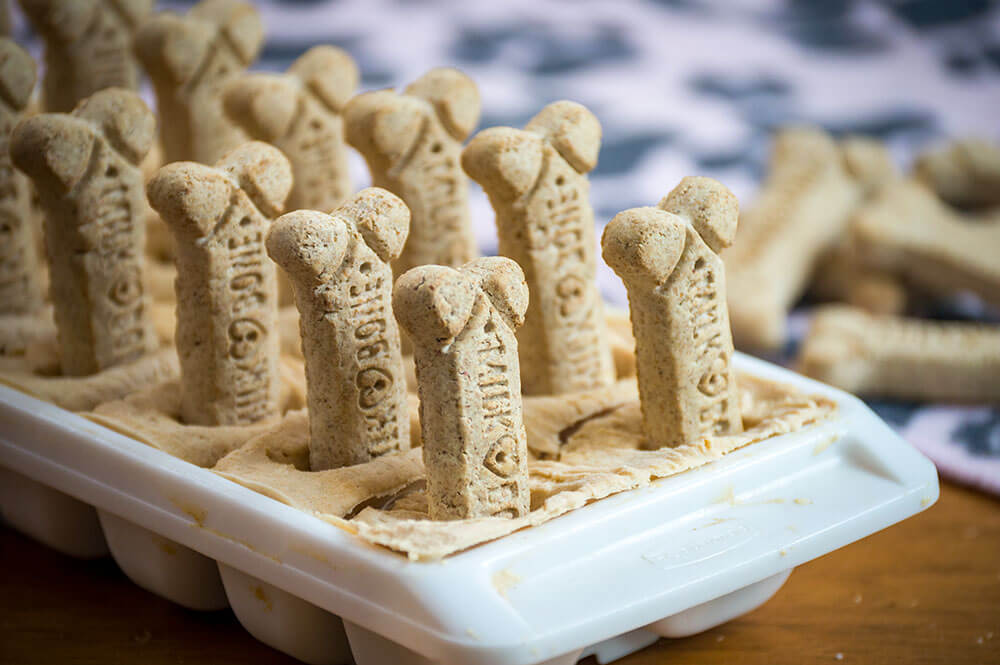 I'm a certified dog-mom. Low-key "my dogs are my kids" type of person. Don't get me wrong, I love all animals – but my dogs are my best friends! I strive to give them the best lives they can have; meaning they are definitely spoiled rotten.
Theodore has Addison's disease – we almost lost him to the disease when he was just a year old, so he especially is my dog-child. He's just like a little person – full of personality. I think he understands far more than we give him credit for. He was basically raised as a human baby, so aside from his dog appearance, he's totally a tiny furry human.
A lover of socks and toilet paper rolls, Theo Burrito absolutely loves his puppy popsicles!
Luna on the other hand is the definition of a "good girl!" I don't think she's stopped wagging her tail since we adopted her as a Christmas gift to Theo. She's definitely a mama's girl AND a handful. As a jack russell, she bounces higher than any dog I know!
Looney Tuna, as we call her, also gives her lick of approval for pupsicles!
These two are my love and joys – and seeing that we don't have any human children to take care of, they have certainly snuggled their ways into our hearts. So why not treat the bestest pets to some yummy summer time puppy treats to show my appreciation!
Just like giving a kid a popsicle in the summer, there pupsicles can make a mess if left with your dog unattended – so just be sure to serve the pupsicles outside or on a surface you won't mind having to clean!
Luna LOVES all food she's offered and wanted to gobble down the pupsicle in one bite. This is where the milk bone "stick" comes in handy: I can hold it for her so she doesn't get brain freeze!
Theo is a much more dainty eater and carefully licked the ice cream down to the bone and ate it like a gentleman.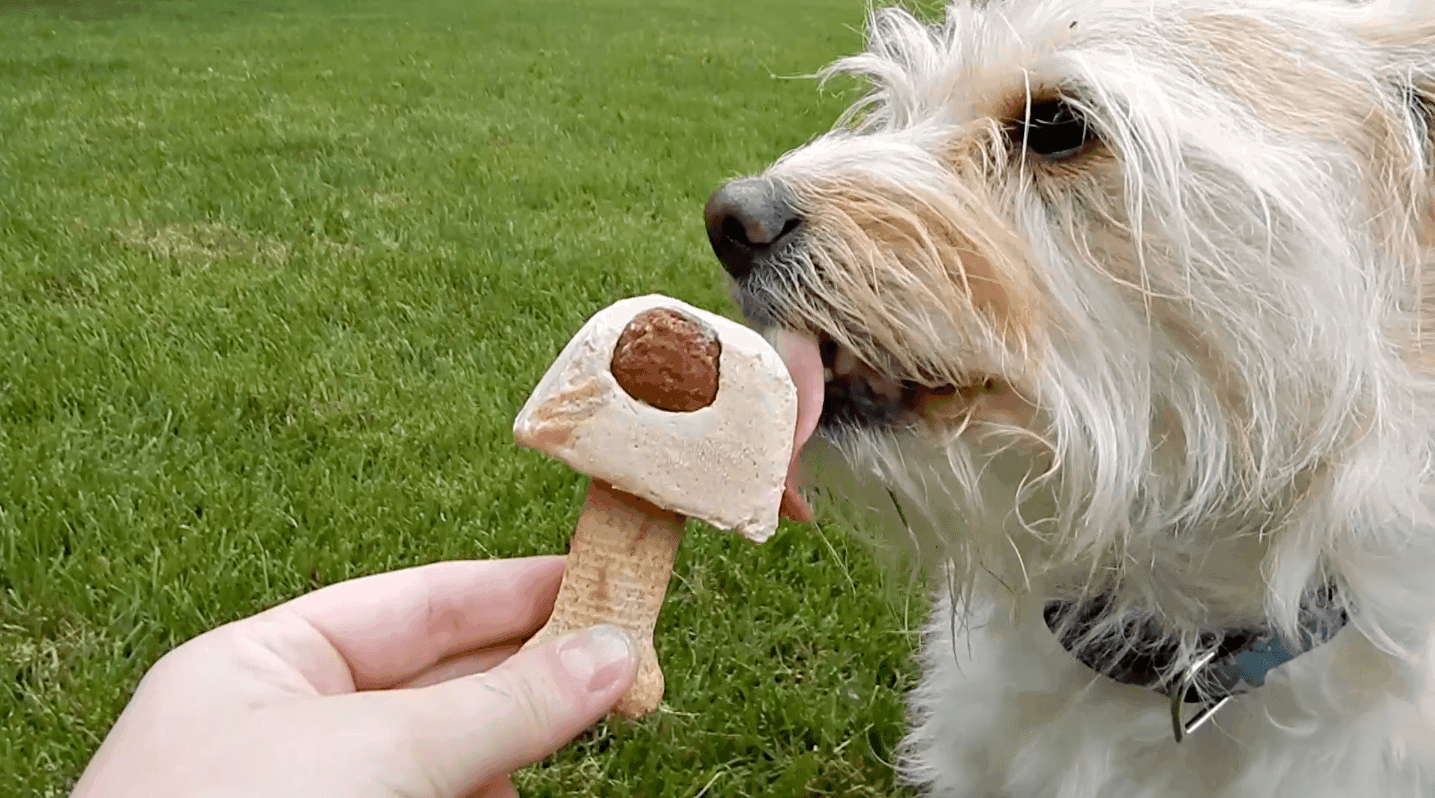 However your fur baby eats their pupsicle, these frozen treats are the perfect doggy dessert on a hot summer afternoon.
Puppy Popsicles aka PUPSICLES
Using an ice cube tray as the mold for the frozen treats, the "ice cream" portion is made from two ingredients: plain Greek yogurt and natural peanut butter.
Ingredients
1 ½

cup

plain Greek yogurt

low-fat, organic

1

cup

organic peanut butter

xylitol-free

16

oz

medium length dog treats/bones

16

pieces

kibble or snack treats

optional

cooking oil spray
Instructions
In a small bowl, beat together the peanut butter and Greek yogurt until light and fluffy, about 2 minutes.

Lightly spray an ice cube tray with oil based cooking spray. Place a small piece of training treats or kibble into each opening in the ice cube tray.

Fill the ice cube tray with the peanut butter mixture. Press the mixture into the cubes with the back of your spoon. Use a paper towel to smooth out the top of the peanut butter.

Press a milk bone into the center of each cube, about half way down. Freeze until solid, about 6-8 hours.

Leave the pupsicles out for about 5 minutes prior to serving. "Crack" the ice cube track as you would to remove ice and then pull out the individual 'pupsicles.'

Serve your dog the pupsicle outside or on an easy-to-clean surface. Hold the pupsicle by the 'stick' – or give them the whole pupsicle – and let your dog lick away. Good dog!