Ratatouille | Disney Copycat Recipes
The Starving Chef is supported by Hungry People like you. When you make a purchase through an affiliate link on my site, I may earn a little bit of cash on the side (at no extra cost to you) to help keep my kitchen running. Read our disclosures here.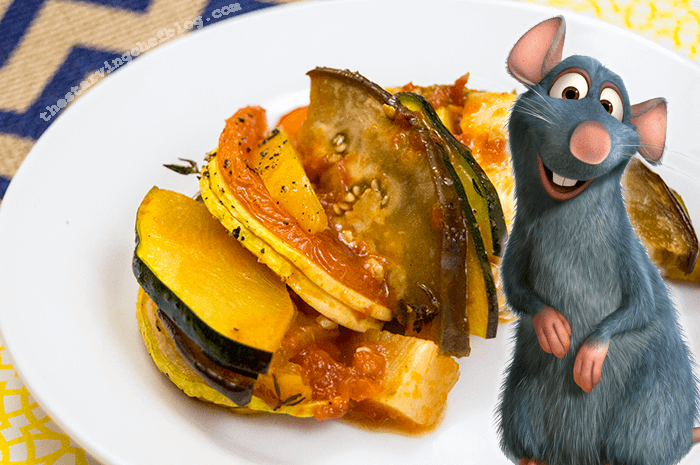 "Why do they call it that?" "What?" " – Ratatouille. It's like a stew, right? Why do they call it that? If you're gonna name a food, you should give it a name that sounds delicious. Ratatouille doesn't sound delicious. It sounds like "rat" and "patootie." Rat patootie! Which does not sound delicious." – Linguini, Ratatouille (2007)
While the name may be misleading and hard to pronounce, ratatouille is actually a very simple dish to make. If you believe Chef Gusto's famous saying "Anyone can cook" (and I do), ratatouille is a perfect dish for anyone just learning how to cook that want to impress their friends. I grew nearly all my ingredients in my own garden – which is why my zucchini is so massive – and I also made the sauce from scratch from my homegrown tomatoes.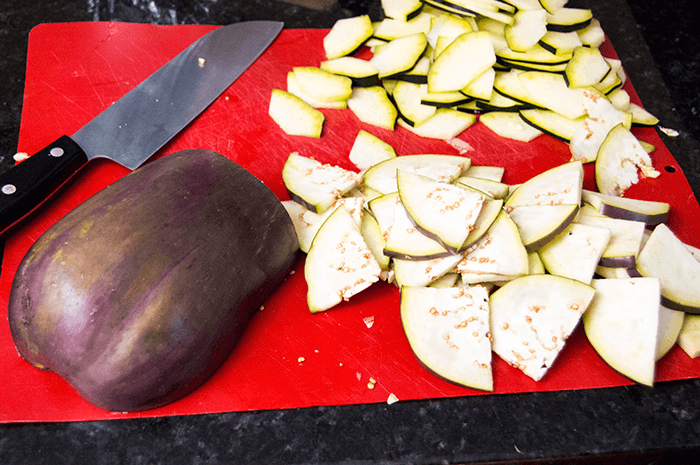 The 'most difficult' part of making ratatouille is slicing all of the vegetables in even, thin cuts and then arranging them in the pan. My zucchini and eggplants were so big that I barely used half of each!
Arguably the best part about ratatouille is the tomato sauce that it bakes in. While you can use any of your favorite pasta sauces, knowing I grew all the vegetables in mine myself made it taste all the more delicious.
The bottom layer of the dish is sauteed onions and garlic stirred into the pasta sauce. Then the sliced vegetables are arranged on top and sprinkled with fresh thyme and cracked salt and pepper.
The vegetables are then drizzled with olive oil and covered with a sheet of parchment paper cut to the size of the dish.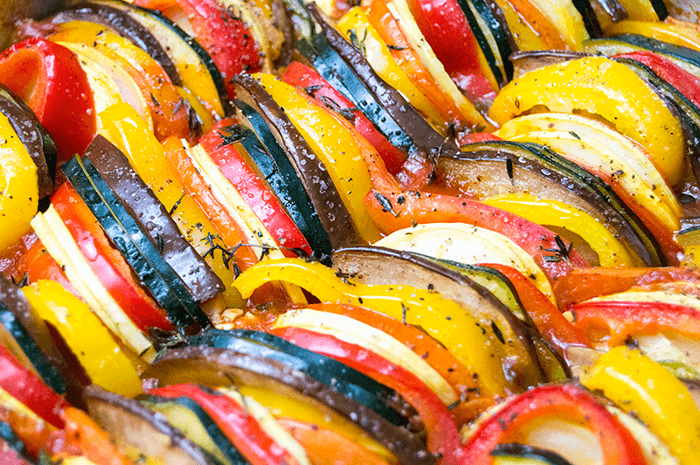 Bake the ratatouille until the vegetables are all softened and the pasta sauce is bubbling – about forty minutes. Then continue to bake, uncovered for another ten to fifteen minutes.
Now it's time to dig in! You can eat ratatouille as a side or main dish. I served mine over rice with a drizzle of balsamic vinegar and a dollop of marscapone cheese.
Enjoy – and don't forget: "Anyone can cook!"
Ratatouille | Disney Copycat Recipes
Ratatouille inspired by the Disney movie: Ratatouille!
Ingredients
1

zucchini

1

eggplant

1

yellow squash

1

red bell pepper

1

yellow bell pepper

1

tomatoes

1

cup

onion

chopped

2

cups

pasta sauce

4

tablespoons

garlic

minced

5

tablespoons

fresh thyme

3

tablespoons

olive oil
salt & pepper

to taste

marscapone cheese

optional, for topping

balsamic vinegar

optional, for topping
Instructions
Preheat the oven to 425 F. Thinly slice all the vegetables (except the onion and garlic) into evenly sized pieces. Roughly chop the onion and mince the garlic.

Grease a 9×9 baking pan then pour in the pasta sauce. Stir in the chopped garlic and onion. Season with salt and pepper.

Arrange the slices of vegetables in a repeating pattern until the pan is filled and no more pieces can fit.

Drizzle the vegetables with olive oil, season with salt and pepper and sprinkle on half of the thyme. Cover the vegetables with parchment paper cut to fit the pan. Bake for 40-45 minutes.

Remove the parchment paper and continue to cook for an additional 10-15 minutes, or until the pasta sauce is bubbling through the vegetables.

Serve on a bed of white rice or as a side dish. Garnish with marscapone cheese and a drizzle of balsamic vinegar, as desired. Serve hot to Anton Ego and enjoy!