Salted Caramel Rice Krispies Treats
The Starving Chef is supported by Hungry People like you. When you make a purchase through an affiliate link on my site, I may earn a little bit of cash on the side (at no extra cost to you) to help keep my kitchen running. Read our disclosures here.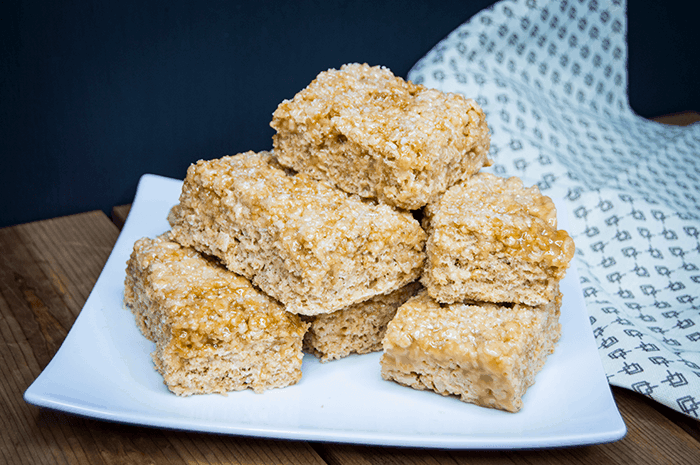 Let me introduce you to the all time BEST rice krispies treats I have ever made. Salted caramel rice krispies treats – they take you on a journey from salty to sweet in a single bite.
Unlike their marshmallow-y counterparts, these hunks of caramel goodness are soft and chewy and stay that way for days. It's like straight caramel and rice puffed cereal fused into one perfectly to create an entirely new level of deliciousness.
Topped with a generous sprinkling of sea salt, you'll be hard pressed to find someone that could turn one down. They are straight addictive.
Salted Caramel Rice Krispies Treats
Salted caramel rice krispies treats – they take you on a journey from salty to sweet in a single bite.
Instructions
Grease a 9×13 cake pan with butter or cooking spray. Pour the puffed rice cereal into a large mixing bowl.

In a large pot, melt the butter and stir in the brown sugar. Continue to stir until the brown sugar begins to melt and darken, then stir in the heavy cream. Stir until totally combined, then whisk in the corn syrup. Stir until the caramel mixture has become smooth. Sprinkle in a dash of sea salt. Reduce heat to low and keep warm.

Create or use a double boiler. Add the butter and marshmallows. Stir until the marshmallows begin to soften and melt. Slowly pour in the hot caramel sauce. Continuously stir until the marshmallows have totally melted into the caramel.

Pour the melted marshmallow mixture into the bowl of cereal. Use a rubber spatula to fold the cereal over and over until it is totally covered in caramel. Sprinkle in a dash more sea salt.

Spread the cereal mixture into the greased cake pan. Grease your fingers with butter or spray lightly with oil, and press the top of the cereal into the corners. Gently press down and flatten into a smooth layer.

Sprinkle the remaining sea salt over the top. Rest the rice krispies treats in the pan for at least ten minutes to set. Use a sharp knife to cut the rice krispies into even squares, or use a cookie cutter to cut into fun shapes. Enjoy!