Sea Salt Cashew Brittle
The Starving Chef is supported by Hungry People like you. When you make a purchase through an affiliate link on my site, I may earn a little bit of cash on the side (at no extra cost to you) to help keep my kitchen running. Read our disclosures here.
Something about peanut brittle always puts me in the holiday spirit! With Christmas only a few days away, and (shockingly) no more presents to wrap, I decided to whip up a batch of cashew brittle.
Peanut brittle is made of hard sugar candy that shatters easily. I prefer cashews over regular old peanuts, but you can use most nuts from almonds to pistachios – or even mix and match your favorites! You really can't go wrong with nuts and sugar.
The most important part, however, is making sure the sugar reaches the right temperature to actually be brittle. My handy candy thermometer shows me exactly when to remove the pot from the heat: at 310 F
Gently spread the nuts and melted sugar onto a silicone mat or parchment paper. Now is the time to sprinkle on the sea salt or any other toppings you might want to mix in.
Then just let the sugar dry until it's…BRITTLE! I lifted my brittle off the baking sheet it dried on then dropped it onto my counter with a loud *smack!* and it instantly shattered. You might need to break up any huge pieces, but for the most part, the pieces should be bite sized.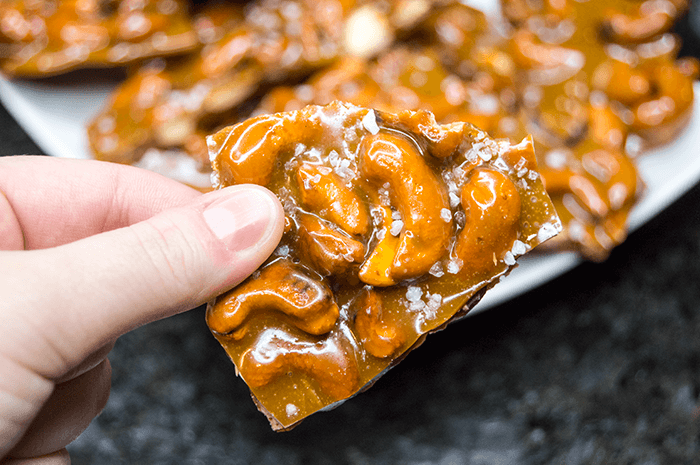 Have a Happy Holiday!
Sea Salt Cashew Brittle
Cashews in a salted caramel brittle – perfect for the holidays!
Ingredients
Instructions
Prepare a baking sheet with a silicone mat, parchment paper, or use extra butter as grease. Set aside.

In a large pot over high heat, melt together the butter, sugar, and corn syrup, stirring frequently to avoid burning the sugar.

When the mixture is completely melted and beginning to bubble, add the cashews. Stir constantly until the mixture reaches 310 F / 154 C.

Carefully pour the boiling mixture onto the lined baking sheet. Sprinkle on the sea salt while the mixture is still wet.

Let cool completely. Gently drop or crack the brittle into bite sized pieces. Enjoy with family during the holidays!