Seafood Casserole | What's In My Fridge Door
The Starving Chef is supported by Hungry People like you. When you make a purchase through an affiliate link on my site, I may earn a little bit of cash on the side (at no extra cost to you) to help keep my kitchen running. Read our disclosures here.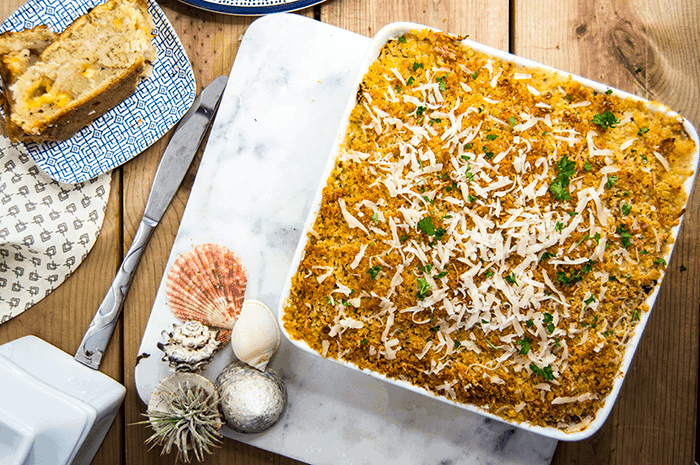 Every couple months I like to play this game I call "What's in my fridge door?" where I basically raid my fridge, freezer and pantry for food items that are about to expire or have been sitting on the shelf for several months. Recently, the challenge was "casseroles" so I decided it was the perfect time to make a dump casserole with all the goodies I could find in my kitchen.
After assessing the ingredients I had on hand: some partially freezer burnt shrimp (I picked out the good ones), a mysterious "white fish" that I think was probably tilapia, and a can of condensed clam chowder (don't ask me why I had this?); along with a mix of chopped broccoli and shallot, frozen corn and mushrooms; I decided to create a seafood combo unlike anything I'd ever made – and it was DELICIOUS!
The condensed clam chowder works as an excellent base to the whole casserole, helping it all stick together with some help from an egg. I seasoned the base with a touch of Old Bay seasoning and marjoram – though I only used marjoram because I had a bunch on hand, you can totally use thyme or oregano.
The crust of the casserole was pretty simple too – panko bread crumbs, Old Bay seasoning and butter. But to really help hold it all together, I added a handful of mozzarella cheese because, why not?
While it certainly doesn't look appetizing once it's all stirred together, once the crust is on and it's baked, looks cease to matter. What matters here is that it tasted great!
As with most casseroles, there aren't many pretty ways to serve them. Ultimately, you're ending up with a pile of deliciousness on your plate. With a crunchy topping and a savory filling, this seafood "surprise" was definitely the best way I could have used up all the random ingredients in my kitchen.
Even my boyfriend, who has pretty high standards when it comes to my cooking, absolutely raved about this meal and asked for me to make it again sometime – and while it might be hard to recreate exactly as I did that day, now that I have the ingredients written down, I think I might able to get it pretty close!
Seafood Casserole | What's In My Fridge Door
A seafood casserole topped with a crispy, crunchy topping. The best easy weeknight meal!
Ingredients
1

cup

shrimp

peeled & tails removed

8

oz

condensed clam chowder

16

oz

tilapia filet

or comparable white fish

½

cup

sweet corn

½

cup

cremini mushrooms

chopped

⅕

cup

broccoli

chopped

3

tablespoons

shallot

chopped

2

tablespoons

garlic

minced

1

tablespoon

marjoram

or can sub thyme

1

tablespoon

Old Bay seasoning

½

teaspoon

whole grain mustard

1

egg
FOR TOPPING:
1

cup

panko

½

cup

mozzarella

shredded

4

tablespoons

butter

melted

2

tablespoons

Old Bay seasoning

1

teaspoon

sea salt

2

tablespoons

fresh parsley

finely chopped for topping
Instructions
Thaw any frozen ingredients. Preheat the oven to 375 F. In a large bowl, combine the shrimp, white fish and creamed clams. Stir in the chopped broccoli, shallots and garlic. Mix in the corn and mushrooms. Stir in the egg, mustard and seasonings then mix until everything is combined sufficiently.

Grease a casserole dish with cooking spray. Spread the seafood mixture in an even layer in the bottom of the dish. In a small bowl, whisk together the melted butter, panko, shredded mozzarella, Old Bay, and sea salt. Spread the panko mix evenly over the seafood mixture.

Bake the casserole for 20-25 minutes. If the top doesn't turn golden brown, broil for an additional 5-8 minutes until the panko crust is golden. Sprinkle on fresh parsley, as desired. Serve with your favorite veggies or frozen sides (whatever you can find in your freezer!) and enjoy!