Simple Chipotle Chicken Roll-Ups
The Starving Chef is supported by Hungry People like you. When you make a purchase through an affiliate link on my site, I may earn a little bit of cash on the side (at no extra cost to you) to help keep my kitchen running. Read our disclosures here.
Here's a simple appetizer that I can promise will be the talk of any party you are attending. Not only are they delicious, if you prep them the night before, they only take a few minutes to cut and serve. I recently made some of these for my sister's baby shower and nearly everyone came up to me and requested the recipe. So ladies, here it is! My recipe for chipotle chicken roll-ups.
Another bonus to this recipe is that it's pretty cheap to throw together, with readily available ingredients. My roll-ups did have some heat to them, but that's only because I used diced tomatoes with green chile peppers, chipotles in adobo sauce, and pepperjack cheese; but that heat was contained within the cream cheese and mild cheddar cheese blend that they're mixed with.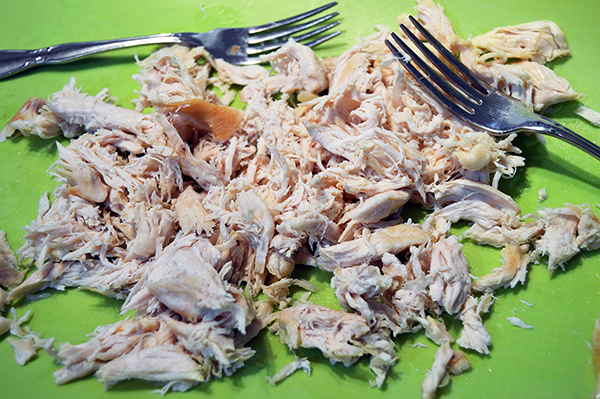 Quickly brown and boil a few strips of chicken breast in a small pan, then shred it using two forks. Let it cool as you prepare the other ingredients.
Drain the tomatoes and chop the green onion, then toss all of the ingredients in a bowl with the spices and stir well. It's best to have the cream cheese at room temperature to stir it all together. Avoid microwaving it if you can, or else your tortillas will end up soggy.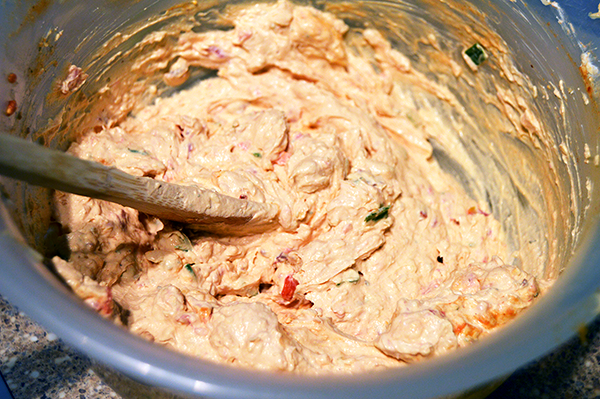 Spread the cream cheese mix to the edges of each tortilla, then sprinkle on the shredded chicken – or leave the shredded chicken off for a vegetarian option, these things are delicious either way! Then just roll the tortillas up and refrigerate overnight (or at least 6 hours, so the cream cheese hardens again).
I had an extra tortilla leftover from my pack, so I melted some cheddar cheese and chopped up the extra green onions and made a second flavor on the spot too, so that just goes to show how easy it is to customize these roll-ups. They left everyone at the shower raving. I know I'll be making these roll-ups again, for sure.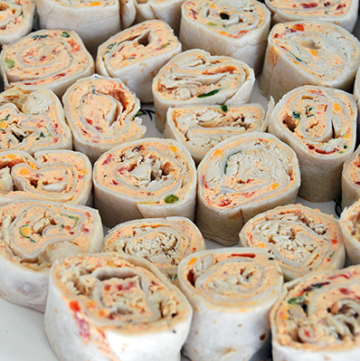 Simple Chipotle Chicken Roll-Ups
An easy appetizer made with shredded chicken, cream cheese and chipotle peppers in adobo sauce.
Instructions
Heat one tablespoon of oil in a pan over medium high heat. Brown the chicken on each side, or about 2 minutes per side. Cover the chicken with water and bring to a boil for 10 minutes. Remove the chicken from the pan, shred and let cool. (PRO TIP: use a hand mixer to shred the chicken quickly)

In a large bowl, stir together the cream cheese with the drained diced tomatoes, chipotle peppers, shredded cheeses, green onions, garlic powder, and cumin.

Spread the cream cheese mix over the tortillas, all the way to the edges. Sprinkle the chicken across all eight tortillas.

Tightly roll the tortillas and chill at least 6 hours or overnight. Slice into even, bite sized rolls, or about 6-8 pieces per tortilla. Serve throughout the party and enjoy!