Simple Homemade Pizza Pockets
The Starving Chef is supported by Hungry People like you. When you make a purchase through an affiliate link on my site, I may earn a little bit of cash on the side (at no extra cost to you) to help keep my kitchen running. Read our disclosures here.
What's Up, Hungry People!
If only I had known how easy these things were to make back in college when pizza practically made up 97% of my diet! These homemade pizza rolls, or mini pizza pockets, are an absolute game-changer. They are made with a simple blend of spicy sausage and pizza sauce, resulting in a delicious and fun snack that will surely satisfy your cravings.
Here's What You Need
Sheet dough or pizza dough: Provides the base for the pizza pockets, giving them structure and a delicious doughy texture.
Spicy Italian ground sausage: Adds flavor and a spicy kick to the filling, enhancing the overall taste of the pizza pockets.
Pizza sauce: Serves as a tasty and zesty sauce that combines with the sausage to create a flavorful filling.
Mozzarella cheese: Melts beautifully, creating a gooey and creamy texture while adding a cheesy goodness to the pizza pockets.
Let's Cook!
To achieve that classic pizza roll texture, I like to take my hot Italian sausage and give it an extra grind using a blender. However, this step is entirely optional and won't significantly affect the taste, although it does impact the mouthfeel. So, feel free to skip this if you prefer!
Cook the spicy sausage until it crumbles and is fully cooked. Once done, combine it with the pizza sauce in a mixing bowl. The spicy sausage adds a delightful kick to the filling, creating a flavor-packed experience with every bite.
Assembling the Pizza Pockets
Now, let's move on to assembling these tasty pizza pockets! Start by stretching out the Pilsbury Crescent Dough Sheet on a cutting board. Pull it on all sides to make it slightly larger and thinner. This step helps create a better dough-to-filling ratio and ensures a satisfying bite.
Next, make a single cut down the center of the sheet. Then, cut the dough across, creating rectangular pieces approximately 2×3 inches in size. These will serve as the base for our pizza pockets.
Using a tablespoon, scoop out portions of the sausage filling and place them in the center of each rectangle. Top the filling with a generous amount of mozzarella cheese, which will melt beautifully and add a creamy texture to the pockets.
Once the filling and cheese are in place, fold the other side of the dough over the filling, creating a pocket-like shape. Pinch the edges closed to secure the deliciousness within.
Baking the Pizza Pockets
Now it's time to bake these delectable treats! Arrange the pizza pockets on a baking sheet and pop them into a preheated oven. Let them cook for around 10-13 minutes, or until they are heated through and the dough starts to turn golden brown. The aroma that fills your kitchen as they bake is simply mouthwatering.
Serving Suggestions
Once the pizza pockets are out of the oven, it's time to enjoy them! I personally love serving mine with an extra side of warm pizza sauce for dipping. The combination of the zesty sauce and the savory pockets is absolutely divine.
So there you have it, Hungry People! Homemade pizza pockets that are not only easy to make but also incredibly tasty. With a simple blend of spicy sausage, pizza sauce, and gooey mozzarella cheese, these pockets are a flavor explosion in every bite.
Whether you're looking for a quick dinner option or a fun snack for a lazy day, these pizza pockets won't disappoint.
So go ahead, give them a try, and get ready to satisfy your pizza cravings in the most delightful and affordable way possible.
Enjoy!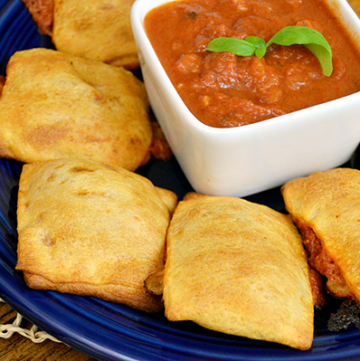 Simple Homemade Pizza Pockets
Savory and satisfying, these homemade pizza pockets feature a flavorful blend of spicy sausage and gooey mozzarella cheese, folded in a flaky dough and baked to perfection.
Ingredients
1

can

sheet dough or pizza dough

¼

cup

spicy Italian ground sausage

1

cup

pizza sauce

+ more for dippng

1

cup

mozzarella cheese

shredded
Instructions
Preheat the oven to 350°F.

Cook and crumble the sausage in a large skillet over medium-high heat. (Optional: use a food processor to chop the sausage further to achieve a smoother filling.)

Stir the cooked sausage together with the pizza sauce.

Spread the sheet dough out on a cutting board. Cut it into 12 rectangles.

Place a tablespoon of filling in the center of each rectangle and top it with about a tablespoon of cheese. Fold the dough in half, creating a pocket, and pinch the edges together.

Arrange the pizza pockets onto a baking sheet. Bake for 10-13 minutes, or until the pizza pockets are beginning to brown and have cooked through.

Cool for 10 minutes prior to serving for best results. Serve with an extra side of pizza sauce and enjoy!