Single Serving Chicken Pot Pies with Puff Pastry
The Starving Chef is supported by Hungry People like you. When you make a purchase through an affiliate link on my site, I may earn a little bit of cash on the side (at no extra cost to you) to help keep my kitchen running. Read our disclosures here.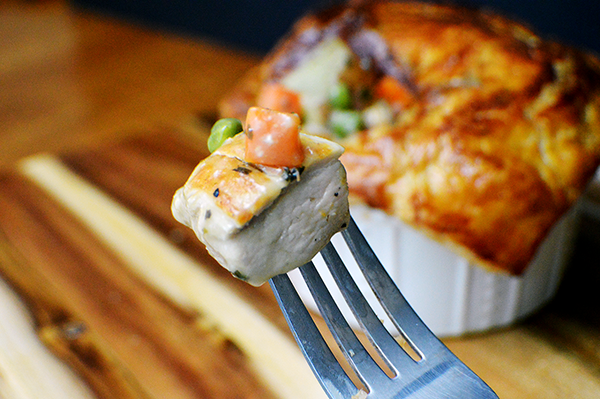 Hey there, hungry people!
Today I have a delightful recipe for you that will satisfy your craving for a comforting chicken pot pie. Now, I love chicken pot pie, but let's be honest, eating it every day for a whole week can get a bit repetitive. That's why I'm excited to share this single serving (or double serving) recipe with you. It's the perfect solution to enjoy all the flavors of a chicken pot pie without any leftovers!
This recipe was actually inspired by the 52 Weeks of Cooking Challenge, specifically Week 28's Alton Brown theme. However, true to my Starving Chef style, I put my own spin on it by using some leftover pie crust that was hanging out in my fridge.
You know how it is, trying to be resourceful and make the most of what we have on hand.
So while this recipe is based on Alton's individual chicken pot pies with puff pastry, the ingredients I used helped clear out my fridge for some fresh new foods.
Here's What You Need
Chicken breast: Adds protein and flavor to the filling.
Puff pastry: Provides a delicious and flaky crust on top of the pot pie.
Chicken broth: Creates a flavorful base for the filling.
Cream of mushroom soup: Adds creaminess and depth of flavor to the filling.
Frozen veggie mix (peas, carrots, corn medley): Provides a colorful and nutritious mix of vegetables.
Tarragon: Adds a subtle herbaceous flavor to the filling.
Thyme: Adds earthy and aromatic notes to the filling.
Red skin potatoes: Adds texture and heartiness to the filling.
Garlic: Enhances the overall savory flavor of the dish.
Olive oil: Used for sautéing the chicken and vegetables.
Water: Used to create an egg wash for brushing on top of the puff pastry.
Egg: Combined with water to create an egg wash, giving the puff pastry a golden finish.
Salt and pepper: Enhances the overall taste of the dish.
Let's Jump Into It
Now, let me share a little secret with you. I ran out of milk when I was making this recipe, but fear not! I found a clever substitution to maintain that creamy goodness we all love in a chicken pot pie. I used cream of mushroom soup instead (I also happened to be out of fresh mushrooms). Sometimes, being a Starving Chef means making do with what we've got. To further stretch my ingredients, I rummaged through the depths of my freezer and unearthed some frozen peas and carrots. Yup, it was one of those "dangerously poor this week" moments. But hey, that's the beauty of cooking from scratch and being resourceful, right?
Alright, let's dive into the cooking process.
First, we'll sear the chicken. Heat up 2 tablespoons of olive oil in a pan over medium-high heat. Give the chicken breasts a nice sear until a golden-brown skin forms. Don't worry about cooking them all the way through; they should still be slightly raw in the center.
Once seared, remove the chicken from the pan and use a sharp knife to slice it into bite-sized cubes.
In the same pan, add the remaining oil and sauté the potatoes for a few minutes until they start to brown slightly. Then toss in the frozen veggies and herbs. Keep stirring frequently as the potatoes continue to brown and the veggies thaw out.
Now it's time to add some liquid love to our filling. Pour in the chicken broth and bring it to a boil. Once it's bubbling away, go ahead and add the cream of mushroom soup.
Let the mixture come to a bubble on the stovetop before gently folding in the chicken breast cubes. The flavors are starting to meld together beautifully!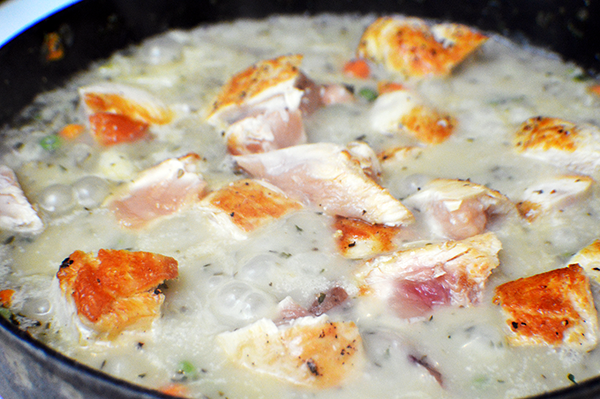 While the filling cooks and gets even more delicious, let's prepare our ramekins. Give them a quick spritz of cooking spray to prevent any sticking, and then gently press a 1/4 square of puff pastry into each ramekin.
This will serve as our deliciously flaky crust.
Now for the exciting part: assembling the pot pies! Grab a ladle and carefully scoop about 1 cup to 1 and a half cups of the filling into each ramekin, making sure to leave some room for the pastry lid. Top off each ramekin with another 1/4 square of puff pastry, pressing it gently onto the filling.
To give our pies that beautiful golden finish, let's make an egg wash. Simply whisk together 1 egg and 1 tablespoon of water, and then brush this mixture onto the top of each pastry. This will create a lovely golden brown and crispy crust when baked.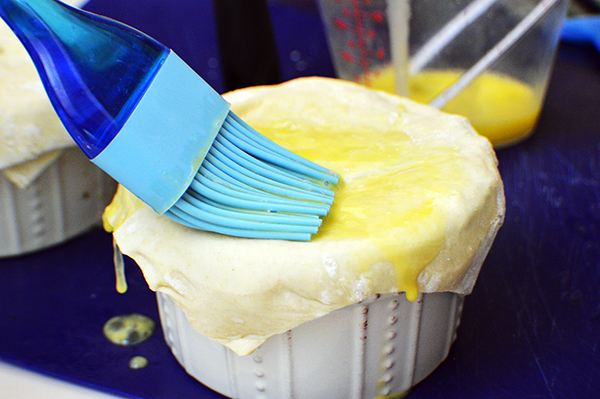 Finally, it's time to pop these little pockets of goodness into the oven. Bake them at around 375°F (190°C) for 15-20 minutes or until the tops are beautifully golden brown and irresistibly crispy.
Helpful Tips & Tricks
Don't overcook the chicken: Since the chicken breast will be seared but still raw in the center before adding it to the filling, be careful not to overcook it during the initial searing step. This will ensure that the chicken remains tender and juicy after baking.
Thaw the puff pastry properly: Make sure to thaw the puff pastry according to the package instructions before using it. Thawing it properly will ensure that it bakes evenly and achieves a beautiful golden brown color.
Prevent a soggy bottom crust: To prevent a soggy bottom crust, you can pre-bake the puff pastry squares for a few minutes before adding the filling. This will create a barrier and help keep the bottom crust crispy.
Adjust seasoning to taste: While the recipe provides a general guideline for seasoning, feel free to adjust the amounts of herbs, salt, and pepper to suit your personal taste preferences. Always taste the filling before assembling the pot pies and make any necessary adjustments.
Avoid overcrowding the ramekins: Be mindful not to overfill the ramekins with the filling. Leave some space at the top to accommodate the puff pastry lid and to prevent the filling from overflowing during baking.
Watch the baking time: Keep a close eye on the pot pies while they are baking. Oven temperatures can vary, so adjust the baking time accordingly. The puff pastry should be golden brown on top, and the filling should be hot and bubbly when fully cooked.
Allow for proper cooling time: After removing the pot pies from the oven, let them cool on a cooling rack for at least 10 minutes before serving. This will allow the filling to set slightly and prevent any accidental burns from piping hot insides.
I was honestly amazed at how easy and delicious this recipe turned out to be. It was a refreshing change of pace from the other meals I've been cooking lately. Plus, making single servings means you can easily adjust the recipe to suit your needs. So go ahead, give it a try, and let me know how it turns out for you. Enjoy your homemade single serving chicken pot pies with puff pastry, and until next time, happy cooking, hungry people!
Single Serving Chicken Pot Pies with Puff Pastry
Enjoy a flavorful single serving chicken pot pie with a golden puff pastry crust, filled with tender chicken, veggies, and creamy mushroom sauce.
Ingredients
8

oz

chicken breast

1

sheet

puff pastry

thawed

1

cup

chicken broth

8

oz

cream of mushroom soup

(1 can)

1

cup

frozen veggie mix

peas, carrots, corn medley

1

tablespoon

tarragon

1

tablespoon

thyme

2

red skin potatoed

chopped

1

tablespoon

garlic

minced

2

tablespoons

olive oil

1

tablespoons

water + 1 egg

whisked

salt & pepper

to taste
Instructions
Preheat the oven to 425°F (220°C). In a skillet, heat 1 tablespoon of olive oil over medium-high heat. Sear the chicken breast on each side until browned but not cooked through. Remove from the pan.

Add the remaining tablespoon of olive oil to the pan and toss in the chopped potatoes. Cook for a few minutes until the potatoes begin to brown slightly.

Add the frozen veggie mix and herbs to the pan. Stir and cook until the veggies thaw and soften.

Pour in the chicken broth and bring it to a boil. Then add the cream of mushroom soup and stir to combine. Bring it back to a bubble.

Chop the seared chicken into pieces (it will be raw in the center) and add it to the filling mixture.

Grease 2 ramekins and press 1/4 of the puff pastry sheet into each one.

Use a ladle to scoop 1 cup of the filling into each ramekin. Top each ramekin with another 1/4 of the puff pastry sheet, pressing the edges together.

Brush the egg wash (1 tablespoon water + 1 whisked egg) across the tops of the puff pastry. Make small slits in the top to allow the pie to breathe while cooking.

Place the ramekins into the preheated oven and bake for 12-15 minutes, or until the puff pastry is golden brown on top.

Remove the ramekins from the oven and let them cool on a cooling rack for at least 10 minutes before serving. Remember, the insides will be piping hot, so exercise caution. Serve once cooled to be warm to the touch on the exterior of the ramekin. Enjoy!