Sous Vide Pork Chops & Butter Spinach
The Starving Chef is supported by Hungry People like you. When you make a purchase through an affiliate link on my site, I may earn a little bit of cash on the side (at no extra cost to you) to help keep my kitchen running. Read our disclosures here.
I'm a sucker for all things sous vide, but if there's one thing I never want to cook the traditional way again in ispork chops. Seriously, sous vide is the way to go with these things!
I often buy whatever meat is on sale and generally end up with thin cuts of pork that become dough and dry if overcooked for more than a second. With sous viding, the pork remains pleasantly tender and moist all the way though and you don't even have to marinade them. Just season with some salt and pepper, add the pork chops to a vacuum seal bag, and place in a pot of water with an immersion circulator for 1-6 hours. I slapped a quick sear on mine at the end, just for looks, then plated in on a bed of sous vide butter spinach and mushrooms.
If you are trying to decide between getting a slow cooker or an immersion circulator (I have a Precision Immersion Circulator from Anova Culinary), I definitely recommend the circulator. Sure it's a tad more expensive, but it cooks meats perfectly with no worries of overcooking that you might have with slow cookers. I wouldn't say an immersion circulator is a replacement for a slow cooker by any means, I have one of each, but since I got my precision cooker, my slow cooker has been gathering dust…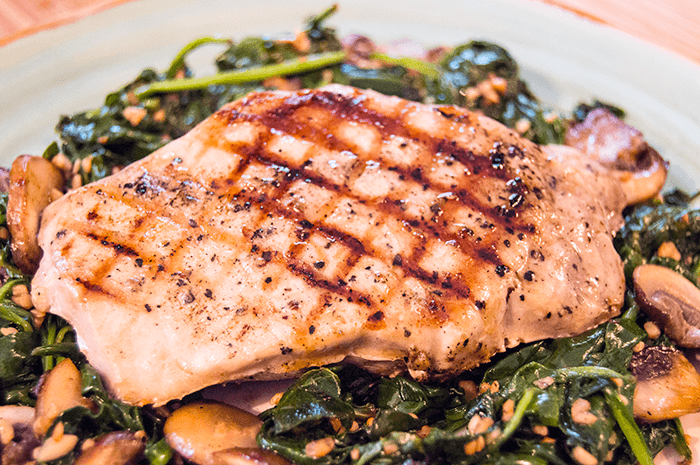 Sous Vide Pork Chops & Butter Spinach
Cheap cuts of meat are transformed into delicious and tender slices of pork with a butter spinach side.
Ingredients
FOR BUTTER SPINACH AND MUSHROOMS:
4

cups

spinach

1

tablespoon

garlic

minced

½

cup

mushrooms

sliced

2

tablespoons

butter

melted

salt & pepper

to taste
Instructions
Fill a large pot with water and attach the immersion circulator to the side. Preheat the water to 130 F.

Pat the pork chops dry with a paper towel. Season both sides with the salt and pepper. Place the chops into a vacuum seal bag and use the vacuum sealer to remove all the air and excess moisture.

Place the sealed pork chops into the water bath.for 1-6 hours. The pork will become more tender the longer it cooks.

When nearly ready to serve the pork, preheat a greased grill skillet on high heat. Place the spinach, butter, mushrooms, garlic into a vacuum seal bag. Season with salt and pepper and toss gently to cover the contents with butter. Seal the baggie (some butter may be removed in the sealing process).

Place the sealed spinach into the water bath and cook for 10-15 minutes, or until the spinach has halved in size.

Remove the pork from the water bath and remove from the vacuum bags. Place each chop on the preheated grill for one minute, rotate 90 degrees, grill for another minute, then flip and repeat until the pork has nice grill lines. Do not overcook the pork here, if the pan is hot enough, 1-2 minutes per side will achieve grill lines.

Remove the spinach from the water bath. Plate the spinach and place the pork chop on top. Season with salt and pepper, serve hot and enjoy!