Citrus Infused Cranberry Pepper Relish
The Starving Chef is supported by Hungry People like you. When you make a purchase through an affiliate link on my site, I may earn a little bit of cash on the side (at no extra cost to you) to help keep my kitchen running. Read our disclosures here.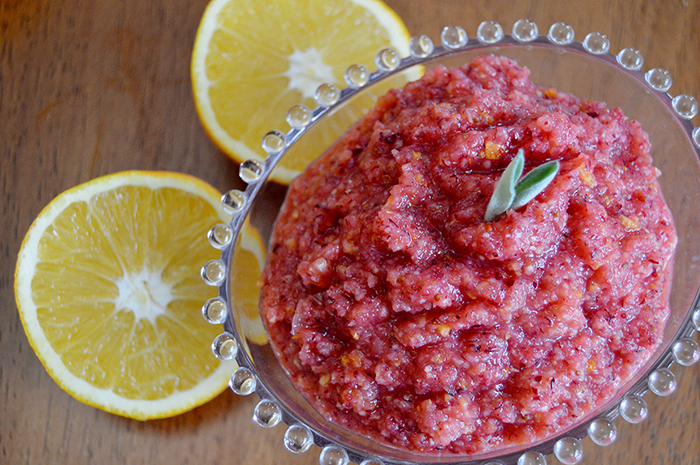 What's up, Hungry People!
Let's cook and spice up the holidays with a twist on a classic. Today, we're diving into the world of cranberry relish! I've never been a huge fan of traditional cranberry sauce, but this relish recipe is a game-changer. The texture is what sets it apart, and when you add some spicy red pepper jelly and sweet tangy oranges, it becomes a flavor explosion!
A Twist on Tradition
During the holidays, it's tempting to stick with what we know, but I believe it's the perfect time to experiment and create something new. Cranberry relish offers a refreshing change from the usual cranberry sauce. Its unique texture adds a delightful element to any festive spread.
Here's What You Need
Fresh cranberries: Adds tartness and a vibrant color to the relish.
Oranges: Provides a sweet and tangy flavor, as well as a hint of citrusy aroma.
Red pepper jelly: Adds a spicy kick and a touch of sweetness to balance the flavors.
Sugar: Enhances sweetness and helps balance the tartness of the cranberries.
Let's Cook!
Now, here's the best part: making this relish couldn't be easier. Seriously, there's only one step! Just toss all the ingredients into a food processor and blend away. Yes, that's it! The combination of cranberries, spicy red pepper jelly, and tangy oranges creates a harmonious blend of flavors that will leave your taste buds dancing with joy.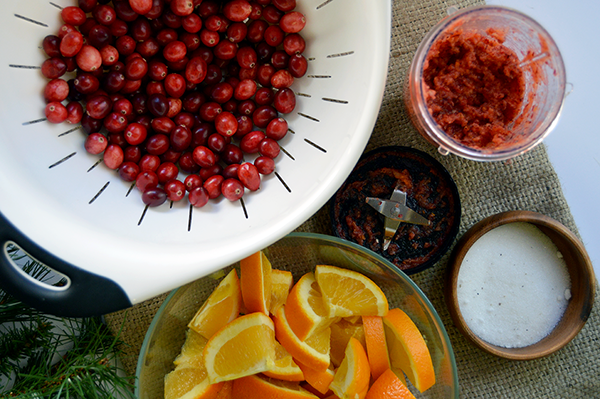 Chill or Serve at Room Temperature
One of the great things about this cranberry relish is its versatility. You can serve it chilled or at room temperature, depending on your preference and the occasion. Personally, I love the contrast of flavors when it's served chilled, but it's equally delicious at room temperature. Plus, it's a time-saver! You can prepare it ahead of time and have it ready to go whenever you need it.
Tips for Homemade Cranberry Pepper Relish
Blending Consistency: Adjust the blending time in the food processor to achieve the desired consistency. Blend for a shorter duration for a chunkier relish or longer for a smoother texture.
Optional Simmering: Simmer the relish in a saucepan over medium-high heat to reduce the liquid content and intensify the flavors. This step is optional and can be skipped if you prefer a lighter, more liquid consistency.
Chilling for Flavor Infusion: Allow the relish to chill for at least one hour before serving. This helps the flavors meld together and enhances the overall taste.
Make-Ahead and Freezing: This relish can be made in advance and frozen for future use. Simply thaw it in the refrigerator overnight when needed. Freezing preserves the flavors and allows you to enjoy this relish beyond the holiday season.
Adjusting Sweetness: Taste the relish before chilling and, if desired, add more sugar to increase the sweetness. Adjust the sweetness according to your preference and the tartness of the cranberries.
Serving Suggestions: Besides pairing with turkey or roasted chicken, get creative! Use the relish as a spread for sandwiches, a topping for grilled meats, or a flavorful dip for crispy tortilla chips.
Storage Tips: Store the relish in an airtight container in the refrigerator for up to one week. If frozen, it can be kept for several months. Label and date the containers for easy reference.
Troubleshooting – Too Tart: If the relish turns out too tart for your liking, you can balance it by adding a touch of honey or maple syrup. Start with a small amount and adjust to achieve the desired sweetness.
Troubleshooting – Too Sweet: In case the relish is overly sweet, you can counterbalance it by incorporating a splash of fresh lemon or lime juice. The citrus acidity will help brighten the flavors and cut through the sweetness.
Make Ahead and Freeze
Let's not forget about the convenience factor. With the holiday season being so busy, it's always a good idea to have some dishes prepared in advance. This cranberry relish is a perfect candidate for that. It freezes wonderfully, allowing you to make a big batch and have it on hand throughout the holiday season. Simply thaw it out when needed, and you're good to go!
With its simple preparation and versatile serving options, this relish is a game-changer for your holiday meals. Whether you choose to serve it chilled or at room temperature, it's guaranteed to add a delightful element to your culinary creations. And don't forget about the convenience of making it ahead of time and freezing it for later use. It's a time-saving trick that will come in handy during the busy holiday season.
So let's embrace the holidays as a time of culinary adventure, shaking things up with this spicy orange cranberry pepper relish. It's a simple yet impressive addition to your holiday feast, guaranteed to make your taste buds sing with joy. Enjoy every delicious bite and create memories that will last a lifetime.
Happy cooking, Hungry People!
Spicy Orange Cranberry Pepper Relish
A tangy and sweet blend of fresh cranberries, oranges, and red pepper jelly, perfect for adding a flavorful kick to holiday meals.
Ingredients
12

oz

fresh cranberries

2

oranges

juiced, peeled & zested

1

cup

red pepper jelly

1

cup

sugar
Instructions
Use a food processor to blend the cranberries, oranges, and pepper jelly.

OPTIONAL: In a saucepan over medium-high heat, bring the relish to a simmer and reduce until the liquid has evaporated.

Chill the relish for at least one hour or until ready to serve. Enjoy!