Fiery & Tangy Orange Chicken: A Homemade Delight with a Kick
The Starving Chef is supported by Hungry People like you. When you make a purchase through an affiliate link on my site, I may earn a little bit of cash on the side (at no extra cost to you) to help keep my kitchen running. Read our disclosures here.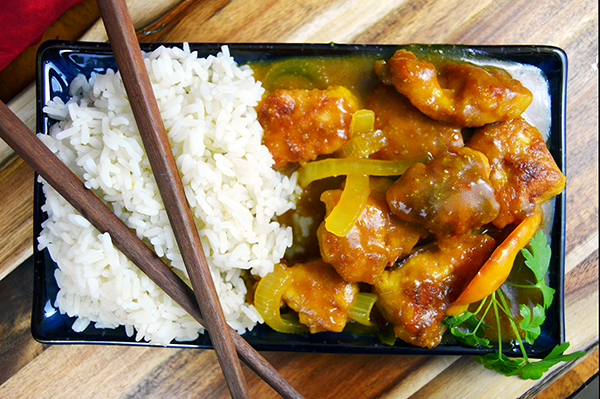 What's up, Hungry People!
Today, I'm sharing a delicious recipe for Spicy Orange Pepper Chicken. I don't know about you, but I often crave Chinese-inspired food. However, sometimes I'm just too lazy to call for takeout. Can you relate? That's why I love creating my own Chinese dishes at home. It's convenient, fun, and I can experiment with flavors using ingredients I already have in my fridge. No need to drive or put on pants to satisfy my cravings!
Here's What You Need
Chicken breasts: Main protein component of the dish, providing texture and flavor.
Orange juice: Forms the base of the orange sauce, adding a citrusy and tangy flavor.
Hoisin sauce: Adds depth and sweetness to the sauce, balancing out the tanginess of the orange juice.
Onion: Provides flavor and texture to the dish, complementing the other ingredients.
Orange bell pepper: Adds a fresh and vibrant flavor, as well as a hint of sweetness.
Habanero: Brings heat and spiciness to the dish, enhancing the overall flavor profile.
Ginger powder: Infuses a warm and earthy flavor into the sauce, adding depth.
Minced ginger: Provides a fresh and aromatic taste, enhancing the overall flavor of the dish.
Cumin: Adds a warm and slightly smoky flavor, enhancing the overall depth of the dish.
Red pepper flakes: Introduces heat and spiciness to the dish, adding a kick.
Cornstarch: Helps thicken the sauce, giving it a smooth and glossy texture.
Egg: Coats the chicken, helping the flour adhere to it and create a crispy coating when fried.
Flour: Forms a crispy coating on the chicken when combined with the egg and fried.
Vegetable oil: Used for frying the chicken, ensuring a crispy and golden brown exterior.
Let's cook!
To start, we're going to whisk together a flavorful orange sauce. In a bowl, combine orange juice, hoisin sauce, cumin, ginger powder, red pepper flakes, and corn starch. This mixture will give our chicken a tangy and slightly spicy kick.
Coating the Chicken
Next, we need to coat our chicken. In another small bowl, whisk an egg and add in the chopped chicken pieces. Make sure each piece is nicely coated with the egg mixture.
Now, remove the chicken from the egg bath and let any excess egg drip off. We're going to give our chicken a crispy coating, so gently toss it in flour until it's completely covered. This will create a nice crunch when we fry it.
Cooking the Chicken
Time to get our chicken nice and golden brown! Heat up some oil in a pan and add the breaded chicken. Fry it for a few minutes on each side until it's beautifully browned and cooked through. Once it's done, remove the chicken from the pan and set it aside.
Adding the Peppers and Onions
Now, let's add some extra flavor and texture to our dish. In the same pan, add some diced onion and orange pepper. We want these to sauté until they become tender and slightly caramelized. For an extra kick, throw in some sliced habanero. Adjust the amount according to your preferred level of spiciness.
Bringing It All Together
Time to reunite the chicken with the peppers and onions! Pour the orange sauce we made earlier into the pan. Let it come to a rapid boil, and then reduce the heat to a simmer. This will give the sauce time to thicken up and coat all the ingredients with its delicious flavors.
Tips & Tricks to Homemade Orange Chicken
Marinate the chicken: For even more flavor, marinate the chicken in the orange sauce for at least 30 minutes before cooking.
Adjust spiciness: Increase or decrease the amount of habanero or red pepper flakes to adjust the level of spiciness according to your preference.
Double the sauce: If you prefer your dish to be saucier, double the amount of orange juice, hoisin sauce, and cornstarch for a generous amount of sauce.
Prevent oil splatter: To prevent oil from splattering while frying the chicken, make sure the chicken pieces are patted dry before coating them in flour.
Test for doneness: To ensure the chicken is fully cooked, use a meat thermometer and make sure it reaches an internal temperature of 165°F (74°C).
Substitute vegetables: Feel free to customize the dish by adding other vegetables like broccoli, snap peas, or carrots for added color and crunch.
Garnish creatively: Sprinkle some sesame seeds or chopped green onions on top before serving for an attractive presentation.
Serve with sides: Accompany the Spicy Orange Pepper Chicken with steamed vegetables or a side of stir-fried noodles for a complete meal.
Make it gluten-free: Use gluten-free flour and ensure the hoisin sauce you use is gluten-free to make this recipe suitable for a gluten-free diet.
Experiment with variations: Add your own twist by incorporating other spices like garlic powder or five-spice powder for additional layers of flavor.
Serve and Enjoy!
I like to serve this spicy orange pepper chicken over a bed of steamed white rice. The combination is just perfect! The tender chicken, vibrant peppers, and flavorful sauce create an irresistible balance of sweetness and spiciness. Trust me, it's as good as takeout, if not better. And the best part? You can enjoy it in the comfort of your own home, without the need for pants!
So there you have it, a simple and affordable recipe that brings the flavors of Chinese cuisine right to your kitchen. Give this spicy orange pepper chicken a try, and let your taste buds go on a flavorful adventure. Happy cooking, Hungry People! Enjoy!
Spicy Orange Pepper Chicken
Tender chicken coated in a tangy orange sauce with a kick of heat from habanero and a medley of flavors from ginger, cumin, and hoisin sauce, served over rice for a delicious Chinese-inspired dish.
Instructions
In a bowl, whisk together the orange juice, ginger powder, cumin, red pepper flakes, hoisin sauce, and cornstarch.

Heat a large skillet over medium heat with a tablespoon of oil. Add the chopped chicken to the whisked egg, ensuring each piece is coated.

In a small bowl, place the flour. Take each piece of chicken, gently toss it in the flour until completely covered, and then place it into the skillet.

Brown the chicken on each side until cooked through. Once done, remove the chicken from the pan and set it aside.

In the same pan, add the chopped onion, orange bell pepper, and habanero pepper. Sauté the vegetables until they become tender.

Return the chicken to the pan with the sautéed vegetables.

Pour the orange sauce into the pan, increase the heat to bring it to a rolling bubble, then reduce the heat to low. Allow the sauce to simmer and thicken to the desired consistency.

Serve the spicy orange pepper chicken over white rice and enjoy!