Spicy Singapore Glass Noodles
The Starving Chef is supported by Hungry People like you. When you make a purchase through an affiliate link on my site, I may earn a little bit of cash on the side (at no extra cost to you) to help keep my kitchen running. Read our disclosures here.

Sometimes you just crave the taste of something exotic. And for me, I guess that happens more frequently than it does for others. These Spicy Singapore Glass Noodles are one of my go-to dishes when I'm in the mood for a flavorful and fiery meal.
The best part? They're amazingly easy to make!
Most of the ingredients for this dish are pantry staples that I usually have laying around the kitchen, so feel free to customize them to your own tastes.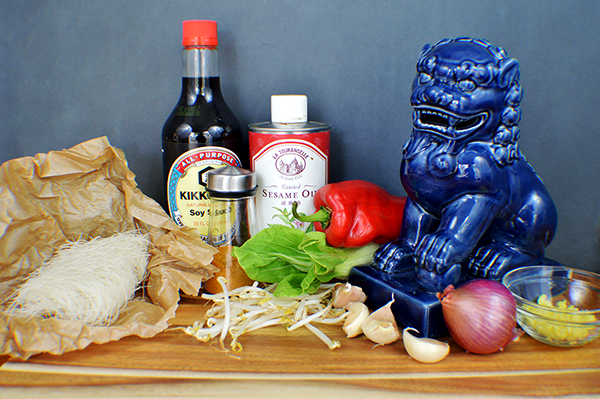 Now, let's get ready to turn up the heat!
When you bring together these awesome ingredients, they create a delicious and aromatic spicy Singapore glass noodles dish that hits all the right notes with its mix of textures, flavors, and aromas. It's a truly satisfying experience!
Vermicelli or glass noodles: Serve as the main base for the dish, providing a delicate and chewy texture.
Yellow curry: Infuses the noodles with aromatic and spicy flavors, adding depth to the dish.
Soy sauce: Enhances the umami taste and adds a savory note to the overall flavor profile.
Bean sprouts: Bring a refreshing crunch and a touch of freshness to the dish.
Bok choy: Provides a mild bitterness and a satisfying leafy green element to the noodles.
Red cubanelle peppers: Introduce vibrant color, a hint of sweetness, and a subtle kick of heat.
Garlic: Adds pungent and savory notes, enhancing the overall flavor complexity.
Ginger: Brings warmth, earthiness, and a touch of spiciness, complementing the other flavors.
Shallot: Adds a mild and slightly sweet onion-like flavor, contributing to the overall savory profile of the dish.
Sesame oil: Used for frying, it imparts a rich, nutty taste and adds depth to the stir-fried ingredients.
Salt: Balances and enhances the flavors of the dish, ensuring a well-seasoned outcome.
Let's Jump Into It!
To start, soak the vermicelli noodles in cool water for about 15 minutes or until they've softened. This step is crucial to ensure that the noodles cook evenly and have a pleasant texture.
While they're soaking, sprinkle some curry powder over the noodles and let them marinate for an additional 10 minutes. This will infuse them with a delicious, aromatic flavor.
In the meantime, grab a large wok and heat some sesame oil over medium-high heat. Once the oil is hot, add in your sliced and diced peppers, bok choy, garlic, ginger, and shallots. If you like a bit of crunch, don't forget to add bean sprouts as well (unfortunately, I totally forgot to include them in the wok this time!).
Stir-fry these veggies until they become tender and fragrant, releasing their delightful aromas into the air.
Add soy sauce to the wok and let it come to a bubble. This will infuse the vegetables with a savory umami flavor and create a delicious sauce.
Once the sauce is bubbling away, toss in the marinated vermicelli noodles and stir-fry everything together for about 3 minutes. Watch as the noodles soak up the flavors and soften, while some parts turn delightfully crispy. I must confess, those crispy bits are my absolute favorite!
Once everything is cooked to perfection, it's time to serve! Dish out the spicy Singapore glass noodles immediately alongside some shrimp rangoon and firecracker shrimp for a complete and incredibly spicy meal.
Tips & Tricks!
Customize the spice level: If you prefer a milder dish, you can adjust the amount of yellow curry or omit the red cubanelle peppers. On the other hand, if you love it extra spicy, feel free to add some chili flakes or a dash of hot sauce to amp up the heat.
Add protein: While the recipe doesn't include protein, you can easily incorporate cooked shrimp, chicken, or tofu to make it a complete meal. Simply stir-fry the protein of your choice along with the vegetables for added flavor and substance.
Experiment with vegetables: Don't be afraid to switch up the vegetables based on your preferences or what you have on hand. Other options like carrots, mushrooms, snow peas, or baby corn can be wonderful additions to the dish.
Garnish with freshness: Sprinkle some fresh herbs like cilantro or sliced green onions on top of the finished noodles to add a burst of freshness and vibrant color.
Serve with condiments: Consider serving the Spicy Singapore Glass Noodles with additional condiments like lime wedges, chili sauce, or soy sauce on the side. This allows everyone to adjust the flavors according to their taste preferences.
Double-check noodle cooking time: Vermicelli or glass noodles can vary in cooking time, so be sure to follow the instructions on the package or taste test them to ensure they are cooked to your desired texture.
Prepare ingredients in advance: To make the cooking process smoother, chop and prepare all the ingredients ahead of time. This way, you can focus on the stir-frying process without any interruptions.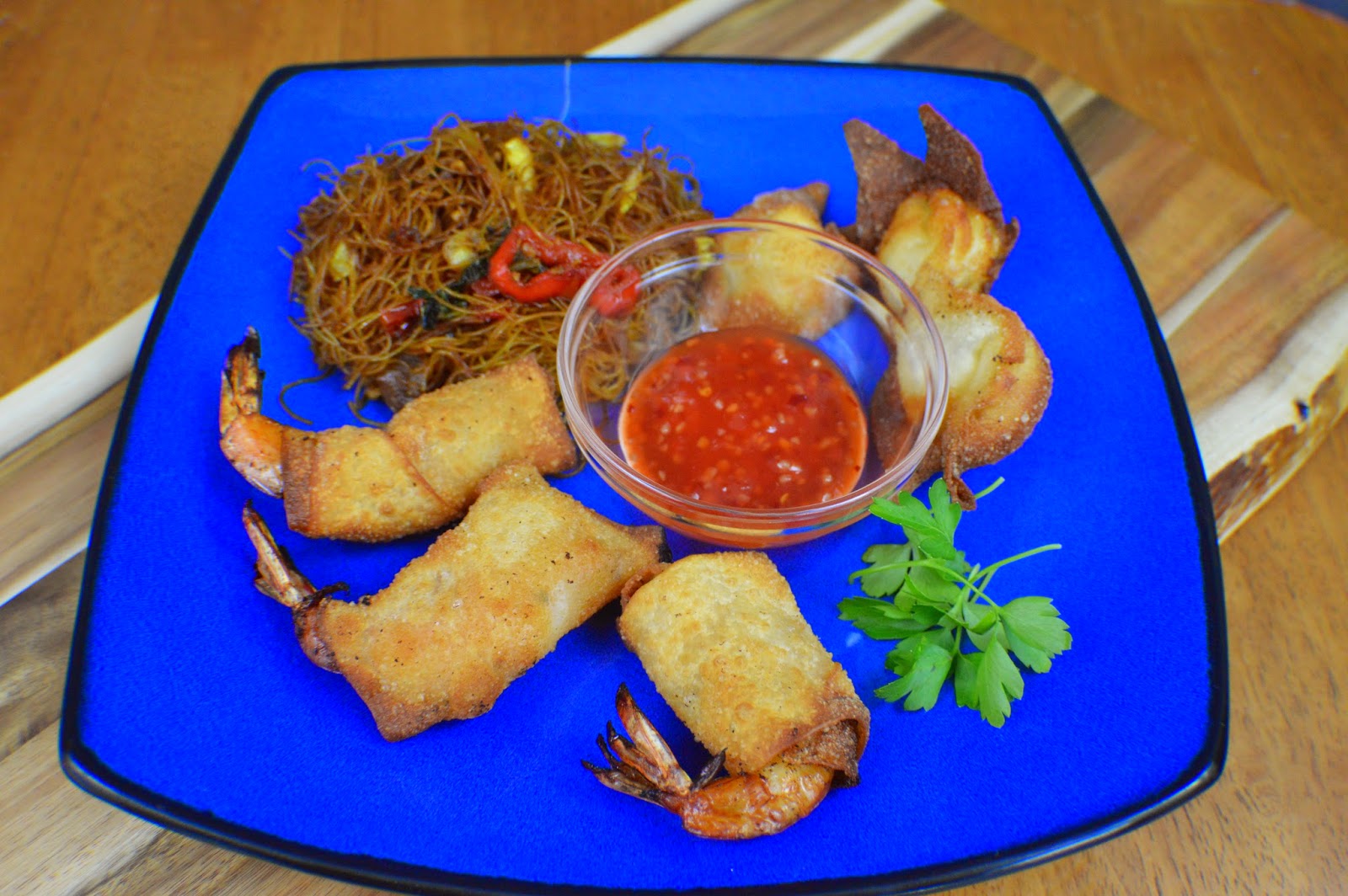 The combination of the zesty noodles, creamy rangoon, and fiery shrimp will take your taste buds on a culinary adventure to Singapore.
Spicy Singapore Glass Noodles
Spicy Singapore Glass Noodles is a flavorful and vibrant stir-fried dish featuring tender vermicelli noodles, aromatic spices, a colorful array of vegetables, and a satisfying kick of heat.
Ingredients
¼

cup

soy sauce

1

package

vermincelli or glass noodles

3

tablespoons

yellow curry

¼

cup

bean sprouts

1

small bok choy

sliced

¼

cup

red cubanelle peppers

chopped

1

tablespoon

garlic

minced

1

tablespoon

ginger

minced

1

tablespoon

sesame oil

for frying
Instructions
Soak the vermicelli noodles in cool water for about 15 minutes or until they become tender. Drain the noodles and sprinkle them with yellow curry. Let them marinate for an additional 10 minutes.

While the noodles are marinating, prepare the ingredients. Chop the peppers, slice the bok choy, mince the garlic and ginger, dice the shallot, and heat a tablespoon of sesame oil in a large wok over medium-high heat.

Add the diced shallot and chopped vegetables to the wok and stir-fry for about 3 minutes or until they soften. Pour the soy sauce into the wok with the vegetables and bring it to a bubble.

Toss in the marinated noodles and stir them until they have absorbed the soy sauce and start to brown. This usually takes about 2 minutes. Season with salt and pepper to taste. Enjoy!