Spooky Halloween Charcuterie
The Starving Chef is supported by Hungry People like you. When you make a purchase through an affiliate link on my site, I may earn a little bit of cash on the side (at no extra cost to you) to help keep my kitchen running. Read our disclosures here.
Summon up the kitchen spirits, today I'm going to show you how to make the spookiest Halloween spread in town.
The most important part about your next Halloween party – aside from the costumes – is the FOOD!
You don't want your guests turning into zombies halfway through the monster mash. Providing sustenance will help them feel less-than-ghoulish.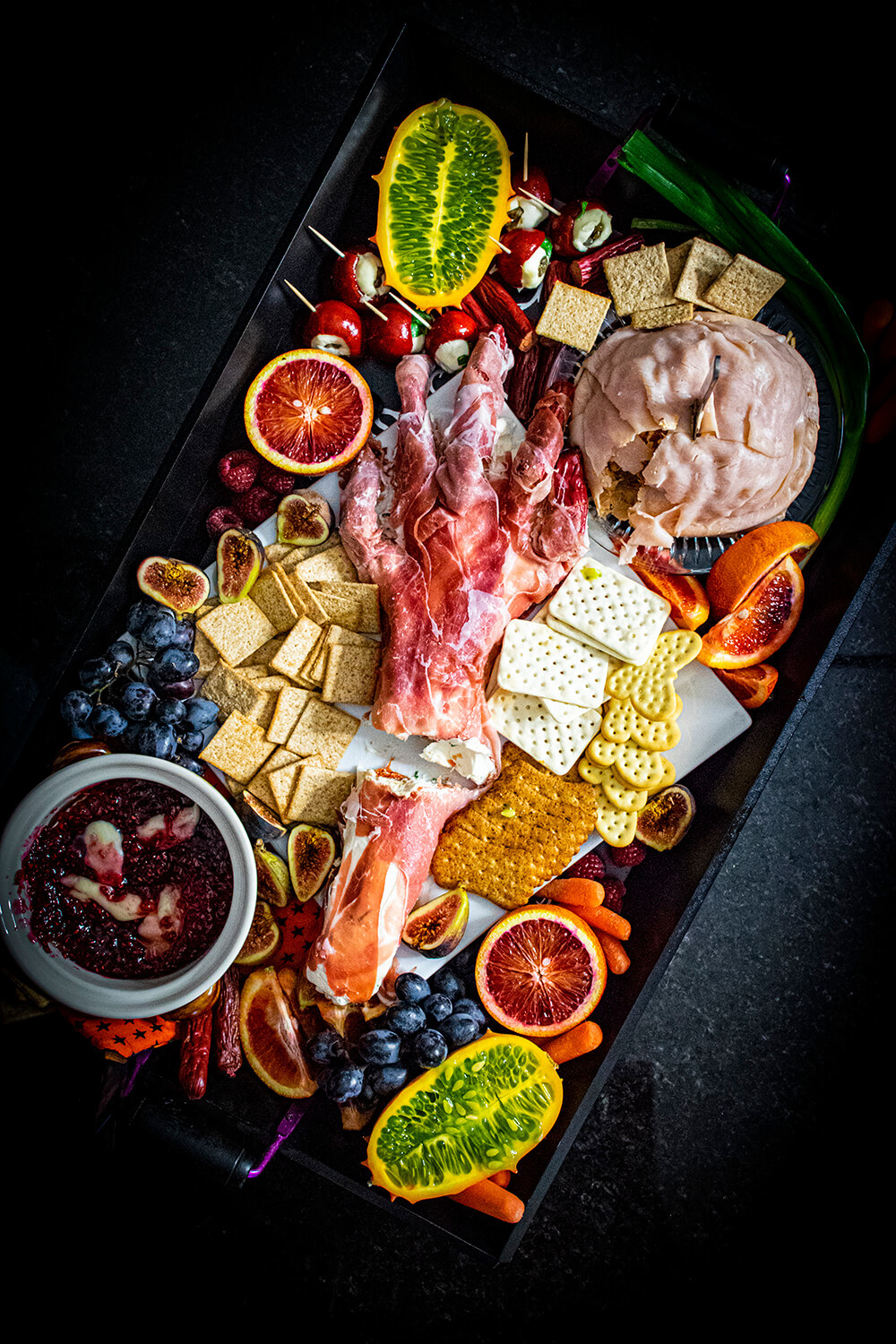 With just a little resurrection magic, you too can be serving severed arms, dislocated eye balls, bloody brie and brains at your next seance.
Scary spicy chicken pin wheels can be made easily for any event – but with green tortillas, they become spooky AF.
For cinnamon roll guts, all you need is a tube of canned cinnamon rolls and some red food dye to really drive home the gross factor.
Impale your guests eyes with simple cake pops on mini fork skewers!
Brains filled with cheese will give your guests a fright!
Bloody brie cooked in a crock – with just a hint of witch's magic.
And easy devils eyes keep an eye on you!
Have a SPOOKTACULAR HALLOWEEN!
MUWAHAHAHAHAHAHAHA!
---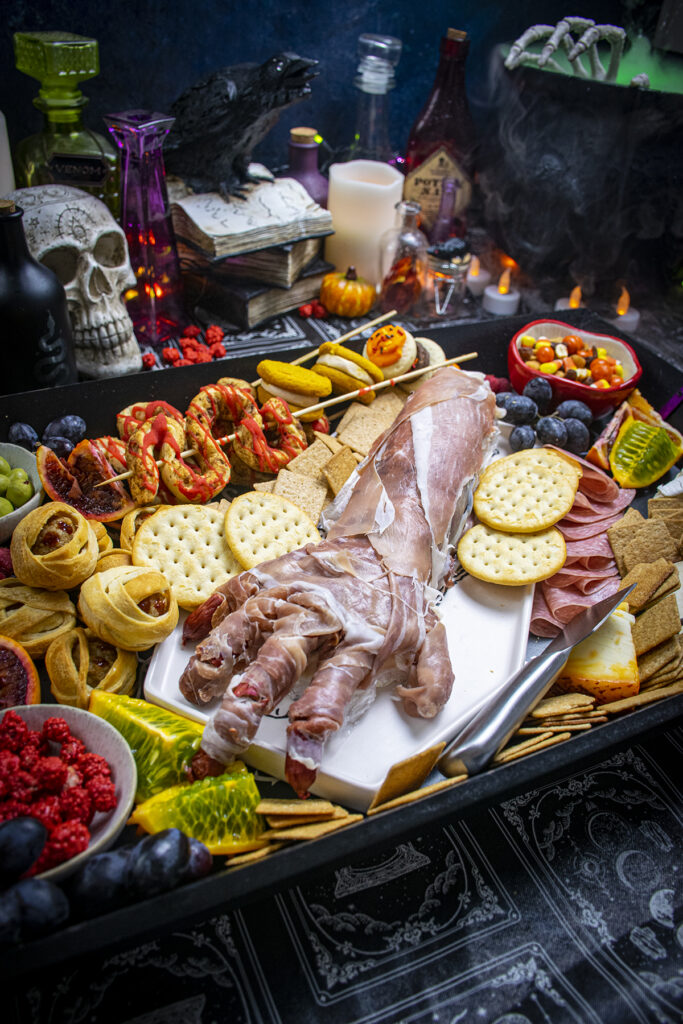 CHICKEN ROLL UPS NOTE:
For my charcuterie board, I doubled the amount of chiles in adobo sauce to really pump up the heat to a scary level. This step is optional! I also used spinach flavored tortilla wraps – but feel free to use your favorite tortilla wraps in whatever color you can find!
BRAIN CHEESE NOTE:
The "brain cheese" recipe uses the leftover chicken roll ups filling, a Jell-O brain mold and thin sliced turkey as the outermost layer of "brains." It is then chilled and served with crackers.
You can also check out my ORIGINAL brain cheese recipe here!
CAKE POP RECIPE NOTE:
The recipe I used here today is an adaptation of the recipe link above. That one uses Oreos instead of red velvet cake; however, the recipe concept is the same. You can use any kind of cake or cookie for this cake pop recipe!
---
Spooky Halloween Charcuterie
A spooky charcuterie spread perfect for Halloween!
Ingredients
FOR SEVERED ARM:
16

oz

cream cheese

room temperature

1

tablespoon

garlic powder

2

tablespoons

fresh chives

1

package

prosciutto

1

full link chorizo

1-3ft long

5

Lit'l Smokies

for knuckes

2

beef jerky sticks

for fingers
FOR BLOODY BRIE:
1

wheel

brie

15

raspberries

½

cup

sugar

⅓

cup

apple cider
FOR DEVIL EYES:
12

pickled peppadew peppers

12

mozzarella pearls / bocconcini

10

basil leaves

juilenned

12

capers
Instructions
FOR SERVERED ARM:
Bring cream cheese to room temperature. If it is cold, it will be hard to work with. Mix in the garlic powder and chives.

Spread about half of the cream cheese onto a surface lined with plastic wrap. Place the chorizo link in the center and cover the top and sides with cream cheese.

Create a 'palm' on one end and use the lit'l smokies to make the metacarpal bones in the center of the hand. Cover with cream cheese. The ends of the lit'l smokies will make the knuckles. Chill for one hour.

Cut the beef jerky into finger lengths. Bend the jerky fingers so they snap but don't break all the way. This will help make the fingers maliable.

Wrap the jerky fingers in prosciutto then extend the prosciutto down long the cream cheese arm to make it appear as though the muscles are exposed. Wrap and chill at least one hour. Enjoy with an assortment of crackers and vegetables.
FOR BLOODY BRIE:
Combine all ingredients except brie wheel in a skillet over medium high heat. Stir and mash until the raspberries are broken up and a sauce begins to form. The mixture will begin to foam as it cooks.

Continue simmering, stirring every few minutes, until the foam has gone away and you are left with a thick, sticky sauce. Remove the sauce from the heat and allow to cool completely.

Preheat the oven to 350 F. Remove the top rind of the the brie and pour the raspberry sauce over the top. Bake for 5-8 minutes, until the brie is melted and the sauce is just starting to bubble. Serve warm with chips and veggies!
FOR DEVIL EYES:
Tear the basil into pieces. Place a piece of basil into the center of the pepper and then press a mozzarella pearl into the pepper. Cut a slit into the exposed side of the pepper and press 1-2 capers into the slit. Use a toothpick to hold the pieces in place. Chill until ready to serve.
Video