Strawberry Gummy Bears
The Starving Chef is supported by Hungry People like you. When you make a purchase through an affiliate link on my site, I may earn a little bit of cash on the side (at no extra cost to you) to help keep my kitchen running. Read our disclosures here.
Gummy bears are a perfect way to preserve the fruits of your summer labor! If you're like me and suddenly have an influx of fresh fruits and veggies on hand, you might be looking for other ways, aside from sauces and jellies, to store your goods for the winter. Gummy bears are not only tasty, but they last practically forever in the freezer, meaning you can bust them out in the dead of winter to enjoy a fruity, summery snack.
My gummy bears were made with strawberries, but most fruits and some veggies can be transformed into gummies very easily! If you can juice it or puree it, chances are you can use it to flavor gummy bears. I've seen other bloggers make these bears with everything from blueberries to kale. Just about the only fruit that won't work is pineapple because it contains bromelain – which messes up how the gelatin sets.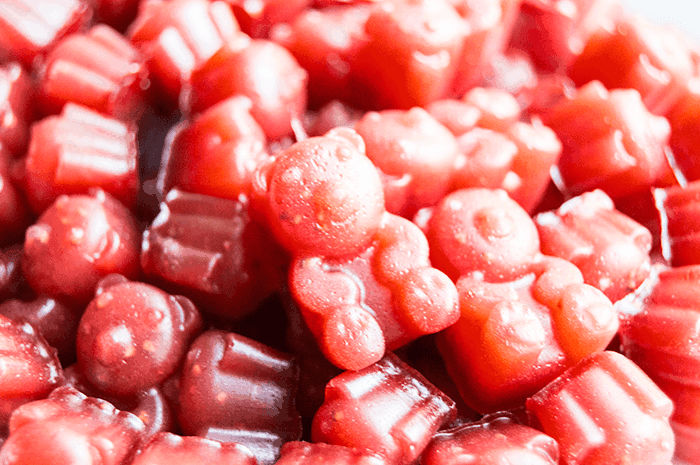 The key is to only lightly grease your molds, even if using silicone trays, so that the bears won't stick and each comes out in perfect detail. The bears can survive in the freezer for up to a year, I just recommend letting them defrost for a bit before you start eating them (by the fistful – they are so good!).
Strawberry Gummy Bears
My gummy bears were made with strawberries, but most fruits and some veggies can be turned into gummies very easily!
Ingredients
2

cups

fresh strawberries

pureed & strained

2

cups

apple juice

can sub water

½

cup

gelatin powder

16

oz

(1 box) strawberry Jell-O

coconut cooking spray

for greasing molds
Instructions
Lightly spray the molds with the coconut oil. Wipe the excess oil from the mold and set aside. Puree the strawberries and filter through a mesh strainer to remove the seeds (straining is optional). Sprinkle the gelatin on top of the puree to soften, about 5-10 minutes.

Pour the juice (or water) into a large pot and bring to a simmer – it should be on the verge of boiling, but not quite. If it starts a rolling boil, reduce the temperature to a simmer.

Stir in the puree with gelatin, and Jell-O powder, if using. Whisk until the gelatin has totally melted into the liquid and the liquid is at a simmer. Remove from the heat.

Work quickly to transfer the liquid to the molds, using the pipettes provided in the gummy kit. Or alternatively, pour into a shallow tin if you don't plan on using a mold (you can cut it into square gummies). Chill until the liquid has firmed up, about an hour. Remove from the molds and place into baggies. Enjoy!

NOTE: Keep chilled when not eating – if exposed to too much heat (body temp and up) the gummies may start melting.