Summer Charcuterie Board
The Starving Chef is supported by Hungry People like you. When you make a purchase through an affiliate link on my site, I may earn a little bit of cash on the side (at no extra cost to you) to help keep my kitchen running. Read our disclosures here.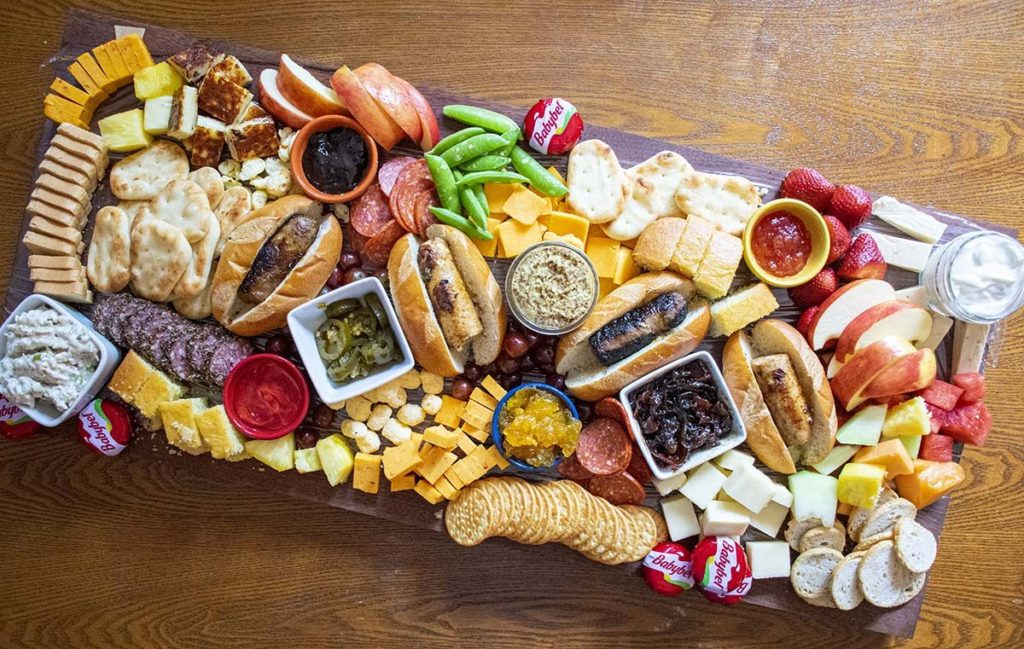 Who else is ready for summertime festivities? With endless cookouts and pool parties on the sunny horizon, why not put the party on a platter and make a charcuterie board?
A… barbecuterie board, if you will.
The perfect charcuterie board has a little something for everyone. Sweet to spicy; hot and cold; soft and crunchy. Every bite should be able to be a different flavor experience – with mix and match possibilities to the moon!
I even included a dessert corner with summer fruits and sweet cheeses.
What's on my BARBECUTERIE
Creativity is key when it comes to building a charcuterie board. I love to just go to the store with a few ideas in mind and see what fun stuff I can find to add to my spread.
Here's what I have on my cookout board:
brats – for an 'adultier' board, I used beer brats but you can swap in regular hot dogs all the same!
chicken brats – these are my personal favorite kind of grilling dog
mini rolls – instead of full sized buns, cut the brats in half and serve in mini sliced French rolls
spicy brown mustard – a classic brat topping
sliced jalapeno – spice it up with fresh or pickled jalapeno slices (my favorite are candied jalapenos!)
sauted onion – before the cookout, saute onions to golden perfection
jams & jellies – if you've never put jelly on your hot dog, you're missing out!
grilling cheese – halloumi makes for a perfect, grillable cheese that can be sliced and shared
spicy cheeses – crank the heat up with habanero or pepperjack cheese
sweet cheeses – I served a mango infused stilton on my board
moon cheese & mini wheels – dry cheeses like moon cheese and individually wrapped Babybels add different textures to the board
mini toasts & naan – serve soft & hard breads for dipping in jelly or making mini sandwiches
crackers & crisps – I used party crackers and bagel crisps to add crunch to my board
summer veggies – snap peas and freshly picked veggies are perfect on a summer board
summer fruits – fresh strawberries and watermelon, along with pineapples and melons, are sweet additions
corn bread – a summertime classic that shouldn't be left off!
cured meats – the only thing that needs to be on the board to technically be able to classify it as charcuterie (pepperonis & hard salami count!)
And don't forget your favorite cookout sides like pasta and potato salad are also perfect additions – add what you love and make the board your own.
Variety is the spice of life when it comes to the perfect charcuterie spread. Sliced brats and hot dogs slide into mini buns so you can have more than one flavor combination on your plate.
The best part about this board is that there's very little prep time – unless you want to do extra steps like sauting onions – and you can cheat a bit with pre-cut ingredients. Heck, I used pre-chopped honeydew and pineapple on my board and just pretended that I spent the extra time prepping. No one will be the wiser unless you tattle on yourself.
Don't get my wrong, you can absolutely take the extra time to pick out fresh watermelon and cantelope and chop away to your heart's desire. Save some money AND build muscle at the same time. You do you, it is your board after all.
There's benefits to both methods, to be sure.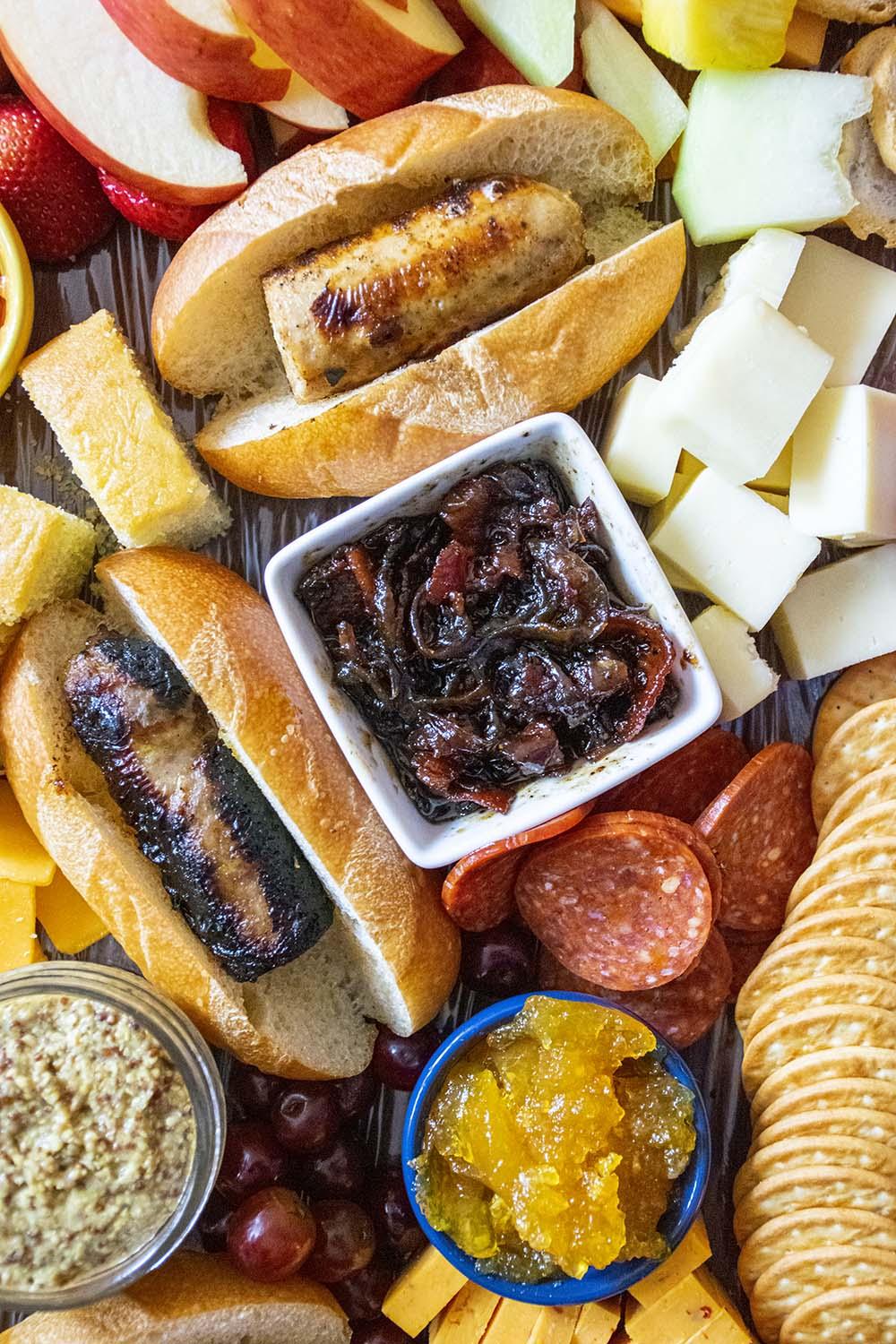 No matter how you prep your board, make sure to save a corner from the savory items and have some sweets to balance everything out.
Thanks to charcuterie popping off in popularity the last few years, fancy cheese is more accessible than ever. You can find a range of soft and sweet cheeses – like mango infused stiltons or blueberry goat cheese. It carries on the cheese board theme while drifting into dessert territory.
Fresh summer strawberries and grapes are great additons to any board – or add a sweet vanilla fruit dip if you have an extra sweet tooth like I do.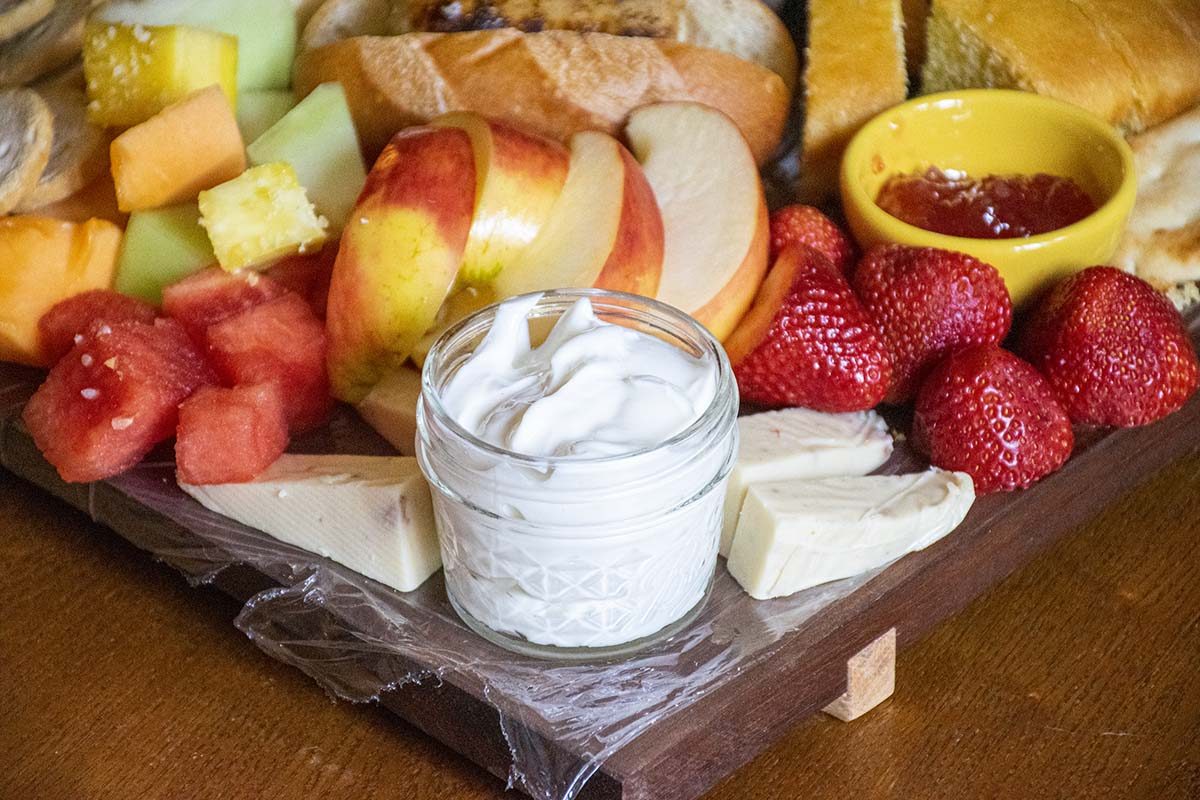 It's the summer of the BARBECUTERIE! I don't know about you, but I am excited to get summer started.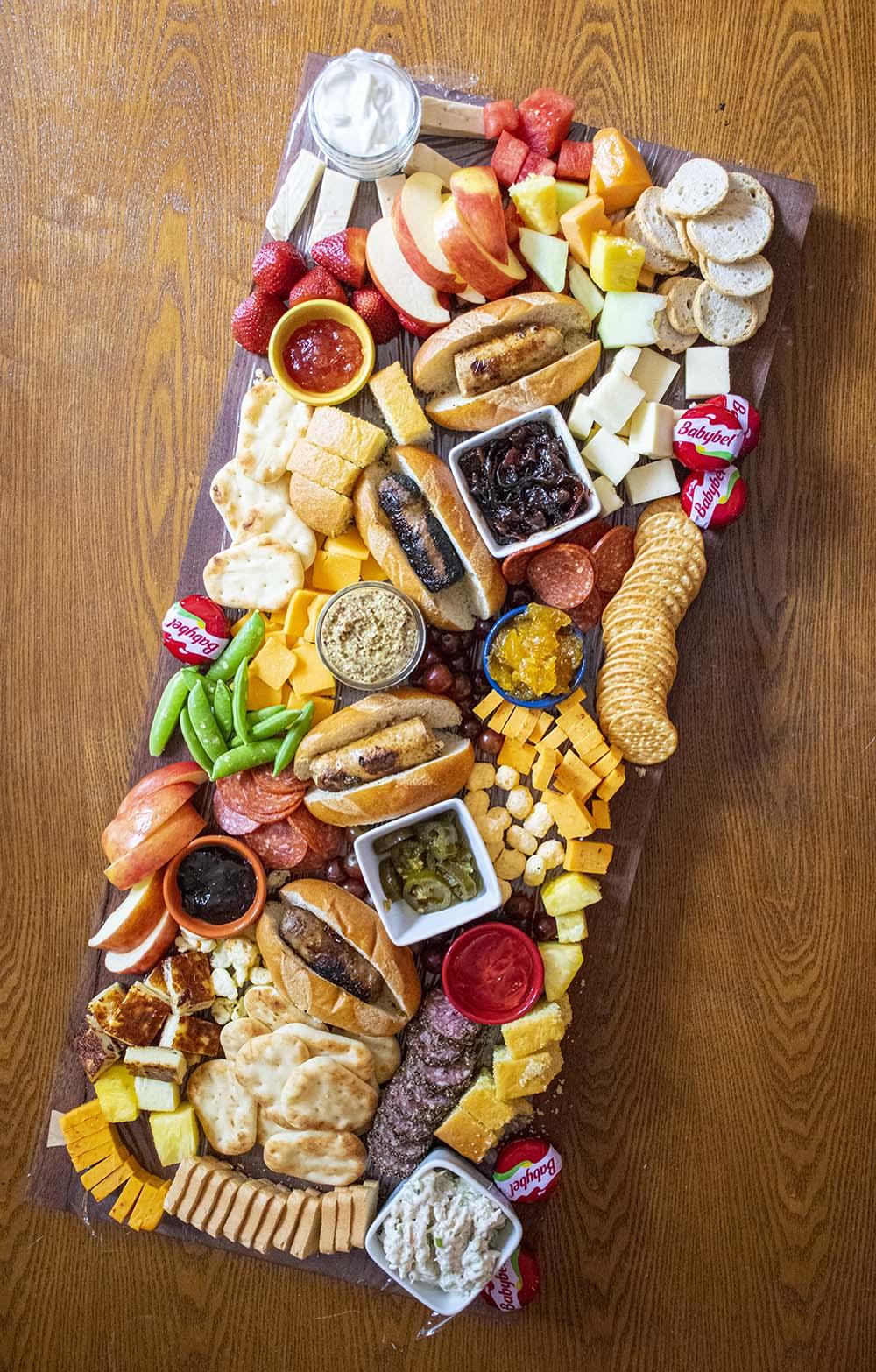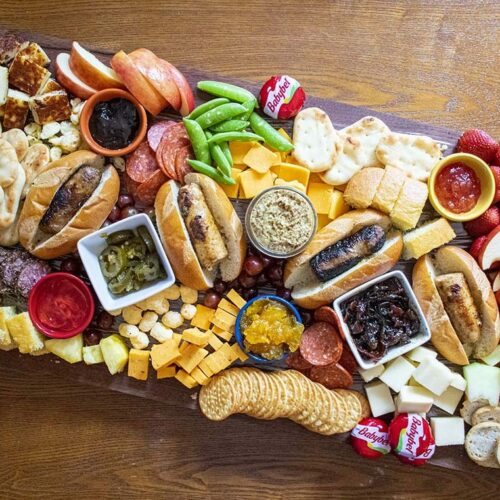 Summer Charcuterie Board
From sweet to savory, this BARBECUTERIE board has a bit of everything for your next cookout.
Ingredients
BARBECUTERIE BOARD IDEAS:
brats

cooked, cut in half

chicken brats

cooked, cut in half

hot dogs

cooked, cut in half

mini French soft rolls

yellow or spicy brown mustard

sauted onion

optional

relish

sliced jalapeno

pickled, candied or fresh

champagne jelly

orange marmalade or F.R.O.G jam

grilling cheeses

spicy cheeses

fruit cheeses

crunchy moon cheese

mini brie or mozzarella wheels

mini toasts

mini naan

assorted crackers & crisps

snap peas, carrots, broccoli

strawberries & grapes

watermelon, cantelope & honeydew

chopped

corn bread

sliced

summer sausage

sliced

chicken salad
Instructions
Cook the brats according to the instructions on the packaging. If serving, saute onions until golden and tender. Slice brats once cooked.

Prep all ingredients as desired into bite size pieces. Serve jams, jellies and soft cheeses in small serving bowls and arrange everything on a large wooden serving tray. Serve & enjoy!