Party-Perfect Sundried Tomato & Avocado Tortilla Rolls
The Starving Chef is supported by Hungry People like you. When you make a purchase through an affiliate link on my site, I may earn a little bit of cash on the side (at no extra cost to you) to help keep my kitchen running. Read our disclosures here.
What's Up, Hungry People?
Looking for a vegetarian option that's a total crowd-pleaser? Whether you're a dedicated herbivore or just love good food, these avocado roll-ups are the answer.
When hosting, it's always smart to have options that cater to everyone, without compromising on flavor. These roll-ups are not only nutritious but are a hit with all taste buds!
To craft these delectable roll-ups, you'll need a blend of sundried tomato and a creamy avocado sour cream combo. The addition of lemon and Hungarian paprika gives it that perfect tangy kick.
Here's What You Need:
Spinach basil tortilla wraps: Base for the roll-ups, adds flavor and color.
Sundried tomatoes: Intense, concentrated tomato flavor and chewy texture.
Avocados: Creamy base for the spread, offers a rich, buttery taste.
Greek yogurt: Provides creaminess and tanginess, binds avocado mix.
Cheddar cheese: Melty, sharp flavor; adds a savory touch.
Cayenne pepper: Adds a spicy kick; boosts other flavors.
Hungarian paprika: Mild sweetness with a hint of warmth; color enhancer.
Lemon: Freshness and acidity; helps maintain avocado's green color.
Cilantro: Fragrant herb that complements the spiciness; also used for garnish.
Salt & pepper: Seasoning to enhance and balance flavors.
Firstly, mash the avocado and yogurt together until you get a nice, smooth consistency. Now, here's a little tip from your favorite self-taught chef: Always add the lemon juice after blending the avocado and yogurt. Why? Not only will it ensure the lemon doesn't curdle the yogurt, but the lemon's acid helps retain the vibrant green color of the avocado. Win-win!
Rolling it All Together
Here's What You Need to layer next: spread the avocado mixture over the tortillas, sprinkle in the spices, toss in the cheese, and layer on the sundried tomatoes.
Once done, roll up those tortillas real tight and swaddle them in some foil. You could dive right in, but I recommend chilling them for a bit. Letting them cool down for an hour or so lets those rich flavors meld together even better. Patience is the key here!
Time to get slicing! Chop those rolls into one-inch segments. You'll get about eight pieces from each tortilla. Hosting a bigger party? Simply double or triple the recipe to feed all those Hungry People!
However, here's a little heads-up: try making these on the day you plan to serve them. Avocados, though lovely, can brown over time. They'll still be a treat for the taste buds but might lose some of their visual charm. To finish it off, I added a hint of cayenne pepper and some fresh cilantro on top for that extra pop.
Sundried Tomato & Avocado Roll-Ups Tips:
Choose ripe avocados: Soft to touch but not mushy; ensures creamy texture.

Tip: If your avocados aren't ripe, store them in a brown paper bag for a day or two to speed up the ripening process.

Adjust spiciness: Cayenne is strong; adjust to your heat preference.

Note: You can always add more later, but you can't take it out once mixed in.

Rolling the tortillas: Roll tightly to prevent fillings from falling out.

A loose roll might cause the fillings to spill out when cutting.

Storage: Best served fresh; avocado tends to brown over time.

If you must store, squeeze a little extra lemon juice over the mixture to reduce browning.

Cutting the rolls: Use a sharp knife for clean cuts.

If you find the roll-ups squishing while cutting, chill them a bit longer.
These sundried tomato & avocado roll-ups truly are a game-changer for any gathering. Offering a blend of creamy, tangy, and spicy flavors, they're a delicious option for both vegetarians and omnivores alike. Not only are they easy to whip up, but they're also a vibrant addition to any party platter. Next time you're looking for something to impress those Hungry People at your table, remember these little bites of goodness. Let's keep cooking, experimenting, and of course, enjoying every bite!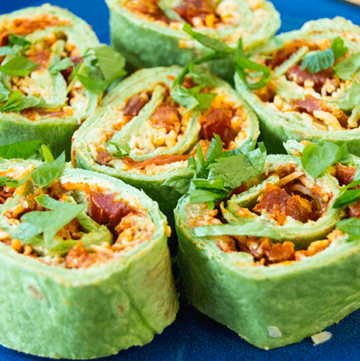 Sundried Tomato & Avocado Roll Ups
Satisfy your taste buds with these flavorful sundried tomato & avocado roll-ups, blending creamy avocado with a spicy kick.
Ingredients
2

spinach basil tortilla wraps

¾

cup

sundried tomatoes

chopped

2

avocados

1

cup

Greek yogurt

½

cup

cheddar cheese

shredded

1

tablespoon

cayenne pepper

1

tablespoon

Hungarian paprika

1

lemon

juiced

1

tablespoon

cilantro

+ more for garnish

salt & pepper

to taste
Instructions
Remove the skin and pit from the avocados. In a small bowl, mash the avocados with the Greek yogurt until smooth. Season with salt and pepper, then stir in the lemon juice.

Spread the avocado mixture on each tortilla almost to the edge in an even layer. Layer on the sundried tomatoes, cheese, paprika, cayenne pepper, and cilantro. Tightly roll each tortilla and then wrap them in foil. Chill for at least one hour prior to serving. (It's not recommended to chill overnight.)

Cut the wraps into one-inch pieces. Sprinkle the pieces with a dash of cayenne pepper and garnish with the remaining cilantro. Serve immediately and enjoy!