Sweet Corn Crab Chowder Gazpacho
The Starving Chef is supported by Hungry People like you. When you make a purchase through an affiliate link on my site, I may earn a little bit of cash on the side (at no extra cost to you) to help keep my kitchen running. Read our disclosures here.
It's time to kickback and relax – it's finally summertime! With longer days and beautiful sunshine comes SWELTERING HEAT.
But there's a hidden benefit to all the heat and humidity: cold soup!
That's right – soup season isn't just in the winter. Right smack in the hottest week of the year is another kind of soup season!
Gazpacho is traditionally a no-cook Spanish-style of soup that is served cold as a refreshing escape from hot summers. More specifically, it orginated in Andalusia where extra ripe, raw vegetables like tomatoes, cucumbers and onions were combined to create a smooth soup while the ingredients were at their peak flavor.
While traditional gazpacho doesn't require any cooking, this soup crosses over into chowder territory with the addition of corn and crab meat.
That's right, this soup takes the best of both worlds – all of the sweet and savory flavors found in chowder are chilled and transformed into a delicious twist on gazpacho.
What You Need for Gazpacho Chowder:
A quick simmer is all that is needed to fully meld together all of the ingredients into a cohesive soup which is then chilled to perfection. Here are some of the important ingredients that will set your dish up for deliciousness!
lump crab meat – you can also use imitation crab though your final dish will have a slightly different texture. I recommend grabbing lump crab when it is on sale and freezing it until you need it.
sweet corn – locally bought corn is best! Find the freshest, sweetest corn you can get your hands on from your farmer's market, road side stand or veggie co-op and then boil it until tender. While you can totally use canned sweet corn, nothing beats the flavor of fresh picked sweet corn.
yellow cherry tomatoes – color is key for these tomatoes! They add great color and flavor to this gazpacho.
yellow bell peppers – again, fresh is best and color is key when it comes to your peppers. Stick with yellow peppers for optimal color.
garlic chili paste – a little bit goes a long way in this dish! Offset the sweet with a touch of heat – or add drops on top for little hits of hotness.
chicken broth – you can substitute vegetable or even seafood broth here, depending on how savory you want your final dish to be. For a more savory option, swap chicken broth for lobster or seafood broth; for a more sweet-than-savory option, use vegetable broth.
Pro tip! Once you've simmered everything, let the soup cool to room temperature, without a lid, before putting it into the fridge. This will prevent the soup from creating condensation from the heat and diluting the overall flavor of the soup. If you've ever chilled soup in the past and have found watery liquid on top, you may not have let the soup cool enough before putting on the lid.
Toss on the Toppings!
Dress up your gazpacho with a little bit extra on top.
plain Greek yogurt – better than sour cream, in my opinion, because of how thick and creamy it is!
avocado – add a few pieces on top for a little bit of texture.
jalapeno slices – pump up the heat with FRESH cut slices of jalapeno. The soup may be served cold but that doesn't mean it can't be HOT!
green onion – a dash of color and crunch
lime slices – just a little bit of sour to counteract the sweet (plus, it's amazing with crab!)
MORE sweet corn – save some whole corn kernels for topping your gazpacho
MORE lump crab – cooked crab makes for a great addition, not only for flavor, but texture too!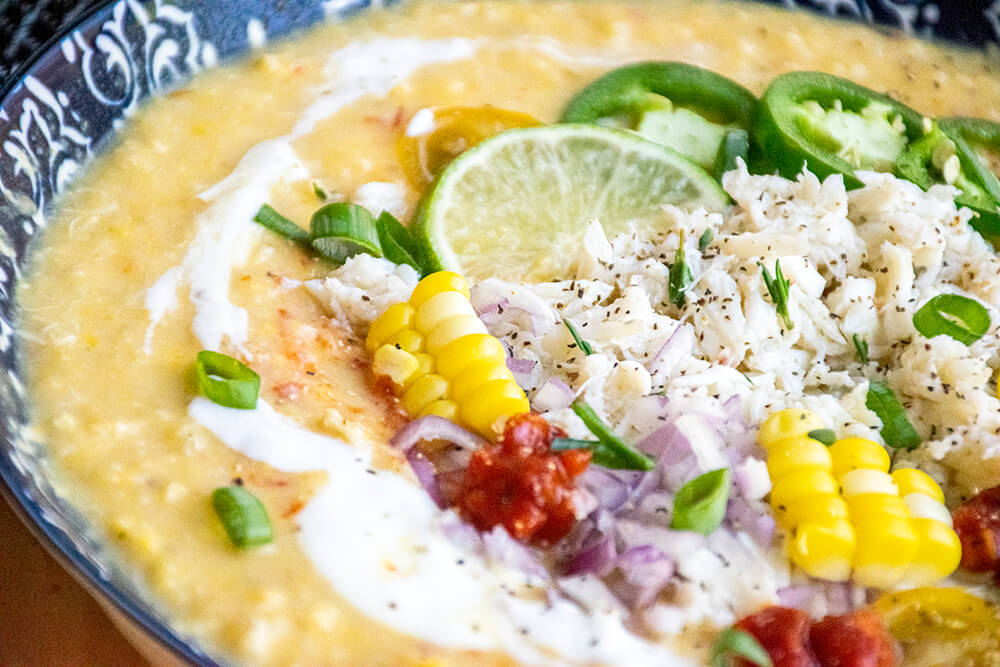 Prefer your soup served HOT not cold? If you want to make this soup for the winter, skip the chilling step and ladle the hot soup directly into bowls for serving. The flavor develops best overnight, so you can serve the final version of this soup hot or cold!
Sweet Corn Crab Chowder Gazpacho
Sweet, sweet summertime is just around the corner. With the heat comes some chill – from this refreshing twist on a chilled chowder.
Ingredients
3

cups

lump crab meat

(fully cooked), chilled

3

cups

sweet corn

+ more for topping

¼

cup

shallot

finely diced

2

jalapeno

one diced + one sliced, for topping

1

teaspoon

garlic chili paste

+ more for topping

10

yellow cherry tomatoes

halved

¼

cup

sweet yellow bell pepper

chopped

1 ½

cup

chicken broth

1

tablespoon

lime juice

2

tablespoons

olive oil

3

tablespoons

white vinegar

½

tablespoon

garlic

minced

1

teaspoon

white pepper

1

cup

heavy cream

1

tablespoon

honey

1

tablespoon

lemon juice

1

cup

plain Greek yogurt

for topping

1

avocado

sliced for topping

3

green onions

chopped for topping

1

tablespoon

fresh thyme

for topping

1

teaspoon

fresh cracked pepper

for topping
Instructions
In a large bowl combine the chicken broth, sweet corn, shallot, diced jalapeno, chili paste, tomatoes, peppers, lime juice, white pepper, vinegar and olive oil. Stir well and marinate together for 30 minutes or overnight.

Transfer the contents of the bowl to a blender or food processor and blend until all of the pieces are a consistent size and the mixture is starting to look smoothie-like.

Add the cream and pulse until smooth. Transfer the contents of the blender to a large pot over medium high heat. Simmer for 15-30 minutes, until the mixture has thickened. Stir in the honey and lemon juice along with half of the crab meat. Stir well to combine then remove from heat. Leave uncovered and cool to room temperature.

Chill the soup for at least two hours or until sufficiently chilled all the way through. Serve garnished with fresh sweet corn, crab meat, jalapeno slices, avocado, yogurt and green onions. Enjoy!