Sweet Potato Fries with Maple Horseradish Sauce
The Starving Chef is supported by Hungry People like you. When you make a purchase through an affiliate link on my site, I may earn a little bit of cash on the side (at no extra cost to you) to help keep my kitchen running. Read our disclosures here.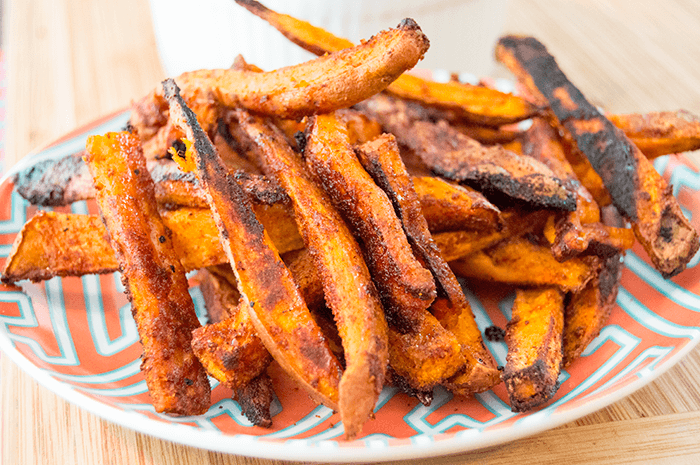 I've been trying to perfect my sweet potato fries this autumn, and I think I got pretty close with this recipe. Usually my fries turn out soggy and limp, when I'm really seeking a sweet, crispy fry, without actually using a deep fryer.
Usually whenever I make sweet potato fries, I also making a simple caramel dipping sauce. But this time around, I decided to shake things up and made a maple horseradish sauce based on the suggestion of a coworker. It sounded so good that I had to give it a try – and I certainly was not disappointed.
Season your fries to your desired spiciness or sweetness. I used a combination of sugar, garlic powder, cinnamon, and spicy Hungarian paprika. Then arrange the fries in a single layer on a baking sheet.
The key to crispy fries is to get them far enough apart that they bake instead of steam. In my above pic, I definitely was doing this wrong. I corrected it for my second sheet of fries (though I totally forgot to take a picture of it). The second batch definitely came out better than the first.
While the fries are baking, just whisk together the horseradish sauce with the maple syrup, then adjust the amount of either to get the dip to your desired sweetness to saltiness. Nick by far preferred this dip to the caramel one I've made in the past, so now I think I'll have to make both any time I make sweet potato fries, because I cannot decide which I love more!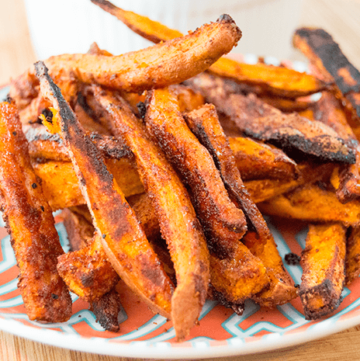 Sweet Potato Fries with Maple Horseradish Sauce
Sweet and spicy sweet potato fries with a deliciously simple maple horseradish dipping sauce!
Instructions
Preheat the oven to 425 F. Wash the sweet potatoes well and then remove the skin (if desired, I leave mine on). Cut the sweet potatoes into fry strips about 1/4 inch thick and 4-6 inches long.

Place the fries in a large bowl, drizzle with vegetable oil and season with the garlic powder, cinnamon, paprika, salt and pepper. Toss well to combine so every fry is covered.

Arrange the fries in a single layer, leaving about a 1/2 inch of space between the fries, to ensure crispiness. Bake for 45-55 minutes, flipping once around the 20 minute mark.

While the fries are baking, whisk together the maple syrup and horseradish sauce. Add more of either ingredient to reach your desired spiciness to sweetness. Chill until ready to serve.

Remove the fries from the oven when they are nice and crisp. Serve along with the maple horseradish sauce right away. Enjoy!