Sweet Potato Pierogies in Brown Butter Sage Sauce
The Starving Chef is supported by Hungry People like you. When you make a purchase through an affiliate link on my site, I may earn a little bit of cash on the side (at no extra cost to you) to help keep my kitchen running. Read our disclosures here.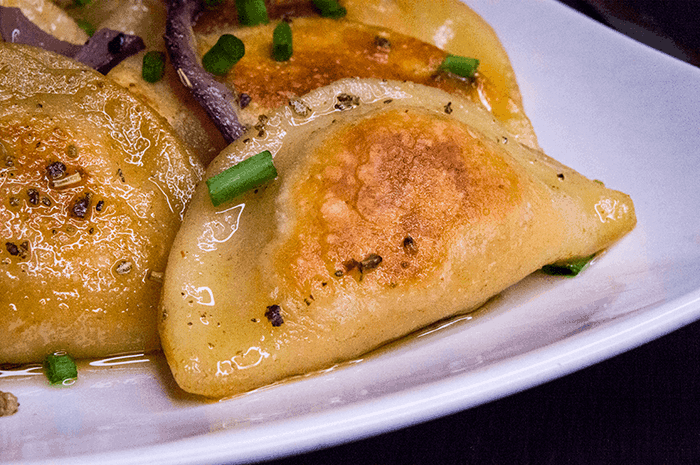 The other day I overheard someone saying that they didn't like pierogies! They were saying that the pierogies they always tried were too heavy or chewy – so obviously they weren't eating the right kind of pierogies. Determined to change their mind, I set out to create a pierogie even pierogie-haters would enjoy.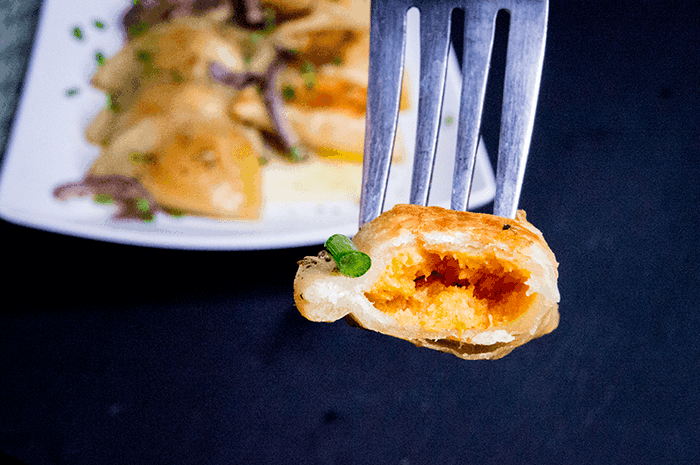 Filled with sweet potatoes and served in a rosemary, sage and brown butter sauce, there's no way you could dislike these pierogies. They swing from sweet to savory and back again; a full adventure on your taste buds.
The best way to ensure a tasty pierogie is to make it 100% from scratch, which starts with the creation of the dough. A good workable dough should do the trick.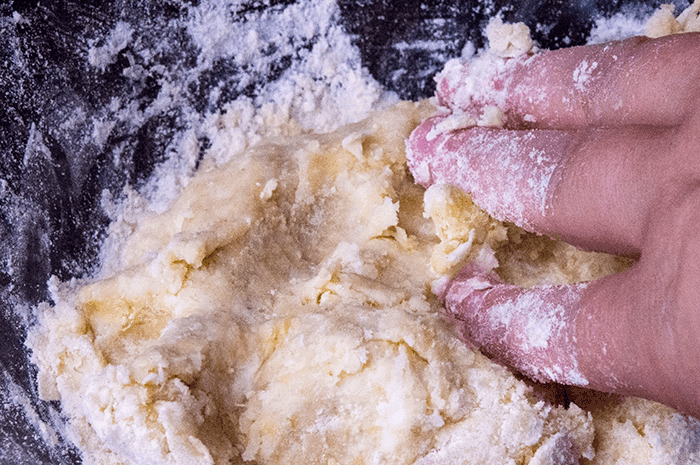 The dough should be kneaded until smooth and then left to rest until it has softened.
The key to the perfect pierogie wrapper is to not roll the dough paper thin, like you would for ravioli for example, and not too thick, like you might roll a pie crust.
Somewhere in between is the perfect pierogie wrapper thickness.
Once the dough has been rolled out, I used a mason jar ring to cut the wrappers into individual circles.
The next step is to prepare the filling. While I prepped the dough, I also had a pot of water boiling skinned sweet potatoes.
The softened sweet potatoes can then be mashed up and combined with heavenly flavors like rosemary, paprika, onion and garlic.
And just a touch of brown sugar helps to bring out the ideal amount of sweetness.
Each wrapper can hold about a tablespoon of filling. I measured out my filling on each individual wrapper, then pinched the edges shut with a dab of water.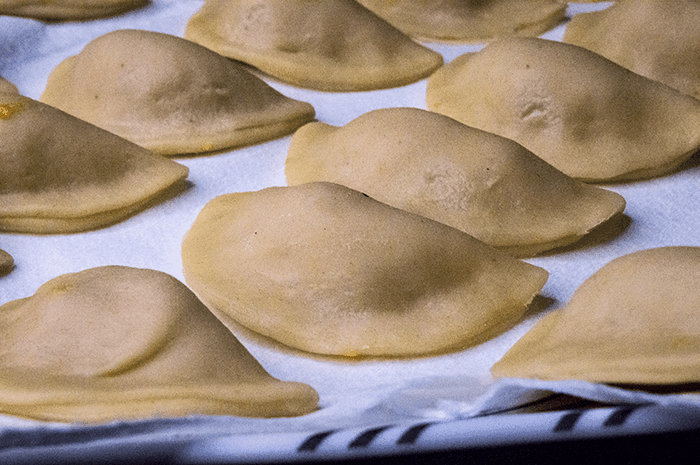 An essential step to perfect pierogies is to boil them for just a few minutes – just long enough until they start to float to the surface of the boiling water.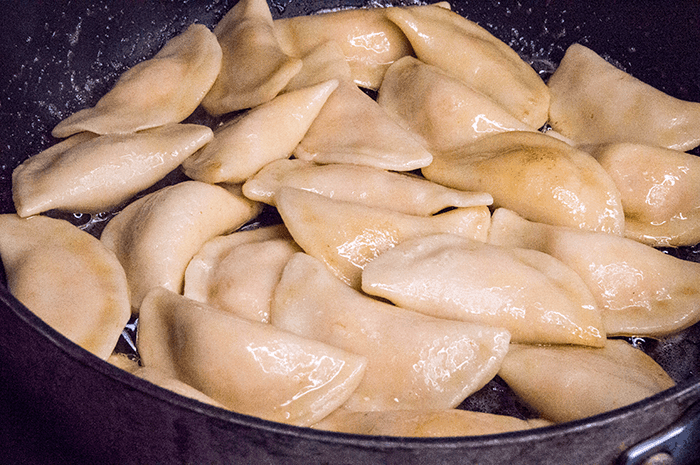 After the pierogies have boiled, they can be browned lightly in a hot skillet with a touch of salted butter. I sauted mine until crispy brown on one side – some people bake their pierogies to achieve similar results!
Once the pierogies are nice and browned, I created a brown butter, sage and onion sauce to pour over the pierogies.
Just cook long enough so that the red onions are just tender but not losing their color, about 5-10 minutes.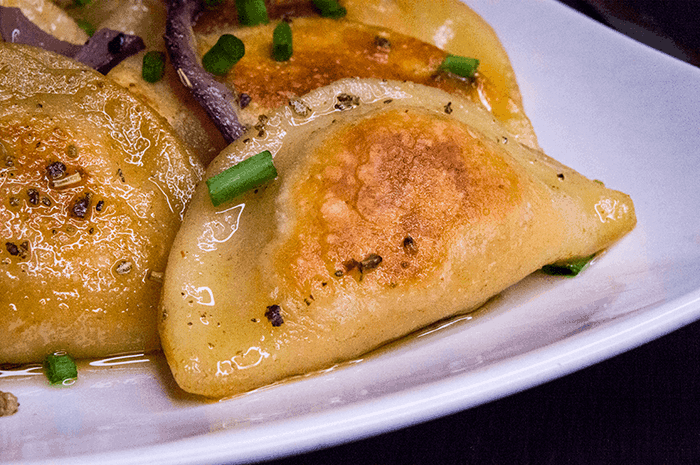 It never ceases to amaze me how easy some otherwise-complicated-sounding recipes turn out to be. Especially pierogies from scratch.
But trust me, the extra time spent to make the dough and filling is totally worth it – your mouth with thank you!
Sweet Potato Pierogies in Brown Butter Sage Sauce
Filled with sweet potatoes and served in a rosemary, sage and brown butter sauce, there's no way you could dislike these pierogies.
Ingredients
FOR PIEROGI DOUGH WRAPPERS:
FOR BUTTER SAGE SAUCE:
½

cup

butter

½

cup

red onion

2

tablespoons

sage
Instructions
In a large bowl, beat together the ingredients for the dough. Lightly flour a flat surface and knead the dough for a few minutes, until it forms a smooth dough. Cover the dough in plastic wrap and rest for at least 30 minutes.

While the dough rests, boil a large pot of water. Peel the sweet potatoes and place into the boiling water. Boil for about 15-20 minutes, until the sweet potatoes are fork tender.

When the sweet potatoes are cooked, mash them together with a ricer or fork. Mash in the Greek yogurt and butter. Stir in the rosemary, paprika, onion powder and garlic powder. Let the mixture cool until it is no longer steaming.

As the filling cools, roll out the dough on a surface dusted with flour. It should be about a 1/8 inch or less in thickness. Use a Mason jar ring or wide mouth glass to cut the dough into individual circles.

Spoon about a tablespoon of the filling onto the center of each wrapper. Fold the wrappers in half and use a touch of water to help seal the edges. Place on a paper towel as you work through the pierogies.

Bring a large pot of water to a boil. Add the pierogies in batches for 5-10. Boil for 1-2 minutes, until the pierogies begin to float. Remove from the water and place back onto a plate lined with a paper towel.

In a large skillet, melt two tablespoons of butter. Add the boiled pierogies to the hot butter in batches. Saute in the skillet until golden brown, or to the desired level of crispiness. Set the pierogies aside to make the brown butter sauce.

In the same skillet, melt the remaining butter. Add the sliced red onion and sage. Saute for about 10 minutes, until the onions have softened but have not lost their color. Pour the sauce over the cooked pierogies. Serve hot and enjoy!