Sweet & Sour Turkey Meatballs
The Starving Chef is supported by Hungry People like you. When you make a purchase through an affiliate link on my site, I may earn a little bit of cash on the side (at no extra cost to you) to help keep my kitchen running. Read our disclosures here.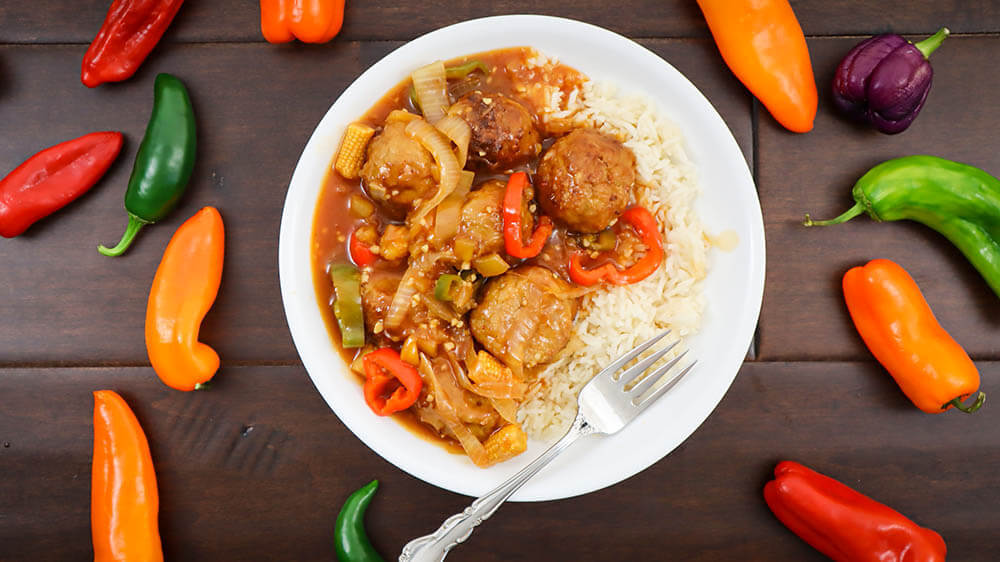 Today I'm going to show you how you can make some tasty sweet and sour turkey meatballs. Most people think turkey is dry – but these meatballs are incredibly tender and juicy.

In its ground form, turkey holds on to a ton of moisture, making it the ideal meat to use for meatballs.
For the meatballs, all you need are a few simple ingredients you can grab at most grocery stores:
ground turkey meat
panko bread crumbs
French fried onions
milk
eggs
crushed pineapple (in 100% juice – not syrup)
minced ginger
garlic powder
onion powder
red pepper flakes (for a hint of heat!)
I've found that this combination of ingredients goes well with most ground meats, not just turkey! I've made similar meatballs from chicken and beef too.
There are a few different ways you can cook your meatballs. For the video recipe, I used my air fryer to get my turkey meatballs golden brown. You can also put them under your broiler for 10-15 minutes, bake in the oven at 350 F for 20-30 minutes OR pop them raw into your Instant Pot or slow cooker and cook on low for 3-4 hours (BEFORE adding the sauce!).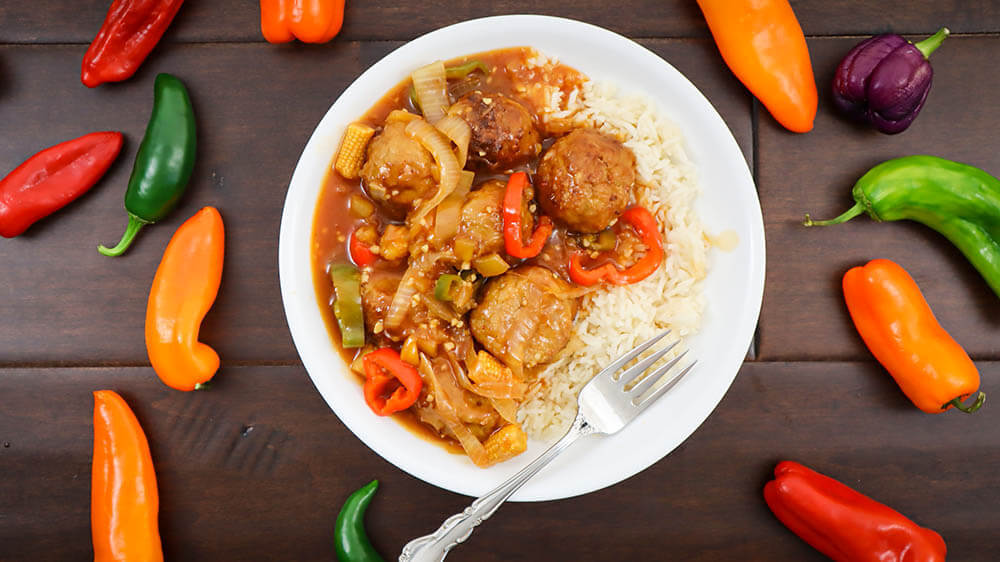 The sauce is my favorite part! It goes great over rice or noodles on its own – but it's even better when packed with meatballs of course!
For the sauce, you just need some simple ingredients:
onions
sweet peppers (and spicy ones, if you like it HOT!)
baby corn
minced garlic
crushed pineapple
Worcestershire
rice vinegar
soy sauce
ketchup
honey
pineapple juice
chicken broth
This simple sauce is tasty and can be used for a variety of meats and dishes. It turns out sweet and sour (and maybe a little bit spicy, if that's how you like it!).
I served my meatballs on a bed of plain rice – the more rice to absorb the sweet and sour sauce, the better. These meatballs are so good, we ate them for three days straight without complaint.
They are incredibly juicy and come together in under an hour. What could be better! I mean just look at how amazing these look. You know they taste just as good.
Sweet & Sour Turkey Meatballs
These turkey meatballs are packed with pineapple, roasted to perfection and served in a sweet and sour sauce.
Instructions
In a large bowl, combine the ground turkey meat with the panko, fried onions, milk, egg, crushed pineapple, ginger, garlic powder and onion powder. Add the red pepper flakes as desired. Stir together until the meat is a smooth consistency. Rest for 10 minutes for the panko to soak up the moisture.

Preheat your broiler. Grab about two tablespoons of meat mixture and roll in your hands to form a ball. Arrange the meatballs on a baking sheet. Broil for 10-15 minutes, until the meatballs are golden brown.

ALTERNATIVE COOKING METHOD FOR AIR FRYER: Cook meatballs in air fryer at 450 F for 8-10 minutes.

Start the sauce by heating olive oil in a pot over medium high heat. Add the onions and saute until tender, about 10 minutes. Then add the peppers and saute until fragrant, another 5 minutes.

Add the baby corn, minced garlic and pineapple. Saute until most of the moisture is evaporated. Season with salt and pepper, to taste.

Then add the worcestershire, rice vinegar and soy sauce to the pot. Bring to a low simmer then add the ketchup, honey, pineapple juice and chicken broth. Bring to a boil then reduce the heat to a simmer. Continue to simmer until the sauce has thickened, about 10 minutes.

Stir together the water and cornstarch to make a slurry. Pour into the pot then reduce the heat to medium. Add the cooked meatballs to the sauce pot. Simmer for another 10 minutes, covered.

Serve meatballs and sauce over a bed of white rice or noodles, as desired. Enjoy!
Video