Sweet & Spicy Shrimp Polenta Cakes
The Starving Chef is supported by Hungry People like you. When you make a purchase through an affiliate link on my site, I may earn a little bit of cash on the side (at no extra cost to you) to help keep my kitchen running. Read our disclosures here.
Polenta is all the rage right now. It's gluten-free, vegan friendly and the perfect base for a sweet and spicy shrimp topping. Fried in ghee, these polenta cakes are soon to be the talk of the town.
First, the prepared polenta is thickly sliced and fried in ghee until crispy on the outside and tender on the inside. Polenta is more commonly known as grits in the United States – but the biggest difference is how polenta is prepared.
It can be made into porriage or boiled and pressed into a tube to be cut into slices. It can also be used as bread crumbs or creamed into grits. It's emmensely versatile, so I'm definitely excited to get to know this ingredient more.
The shrimp is marinated in a smoky paprika dressing then cooked amongst jalapenos, red peppers, corn, and a sweet and tangy Thai ginger chile sauce. The Ginger People Thai Ginger Chile sauce is hands down my personal favorite. The shrimp is then placed on top of the fried polenta and sprinkled with fresh feta, parsley and a drizzle of balsamic vinegar.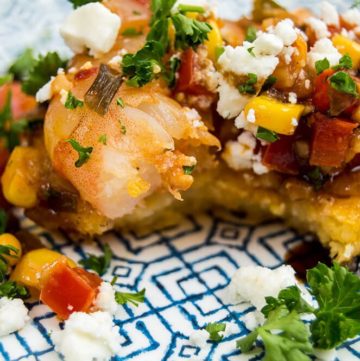 Sweet & Spicy Shrimp Polenta Cakes
Smoky paprika shrimp on ghee fried polenta.
Ingredients
16

oz

raw shrimp

peeled & deveined

¼

cup

olive oil

2

tablespoons

smoked paprika

½

lemon

juiced

2

tablespoons

chives

¼

cup

ghee

1

tube

polenta

2

jalapenos

chopped

½

cup

red bell pepper

chopped

½

cup

golden corn kernels

½

cup

shallot

finely diced

2

tablespoons

galic

minced

2

tablespoons

chives

3

tablespoons

Thai ginger chile sauce

¼

cup

white wine

½

cup

feta cheese

for topping

4

tablespoons

balsamic vinegar

for drizzling

½

cup

fresh parsley

for topping

1

teaspoon

fresh cracked pepper

to taste

1

teaspoon

Himalayan sea salt

to taste
Instructions
In a large bowl, combine the peeled shrimp, olive oil, paprika, lemon juice and chives. Stir until the shrimp are covered, then marinate in the fridge for at least one hour. The shrimp can be prepared a day ahead.

Preheat the oven to 160 F. Melt the ghee in a large skillet over medium high heat. Open the polenta tube and slice into evenly thick portions – each slice should be about a half inch thick. Fry the polenta on both sides, until each side is crispy but the center is soft, about 5 minutes. Season with fresh cracked pepper and himalayan sea salt, as desired.

Arrange the fried polenta on a baking sheet and keep warm in the oven. Do not clean out the skillet if there is ghee remaining. If there's not a generous coating of ghee, add about 1-2 tablespoons more.

Saute the jalapenos, red pepper, corn, and shallots in the skillet until they are tender and fragrant, about 2-3 minutes. Then stir in the garlic, chives and the Thai ginger chile sauce.

Deglaze the pan with a splash of white wine. Let the liquid evaporate until it is reduced by half, then stir in the marinated shrimp . Cook the shrimp through, about 4-5 minutes, until it is pink and plump.

Spoon about 1-2 shrimps onto each slice of fried polenta. Spread the sauted pepper and corn mix on top. Sprinkle on fresh feta cheese, a drizzle of balsamic and a pinch of fresh parsley or leftover chives, for a pop of color. Serve hot and enjoy.
Video