The Howler | Harry Potter Inspired Cocktails
The Starving Chef is supported by Hungry People like you. When you make a purchase through an affiliate link on my site, I may earn a little bit of cash on the side (at no extra cost to you) to help keep my kitchen running. Read our disclosures here.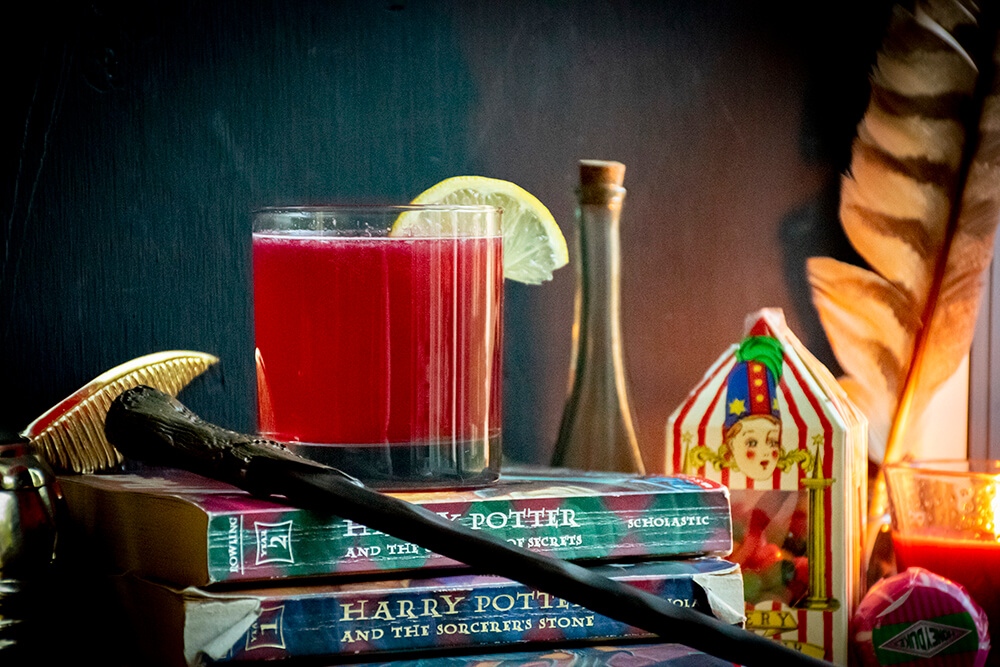 RONALD WEASLEY. HOW DARE YOU STEAL THAT CAR!
We continue our journey through the halls of Hogwarts by meeting up with Ron and Harry, shortly after the owl post has arrived during their second year of school. Unfortunately for Ron, a little red envelope has caught the attention of the entire Great Hall…
If you're a true fan, you read that entire gif in Molly Weasley's voice.
Ron and Harry were certainly derserving of several Howlers throughout their years at Hogwarts – I'm honestly surprised this was the only one (that we saw, at least). In the books, Ron recieves a Howler from his mother after he and Harry drove Arthur Weasley's flying car into the Whomping Willow at Hogwarts when the magical portal between Platform 9 3/4 and the Hogwarts Expressed was closed (by Dobby, though Harry doesn't know this at the time).

Howlers are magical, enchanted envelopes that contain the voice of the sender magnified at a high volume. If left unopened for too long, they'll eventually explode.
Like a Howler, the cocktail version is just as loud and packs quite a punch. It's sweet and tangy, like Molly Weasley herself.
Sometimes I wish we could send Howlers in real life – though I suppose if you have enough of the cocktail version for Muggles, you might turn into a Howler yourself.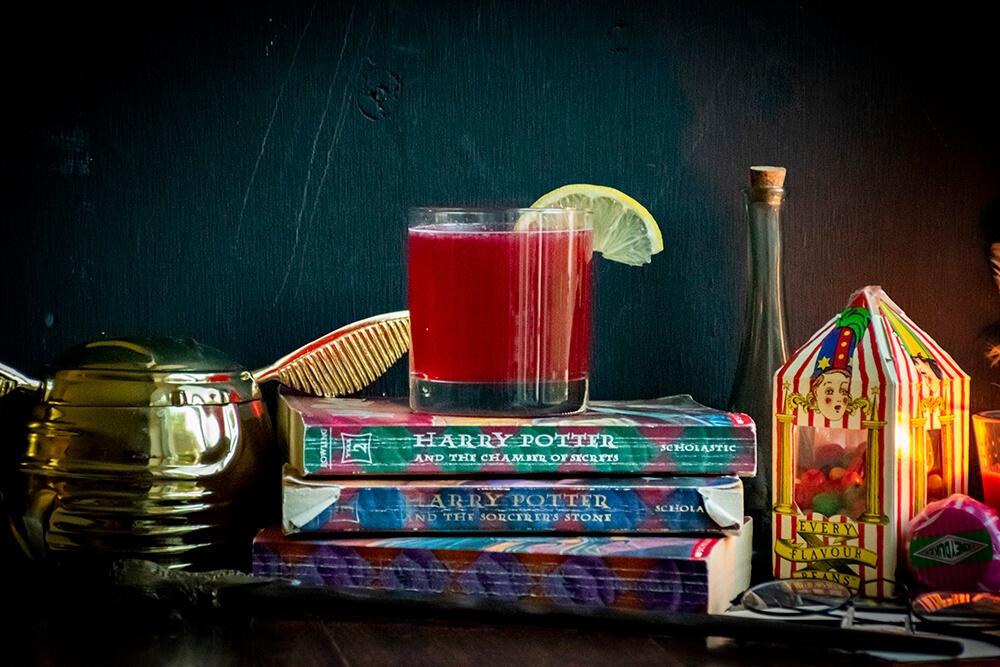 My Muggle-friendly cocktail version is very sour with some help from limoncello, lemon vodka and lemonade. The bright red color comes from sweet cranberry juice – a splash is enough! Then the whole thing is topped off with tonic water until it is gently sparkling.
I'd like to imagine that Molly Weasley would concoct one or two of these for herself and Arthur Weasley on a quiet night after the war was over and all the kids had moved on from the Burrow. Even though the inspiration for these drinks is based on something loud, the drink itself is perfect for sipping on while reminiscing on the past.
I can't believe this is my FIFTH year doing a Harry Potter themed week here on my blog. There's many more magical recipes to come, so be sure to check back every day between now and July 31st as I post new delicious concoctions. This year, everyone at Hogwarts NEEDS a stiff drink.
I've definitely wanted to send a out a few Howlers myself – more so than ever living in this crazy 2020 world. That's why I needed a few good Harry Potter themed recipes to help me forget the woes of the Muggle world.
What's your favorite Harry Potter themed recipe? What should I concoct next? Let me know down in the comments below!
The Howler | Harry Potter Inspired Cocktails
Like a Howler, the cocktail version is just as loud and packs quite a punch. It's sweet and tangy, like Molly Weasley herself.
Ingredients
6

oz

cranberry juice

1

oz

limoncello

1

oz

lemon vodka

4

oz

lemonade

chilled

4

oz

tonic water

chilled
Instructions
In a cocktail mixer with ice, shake together the cranberry juice, limoncello and lemon vodka until bright red and chilled.

Pour the contents of the cocktail mixer between two glasses and top each glass off with the lemonade and tonic water. Enjoy!