The Starving Chef's 500TH POST!
The Starving Chef is supported by Hungry People like you. When you make a purchase through an affiliate link on my site, I may earn a little bit of cash on the side (at no extra cost to you) to help keep my kitchen running. Read our disclosures here.
There are so many big and exciting things happening on my blog right now that I was surpried to see my recipe counter right on 499 this morning!
I made a big deal out of my 100th post, 200th post, and 300th post, but some how 400th post got lost in the shuffle of #bloggerlife. So many things have changed since my first official post. I started making videos in late 2016 and launched a new series, Know Your Food, on Youtube just this month. Heck, I even went live with my Let's Cook Live Stream Cooking Show! It's been a wild ride, and it's just getting crazier! Trust me when I say, much bigger and better things are on the horizon for The Starving Chef.
So for now, there's a look back at my ALL TIME, MOST POPULAR POSTS EVER!
---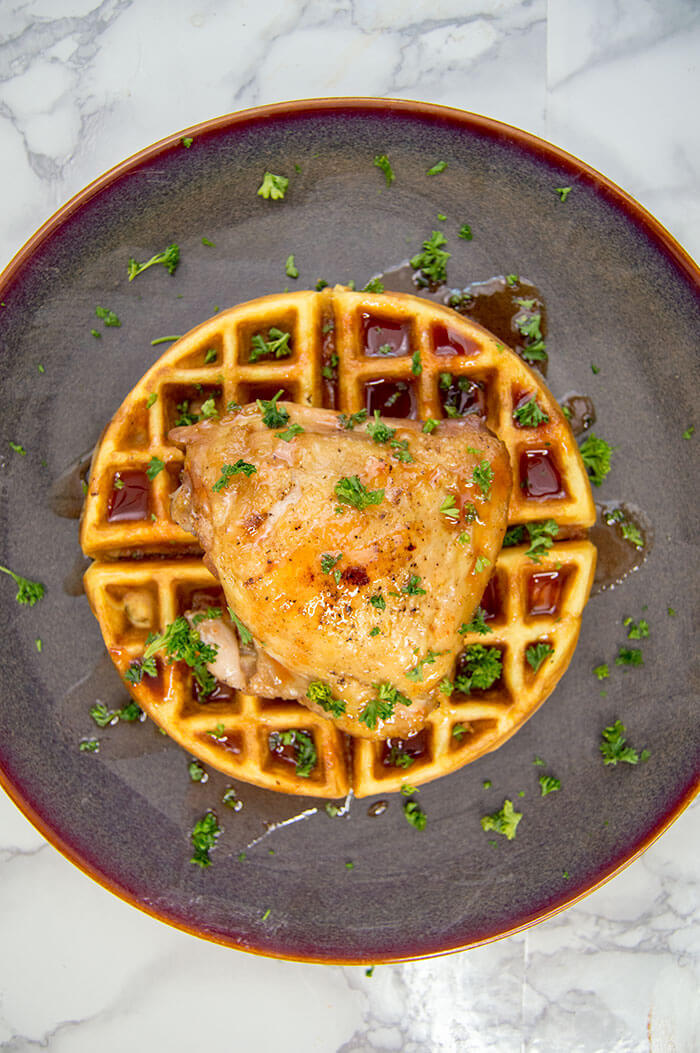 People who've been around my blog for awhile probably know about my waffles obession. This was the chicken waffle recipe that started it all.
---
I may not have ever been camping IRL but that certainly hasn't stopped me from mastering cooking over an open fire.
---
The first time I made a GIANT HO-HO was a massive success. And absolutely delicious!
---

Not surprisingly, a Harry Potter recipe made the top 15 list. I'm also mildly obessed with all things Harry Potter. Naturally, I had to make the favorite dessert of the Boy Who Lived…
---
A classic recipe that my boyfriend and friends had been begging me to make for years…and it's now one of my go-to appetizers for parties.
---

Another one of my favorite things to do is make Game of Thrones themed recipes the week leading up to the premiere. And with the final season starting up soon, you can bet that I'll be going all out again this year!
---
Tzatziki on a pizza!? This gyro inspired piece of 'za has been a long time favorite of mine – and my friends – for years now!
---
This recipe was one of my first ever to go viral – they are super easy to do, and taste just like Pizza Rolls, but bigger!
---
I've been a huge fan of Avatar: The Last Airbender since my childhood, so when I was on my 100001th rewatch-a-thon, I decided to recreate some of my favorite dishes as I imagined from them the show. I did the same thing with the Legend of Korra too!
---
#6 Bailey's Irish Cream Soaked Cupcakes
Who doesn't want to get drunk off a cupcake?
---
I've been gradually learning how to sous vide anything and everything – this recipe covers my first attempts at using a presicion cooker to get the job done.
---
Back at the beginning of my blogging journey, I was super into meal-prepping. I still am – and to this day, these were my all time favorite wraps.
---
Quite possibily my most-searched for recipe to-date is this recipe for an Akron/Cleveland classic: the Galley Boy. With not one but TWO secret sauces, I think I got pretty close to craking it.
---
Another copycat recipe to top the list is this recipe for Maid Rites – my mother and her family grew up in the town where they supposedly originated, and were something I LOVED as a kid!
---
The TOP recipe on my blog right now is this recipe for copycat crispitos. They taste spot on to my memories from high school!
---
I can't wait to see what is next for my blog. I've learned so much, not only about cooking, but about marketing, editing, and filming too. It's all my passions rolled into one delicious result. Stay tuned for more delicious recipes!