Cheesy Cast Iron Brussels Sprouts Dip
The Starving Chef is supported by Hungry People like you. When you make a purchase through an affiliate link on my site, I may earn a little bit of cash on the side (at no extra cost to you) to help keep my kitchen running. Read our disclosures here.
What's Up, Hungry People?
Thanksgiving is that glorious day where food is the star and stretchy pants are the best supporting actor. It's, hands down, my favorite holiday. And I'm not just saying that because I'm a self-taught chef/baker with a penchant for side dishes that steal the show. Throughout the year, I'm like a food detective on a mission, scouting for unique and tasty sides to grace our T-day table. This year, I've got my sights set on a showstopper: brussels sprouts dip.
Baked in a cast-iron skillet to crispy perfection, these sprouts are ready to mingle with chips and crackers. But let's be real – they're equally fantastic forked straight from the pan as a side dish. And because we're all about that oven-to-table charm, the skillet makes for a rustic presentation that screams "I've got my life together" (even if we're winging it most days).
Here's What You Need
Brussels Sprouts: Add crunch and nuttiness, they're the star of the dish.
Butter: For sautéing sprouts, adds rich flavor and helps with browning.
Parmesan Cheese: Adds a salty, umami flavor and aids in a crispy topping.
Gruyere Cheese: Melts well, giving a creamy texture and complex taste.
Mozzarella Pearls: Provide a gooey melt and a mild, milky flavor.
Mozzarella Slices: Offer a stretchy texture and help bind the topping.
Lemon Juice: Brightens the dish, cutting through the richness of the cheeses.
Mayonnaise: Creaminess and tanginess, helps to bind the cheese mixture.
Shallots: Milder than onions, they add subtle sweetness when cooked.
Fried Onions: Offer a crispy, savory garnish for texture and flavor.
Pita Chips, Crackers, Veggies: Serve as vehicles for the dip, offering variety and crunch.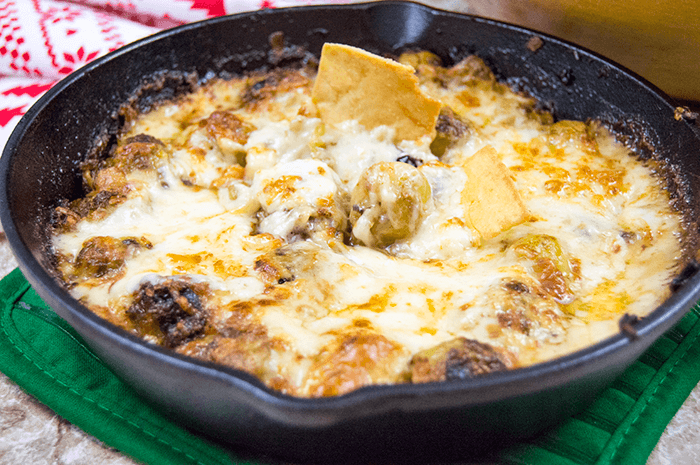 Let's Cook!
Alright, Hungry People, let's roll up those sleeves and dive into this dip that's about to change your Thanksgiving game. Kick things off by cranking your oven up to a cozy 400°F. While that's heating up, give your Brussels sprouts a little TLC by stripping off any unfriendly-looking leaves and trimming their stems – we want just the good stuff.
Now, grab that trusty cast iron skillet and introduce two tablespoons of butter to some heat, but let's not get too hot-headed – we don't want to burn the place down. Toss in your sprouts and let them sizzle until they start to get that gorgeous, golden tan, then swoop in with the rest of the butter and let it melt into a little pool of happiness.
While those little green gems are getting comfy, grab a bowl and whip together your Parmesan, Gruyere, mozzarella pearls, and slices with the mayonnaise. Season this creamy dream with a pinch of salt and pepper – trust your taste buds on this one.
Back at the skillet, it's time for the shallots to join the party. Stir them into the mix until they're looking golden and feeling soft. Now, for the grand move: spread that luscious cheese mixture right on top of the sprouts, like you're tucking them into a gooey, cheesy bed.
Slide the skillet into the oven and give it about 15-20 minutes. You're waiting for the moment when the cheese is gloriously melted, golden, and bubbling like a little volcano of deliciousness.
Once done, let the skillet take a breather for a few minutes – it's had a long day. Then, serve it up as a proud side dish or plunge in with chips and crackers for a casual dip scenario. Go on, get in there and enjoy!
Tips for a Perfect Baked Brussels Sprouts Dip
Choose Fresh Brussels Sprouts: Look for bright green heads that are firm and heavy for their size. The fresher they are, the better they will taste and the less bitter they'll be.
Consistent Sizing: When preparing the Brussels sprouts, try to cut them into similar-sized pieces for even cooking. This helps prevent some sprouts from becoming mushy while others are undercooked.
Butter Management: Heat the butter over medium-high heat, but once you add the sprouts, keep an eye on the heat. If the skillet gets too hot, the butter can burn, which will impart a bitter taste.
Cheese Choices: While the recipe calls for specific cheeses, feel free to experiment with others. Just keep in mind that the meltability and flavor impact will vary, so choose cheeses that complement the earthy sprouts.
Lemon Juice Timing: Add the lemon juice to the Brussels sprouts before you add the cheese mixture. It's important not to skip this step, as the acidity helps balance the flavors.
Don't Overcook: Keep an eye on the dish as it bakes. You want the cheese to be golden brown and bubbly, but not burnt. Every oven is different, so start checking around the 15-minute mark.
Serving Warm: This dish is best served warm, but if it cools down too much before serving, don't hesitate to give it a quick blast in the oven to remelt the cheese.
Making Ahead: You can prepare this dish ahead of time by following all the steps up until baking. Store it in the refrigerator and pop it in the oven just before your guests arrive for a freshly baked dip.
As we wrap up our foray into the world of baked Brussels sprouts dip, let me just say, if you're looking to bring some pizzazz to your Thanksgiving table, this is your go-to. It's a cheeky twist on the usual fare that will have your guests guessing, "Is it a side? Is it a dip? Who cares – pass me those pita chips!" Trust me, once they've had a taste, they'll be crowding the kitchen, eager for seconds.
And hey, if you decide to ditch the chips and go in with a fork, I'm not here to judge. Just kick back, dig in, and let the holiday cheer begin!
Three Cheese Brussels Sprouts Dip
Indulge in a creamy, cheesy baked Brussels sprouts dip that's perfect for sharing.
Ingredients
2

cups

brussels sprouts

trimmed

4

tablespoons

butter

½

cup

Parmesan cheese

½

cup

gruyere cheese

½

cup

mozzarella peals

¼

cup

mozzarella slices

3

tablespoons

lemon juice

¼

cup

mayonnaise

1

cup

shallot

minced

¼

cup

fried onions

for topping

pita chips, crackers, veggies, etc

for serving
Instructions
Preheat the oven to 400°F. Trim any brown leaves off the Brussels sprouts and cut off any excess stem. Then chop the sprouts and shallots.

Add two tablespoons of butter to a cast-iron skillet over medium-high heat; be careful not to let the butter burn.

Add the Brussels sprouts to the skillet and stir occasionally until they start to brown, then add the remaining two tablespoons of butter. Continue to stir until the butter is melted, then reduce the heat to medium and let cook, stirring occasionally.

Meanwhile, in a small bowl, combine the Parmesan, Gruyere, Mozzarella pearls, and slices with the mayonnaise. Season the cheese mixture with salt and pepper to taste.

Stir in the lemon juice with the Brussels sprouts and add the minced shallots to the skillet. Continue to stir until the shallots are translucent and beginning to brown.

Spread the cheese mixture over the Brussels sprouts in the skillet in an even layer. Transfer the skillet to the oven. Bake for 15-20 minutes, or until the cheese is melted, golden brown, and bubbling.

Remove the skillet from the oven and let it cool for several minutes. Sprinkle the fried onions on top before serving. Serve this tempting dish as a side or with pita chips, crackers, and veggies for dipping. Enjoy and have a Happy Thanksgiving!
Video