Toads In Holes (Eggs in Toast!)
The Starving Chef is supported by Hungry People like you. When you make a purchase through an affiliate link on my site, I may earn a little bit of cash on the side (at no extra cost to you) to help keep my kitchen running. Read our disclosures here.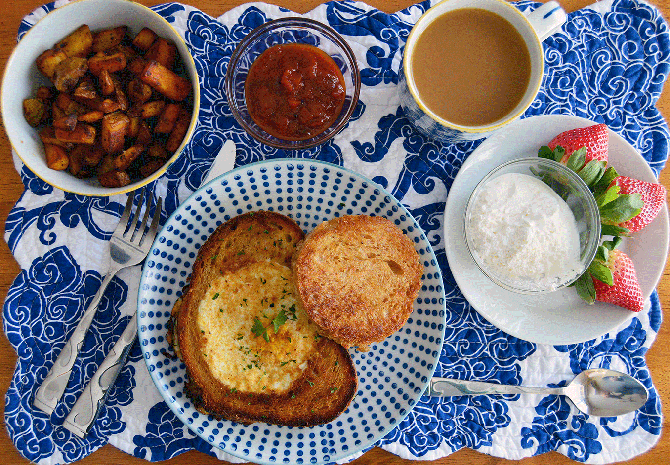 I've been making "toads in holes" since college. They're simple enough that you can make them while completely hungover. So really, I see no downsides here.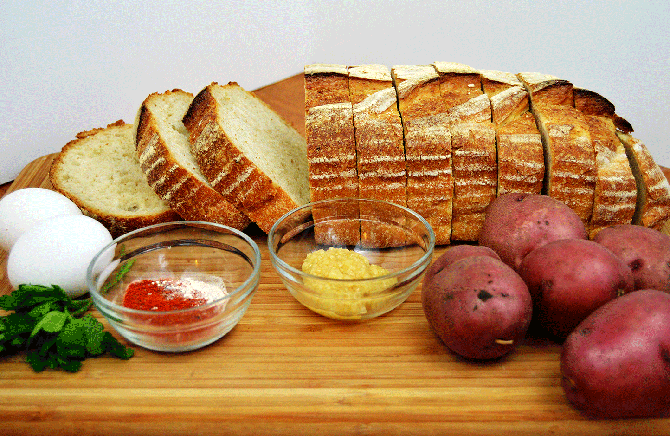 You can ignore the potatoes, garlic, and spices in the above picture – those go with the side dish: Perfect Paprika Potatoes. Down that Bloody Mary and let's get started!
Use a glass or small bowl to cut out a circle from the middle of one slice of bread. Be sure to not cut through the crusts so when you fry the bread, none of the egg gets out.
Melt a tablespoon of butter in a large pan over medium heat and then add the bread. Don't forget to add the circle slice with it – it's the best part according to The Pioneer Woman.
Let the bread fry for a few seconds before you add your eggs.
Here's the reason why I like using SUPER thick sliced bread: you can fit two whole eggs in there! Whether you call these eggs-in-holes or toads-in-holes, I like to think of the egg yolks as the 'toads,' what about you?
Fry your eggs for a few minutes on each side, longer if you are doubling up your eggs such as I. Then quickly flip your bread over and try not to spill out any egg!
Then serve up your toads-in-holes to all of your hungover friends. They need it. You need it.
Toads In Holes (Eggs in Toast!)
Sourdough bread with an egg in the middle – and served dippy-style with the toasted center!
Equipment
cookie cutter or small bowl/glass

for cutting circular holes
Ingredients
6

thick cut slices sourdough bread

at least one inch thick

12

eggs

12

tablespoons

butter
Instructions
Use a glass or small bowl to cut a circle in the middle of the bread slice, making sure not to cut through the crust.

Heat a large pan over medium heat and add the butter until it is bubbly but not yet brown. Add your bread and hole into the pan and fry for 30 seconds.

Crack each egg into the hole, waiting a few seconds between to let the first egg set. Cook for about 2-5 minutes per side until whites are set but yolks are still runny or your egg doneness preference.

Serve alongside some perfect paprika potatoes, fresh fruit, and a big cup of coffee. Enjoy!
Notes
Recipe instructions are per slice of bread.