Tornado Potato: A Fun and Easy Concession Food
The Starving Chef is supported by Hungry People like you. When you make a purchase through an affiliate link on my site, I may earn a little bit of cash on the side (at no extra cost to you) to help keep my kitchen running. Read our disclosures here.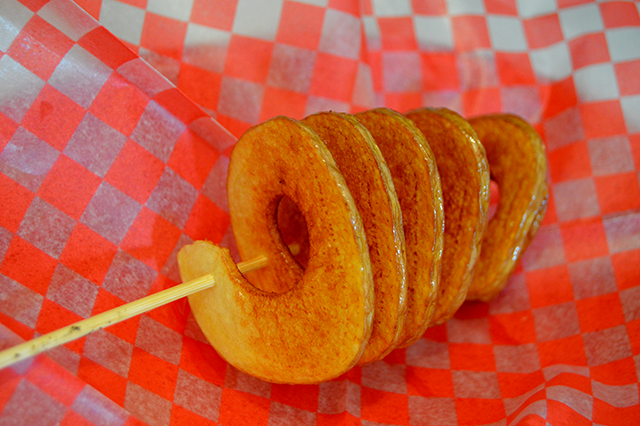 With recent crazy weather in my hometown, I thought these potatoes were especially relevant to this week's challenge of concession foods. They're not only crazy easy to make, but they can be served alongside other foods-on-sticks like these equally easy corn dogs!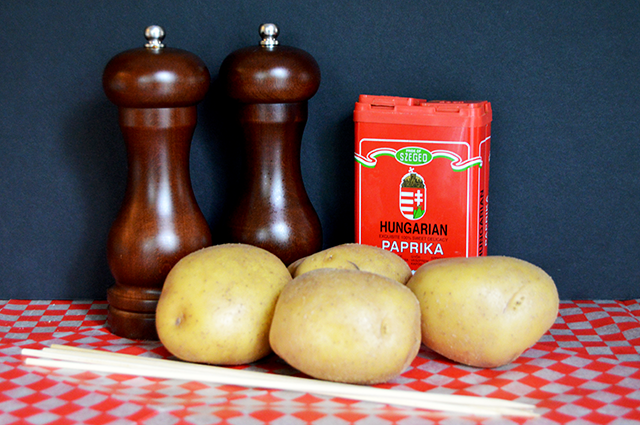 Here's What You Need
Russet potatoes: Main ingredient, used to create spiral-cut potatoes for frying.
Onion powder: Adds a subtle onion flavor to complement the potatoes.
Paprika: Adds a kick of flavor and a vibrant color to the tornado potatoes.
Garlic powder: Provides a savory and aromatic taste to enhance the overall flavor.
Cayenne pepper: Adds heat and spiciness to the dish.
To make this recipe, at the end of the day, all you really need are potatoes and a deep fryer. If you don't have a deep fryer, don't worry!
You can still achieve great results with just a few inches of oil in a large skillet. It's all about improvisation and making the most of what you have.
After all, that's the essence of cooking from scratch with affordable ingredients.
Now, when it comes to flavoring your tornado potatoes, the options are endless. Personally, I love a bit of a kick, so I chose Hungarian paprika to give them some spiciness. But feel free to experiment and use whatever spices you enjoy.
In fact, as I was making these potatoes, the weather in my current town took a turn for the worse as well. Strange coincidence, right?
Let's get to the fun part!
If you happen to have an apple corer, consider yourself lucky because it makes the whole process much easier. Simply press the potato onto the corer and remove the skin as you turn it. It's quick and efficient.
However, if you don't have an apple corer, don't worry. I've got you covered. I found a quick video that shows you how to do it by hand. It may take a bit more effort, but trust me, it's worth it. After all, we hungry people are always up for a little adventure in the kitchen.
Once you've got your spiral-cut potatoes ready, it's time to take things up a notch. I like to split each potato into two spirals, just to add more surface area for that delicious crispiness. Then, grab your skewers and carefully insert them about halfway up each potato spiral.
This will not only make them easy to handle but also give them that fun "food-on-a-stick" appeal. It's all about presentation!
Now, it's frying time! Deep fry your tornado potatoes for about 2-3 minutes, or until they turn golden brown and crispy. If you're using a deep fryer, that's perfect. But if you're using a skillet, make sure to bring a few inches of oil up to 350°F before adding the potatoes.
Remember to rotate the potatoes in the oil to ensure they cook through evenly. We want them to be crispy on the outside and tender on the inside.
Once your tornado potatoes are perfectly cooked, it's time to bring on the flavor. Don't be shy about adding some extra seasoning. I love to sprinkle garlic and onion powder over the hot potatoes to give them an extra burst of flavor. Feel free to get creative and try out different seasonings or even a sprinkle of grated cheese if you're feeling indulgent.
Tips & Tricks
Choose the right potatoes: Russet potatoes are ideal for tornado potatoes as they have a starchy texture that crisps up nicely when fried.
Keep the potato slices consistent: When spiral-cutting the potatoes, try to make the slices as even as possible. This will ensure that they cook evenly and have a uniform texture.
Control the oil temperature: If using a deep fryer, preheat it to 350°F for optimal frying. If using a skillet, maintain the oil temperature at around 350°F throughout the cooking process. This will result in crispy potatoes with a golden-brown color.
Drain excess oil: After frying, place the cooked tornado potatoes on a plate lined with a paper towel. This will help absorb any excess oil, ensuring a lighter and less greasy final dish.
Customize the seasoning: While the recipe suggests paprika, garlic powder, onion powder, cayenne pepper, salt, and pepper, feel free to adjust the seasonings to your taste preferences. Add herbs, spices, or even a sprinkle of grated cheese for a creative twist.
Serve immediately: Tornado potatoes are best enjoyed right after frying when they are at their crispiest. Serve them hot and sprinkle the toppings immediately to ensure maximum flavor.
Experiment with dips: Tornado potatoes are a great canvas for various dipping sauces. Consider serving them with ketchup, mayonnaise, aioli, or your favorite condiments for an extra burst of flavor.
Have fun with presentation: The visual appeal of tornado potatoes is part of their charm. Play around with different skewering techniques and experiment with different shapes and sizes to make them even more enticing.
Now comes the best part—serving and devouring these delicious tornado potatoes. They are fantastic on their own, but I highly recommend serving them alongside other deep-fried goodness, like those mouthwatering corn dogs. It's a match made in heaven!
So gather your hungry people, get your platters ready, and enjoy this tasty treat that will transport you to the world of concession foods.
Remember, cooking is all about having fun and exploring new flavors. So, go ahead and make these tornado potatoes your own. Experiment with different seasonings, dip them in sauces, and share your creations with others.
And as always, stay hungry for more exciting recipes that will tantalize your taste buds
Tornado Potato
Deliciously crispy seasoned spiral-cut potatoes, perfect as a fun and flavorful concession food.
Instructions
Preheat the deep fryer to 350°F.

Clean each potato thoroughly, ensuring there are no dirt or impurities.

Using an apple corer or spiral cutting the potatoes by hand, create spiral shapes.

Skewer each potato, inserting the stick through the center, and fan out the layers along the stick.

Place the skewered potatoes into the preheated deep fryer, ensuring they are fully submerged in the oil.

Occasionally rotate the potatoes while frying to ensure even cooking and crispy texture.

Deep fry the potatoes for approximately 3-5 minutes, or until they reach the desired level of crispiness.

Once cooked, carefully remove the potatoes from the fryer and place them on a plate lined with a paper towel to absorb any excess oil.

Immediately sprinkle the prepared toppings, including the paprika, garlic powder, onion powder, cayenne pepper, salt, and pepper, over the hot potatoes. Serve the tornado potatoes and enjoy!