Tywin Lannister's Oxtail Stew | Game of Thrones Inspired Recipes
The Starving Chef is supported by Hungry People like you. When you make a purchase through an affiliate link on my site, I may earn a little bit of cash on the side (at no extra cost to you) to help keep my kitchen running. Read our disclosures here.
This week we are exploring the cuisine of Westeros, starting in the ruins of Harrenhal.
If you aren't caught up on the most recent season of Game of Thrones – BE WARNED! There's gonna be BE OL' SPOILERS in this post!!
Tywin Lannister was once one of the most powerful men in the Seven Kingdoms. As Hand of the King to Joffery, he practically ruled Westeros from behind the curtains – but it was likely no one but him knew the real turmoil King's Landing was in; no money, no food – and now, no king.
And with Tywin's untimely demise by Tyrion, now no one in King's Landing truly knows the scale of descruction that will be reeked upon the city once Daenerys shows up with her dragons.
But until then, the free folk can dream of simpler times – where oxtail stew was plentiful as it is delicious.
In season two of Game of Thrones, Ayra is taken captive by the Lannisters at Harrenhal, where she subsequently finds herself as a servant girl to none other than Tywin Lannister. Tywin doesn't recognize Ayra, leading him to show her kindness by offering up his meal of mutton stew – but a kindness only shown, mostly because he doesn't like mutton.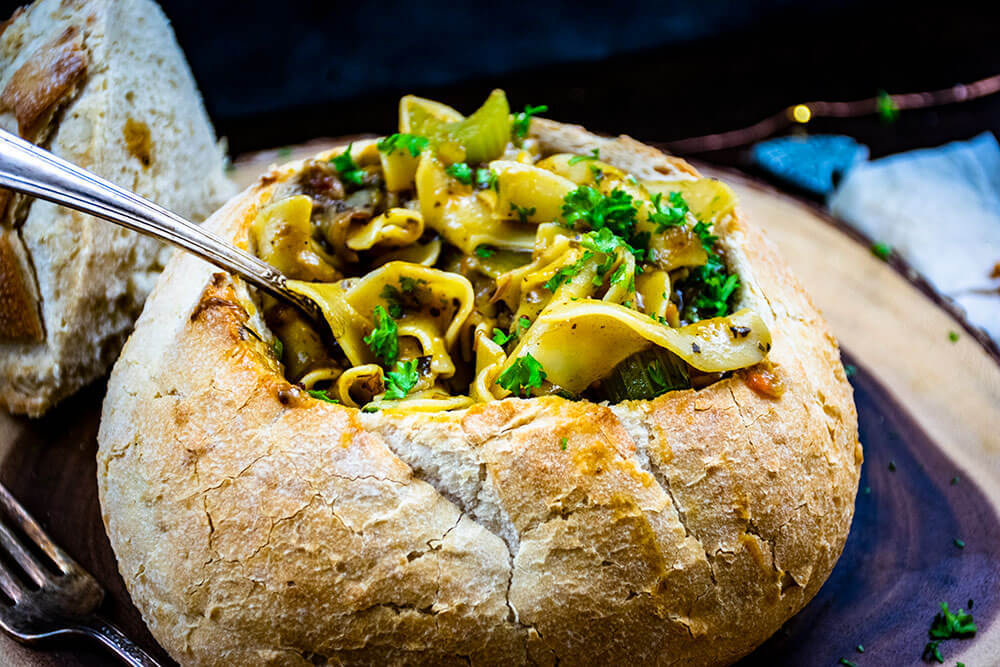 Tywin is an important figure at Harrenhal, so its likely he would have had the kitchen prepare him something else to eat – but obviously being in Harrenhal, the goods probably weren't as plentiful as they would be in Kings landing or Casterly rock – so the kitchen workers would have probably had to work with what they had on hand; offal and other spare bits and ends leftover from the Lannister army's last meal.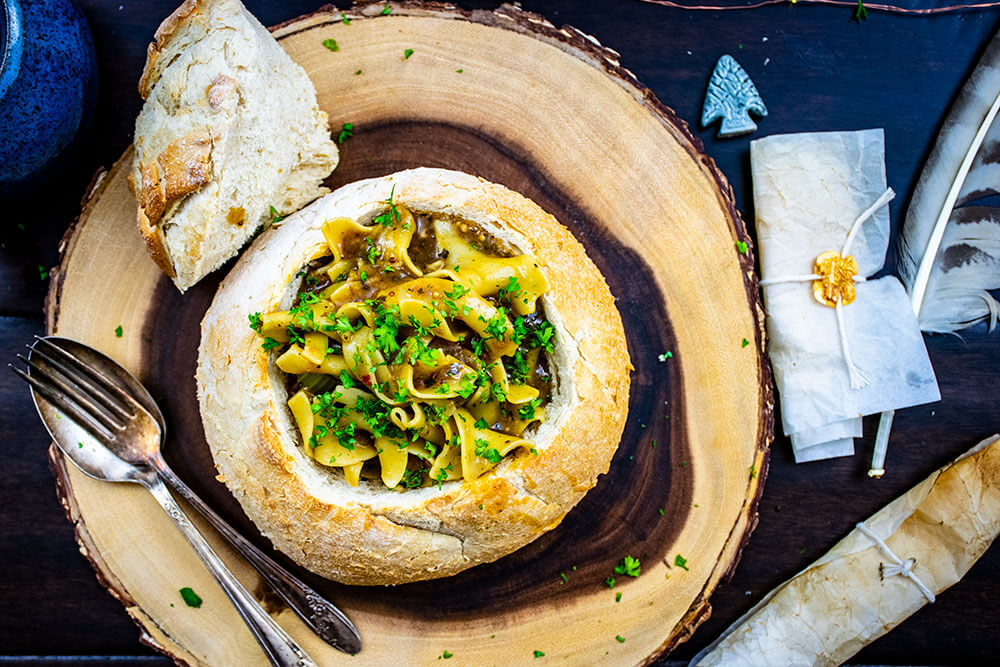 If you're lucky, you'll be serving this stew to Tywin Lannister himself, and possibly picking up some secrets from the North while you're at it.
Tywin Lannister's Oxtail Stew | Game of Thrones Inspired Recipes
Oxtail stew made from peasants leftover livestock is served to Tywin Lannister at Harrenhal – this dish is inspired by his visit from Game of Thrones.
Ingredients
16

oz

oxtail

3

tablespoons

butter

1

white onion

sliced thin

4

red skinned potatoes

chopped

2

turnips

chopped

2

ribs

celery

chopped

1

tablespoon

whole grain mustard

2

tablespoons

garlic

minced

1

tablespoon

tomato paste

½

tablespoon

Worcestershire

1 ½

cups

red wine

1

leek

chopped

5

cups

water

+ more as needed

1

tablespoon

tarragon

1

tablespoon

marjoram

½

teaspoon

red pepper flakes

1

package

egg noodles

2

tablespoons

brown sugar

1+

small loaf

sourdough bread

as needed for bread bowls
Instructions
In a large dutch oven or cast iron pot over medium high heat, melt and brown the butter until frothy. Add the oxtail to the hot butter and sear on all sides until golden brown, about 1-2 minutes per side. Season generously with salt and pepper. Remove the oxtail from the pot and set aside. Do not clean the pot.

Add white onions to the remaining fat in the pot. Saute until tender and browned, about 5-10 minute. Add the potatoes to the pot along with the turnips, carrots and celery. Stir and continue to cook until the potatoes are turning transluscent – about another 5 minutes. Season with salt and pepper.

Next stir in the whole grain mustard, garlic, worcestershire and tomato paste. Pour in the red wine. Stir until the tomato paste has 'melted' into the wine. Let simmer for 5-10 minutes.

Throughly clean and chop the leef. Toss the chopped leek into the pot and stir until it is combined into the sauce. Return the seared oxtail to the pot. Add the tarragon, marjoram, red pepper flakes and bay leaves. Pour in water until it covers the oxtail – about 4 cups. Cover the pot and simmer for 3-4 hours.

Check the meat after 3 hours. It should be tender and falling off the bone. If not, continue to simmer until the meat easily pulls away from the bone.

Preheat the oven to 375 F. Use a sharp knife to remove the top and center of the sourdough loaf to form a bread bowl. You may have to use your hands to rip out the bread in an even layer. There should be at least 1-2 inches of bread crust forming the bowl on all sides. Place the bead bowl and center piece onto a baking sheet and toast for about 15-20 minutes.

About 15 minutes prior to serving, use forks to pull the meat from the bones and remove the bones from the pot. Add egg noodles to the pot and stir until coated in the stew. Add about another 1-2 cups of water – enough to mostly cover the noodles. Then cover and continue to simmer until the egg noodles are tender – about 15 minutes.

Ladle the stew and noodles into the toasted bread bowl. Serve with a flaggon of wine to the Hand of the King. Enjoy!
Video