Ultra Supreme Every-Topping-Ever Pizza
The Starving Chef is supported by Hungry People like you. When you make a purchase through an affiliate link on my site, I may earn a little bit of cash on the side (at no extra cost to you) to help keep my kitchen running. Read our disclosures here.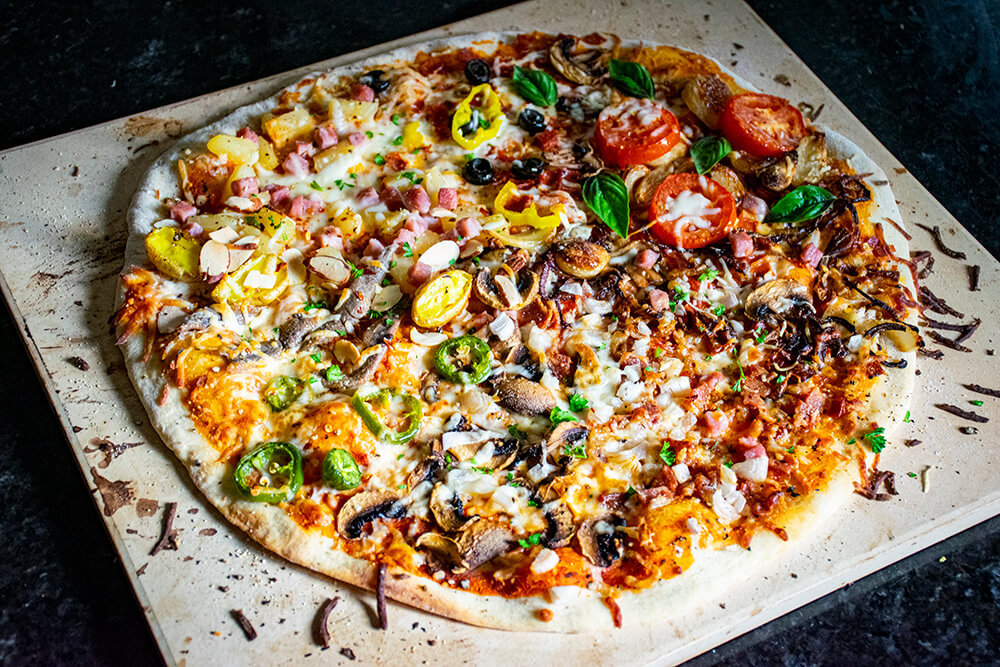 What if you put EVERY TOPPING EVER on your pizza???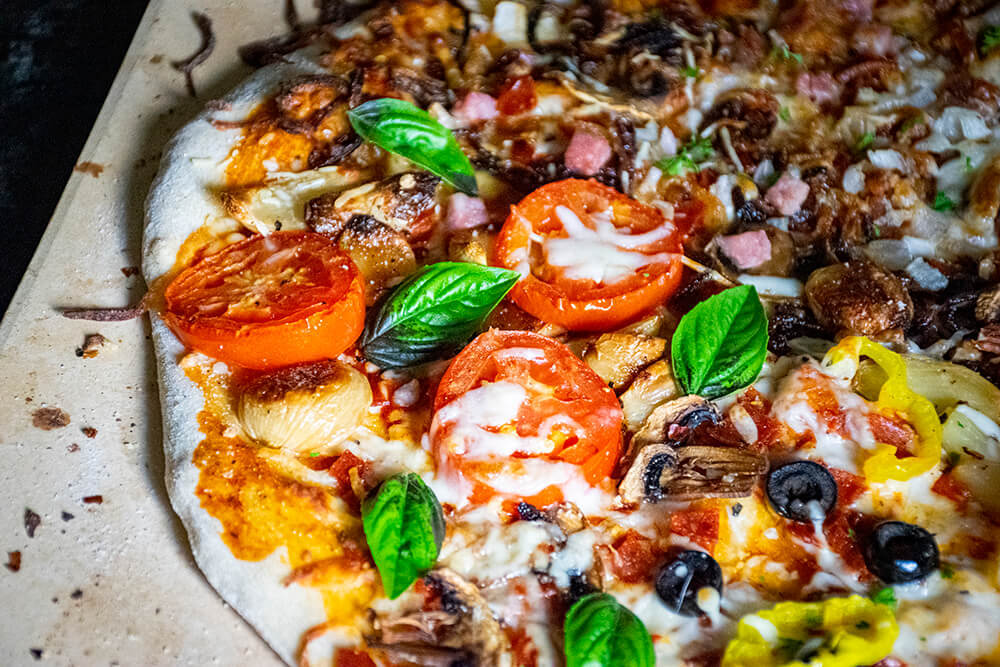 I couldn't decide what I wanted on my pizza so instead of choosing just one topping, I CHOSE THEM ALL!
That's right. This ultimate pizza creation has EIGHT different flavor combinations on it – inspired by my recent recipe for adult pizza bagels.
If your family can't decide what toppings to put on their pizza, then this recipe is for you. Everything from pepperonis to pineapple to anchovices can be found on this Franken-monster of a pizza.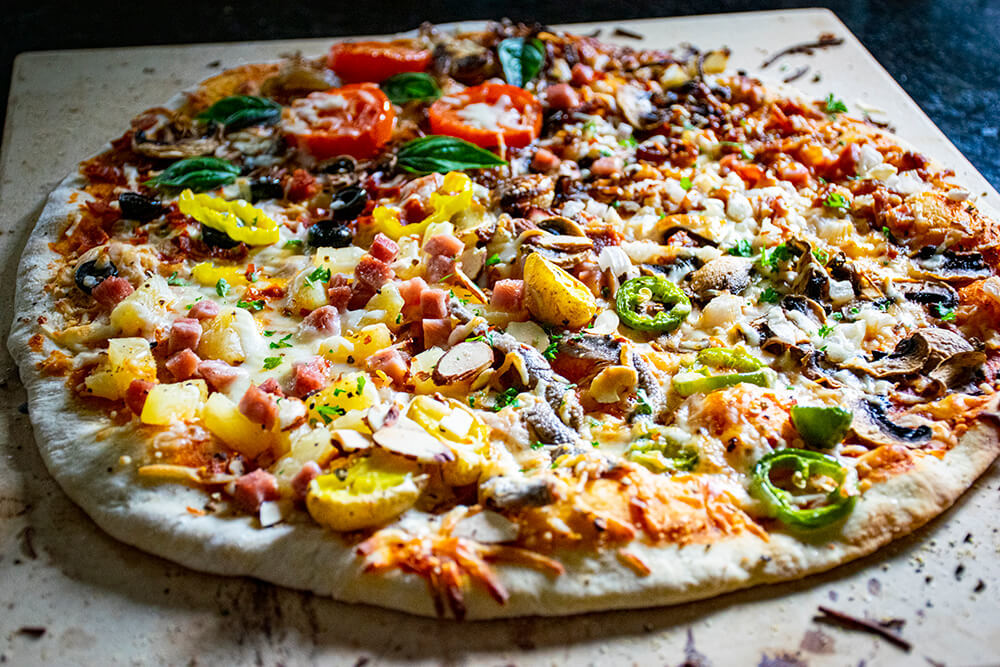 It worked out perfectly for my fiance and I – we each got our favorite toppings on our individual slices.
I'm a believer that there's no such thing as a bad pizza – just pizza you haven't learned to love yet.
It's sweet AND spicy, fresh AND wild.
No matter how you cut it, everyone's happy with an ULTIMATE EVERYTHING pizza!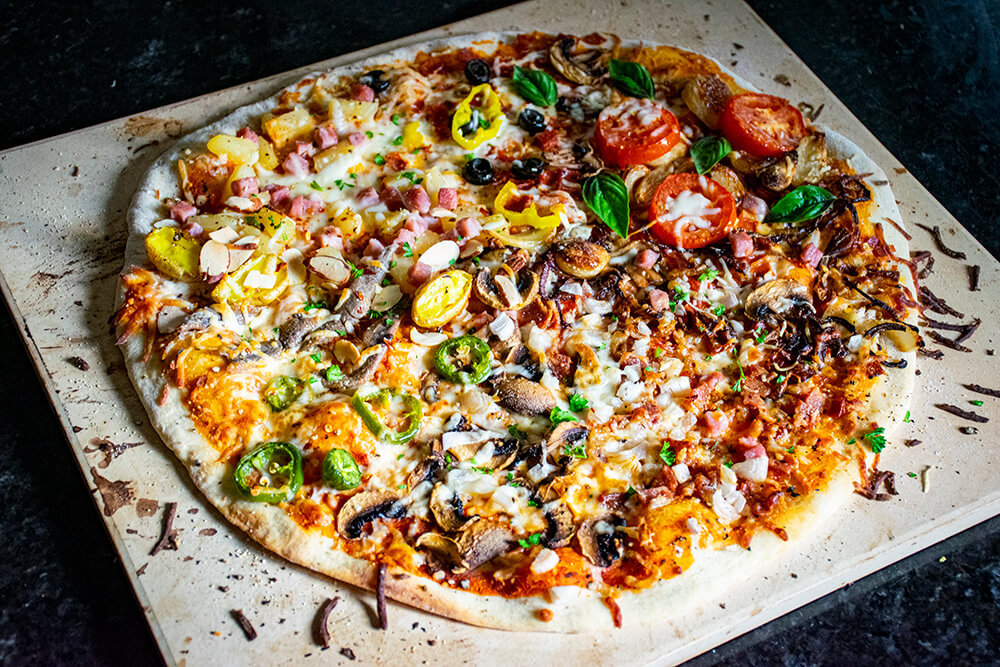 Ultra Supreme Every-Topping-Ever Pizza
What if you put EVERY topping on your pizza? You don't choose the toppings, the toppings choose you.
Ingredients
16

oz

raw pizza dough

or homemade equivalent

1

cup

pizza sauce

½

cup

Parmesan cheese

grated

½

cup

mozzarella cheese

3

tablespoons

parsley

finely chopped

3

teaspoon

red pepper flakes

1

cup

pepperoni

2

jalapeno

sliced

2

mushrooms

sliced

1

tablespoon

ham cubes

1

tablespoon

crispy bacon

chopped

2

tablespoons

pineapple tidbits

2

teaspoons

pesto

2

anchovie filets

chopped

¼

cup

fresh basil leaves

1

roma tomato

sliced

2

tablespoons

balsamic vinegar

2

tablespoons

alfredo sauce

2

mini roasting potatoes

boiled & cut into quarters

2

teaspoons

sliced almonds

2

tablespoons

gruyere cheese

shredded

6

banana pepper rings

6

black olive slices

2

tablespoons

roasted garlic cloves

3

tablespoons

shallots

flour

for dusting

corn meal

for dusting pizza stone
Instructions
Preheat the oven to 500 F. On a clean surface dusted with flour, roll out the pizza dough into a large 16-18 inch wide circle. For a thicker crust, only roll 12-14 inches wide.

Transfer the pizza dough to a pizza peel or onto a preheated pizza stone. Spread a thin layer of pizza sauce over about 3/4 of the pizza. Spread the alfredo sauce on the remaining 1/4 of the pizza dough. Spread the mozzarella across the top of the entire pizza.

Working in sections, arrange the pizza toppings in your desired combinations. Each combo should be about the size of a single slice of pizza. Suggested combinations: Pepperoni only. Jalapeno mushroom. Pineapple, bacon and ham. Caprese and anchovie. Bacon, alfredo, potato. Black olives and banana peppers. Roasted garlic and shallot. Meatlovers. For more recommended toppings, check out my pizza bagels for adults recipe!

Preheat a pizza stone to 500 F. Dust the pizza stone lightly with corn meal. Transfer the pizza from the pizza peel gently to the pizza stone. If you don't have a pizza peel, assemble the pizza CAREFULLY on the preheated pizza stone. Reduce the oven temp to 425 F.

Place the pizza stone back into the oven (if you removed it) and bake the pizza for 8-10 minutes, until the toppings are heated through and the cheese has melted.

Sprinkle the entire pizza with Parmesan cheese and a drizzle of balsamic vinegar as desired. Enjoy!