What to Eat While RVing at the Grand Canyon & Valley of Fire
The Starving Chef is supported by Hungry People like you. When you make a purchase through an affiliate link on my site, I may earn a little bit of cash on the side (at no extra cost to you) to help keep my kitchen running. Read our disclosures here.
A few weeks ago, my husband and I decided to take a spontaneous trip out west. It was something we had always wanted to do – and after spending a year indoors, the great outdoors was calling our names. So we bought our plane tickets and rented an RV for a relatively COVID-safe vacation.
For the trip, our original plan was to do a loop around the Grand Canyon, boon docking along the route to Mt. Zion and then finally ending with a night in Vegas! If you want to see what we ate in the neon capital world, don't forget to follow me on all the things so you can be the first to know when a new video is posted.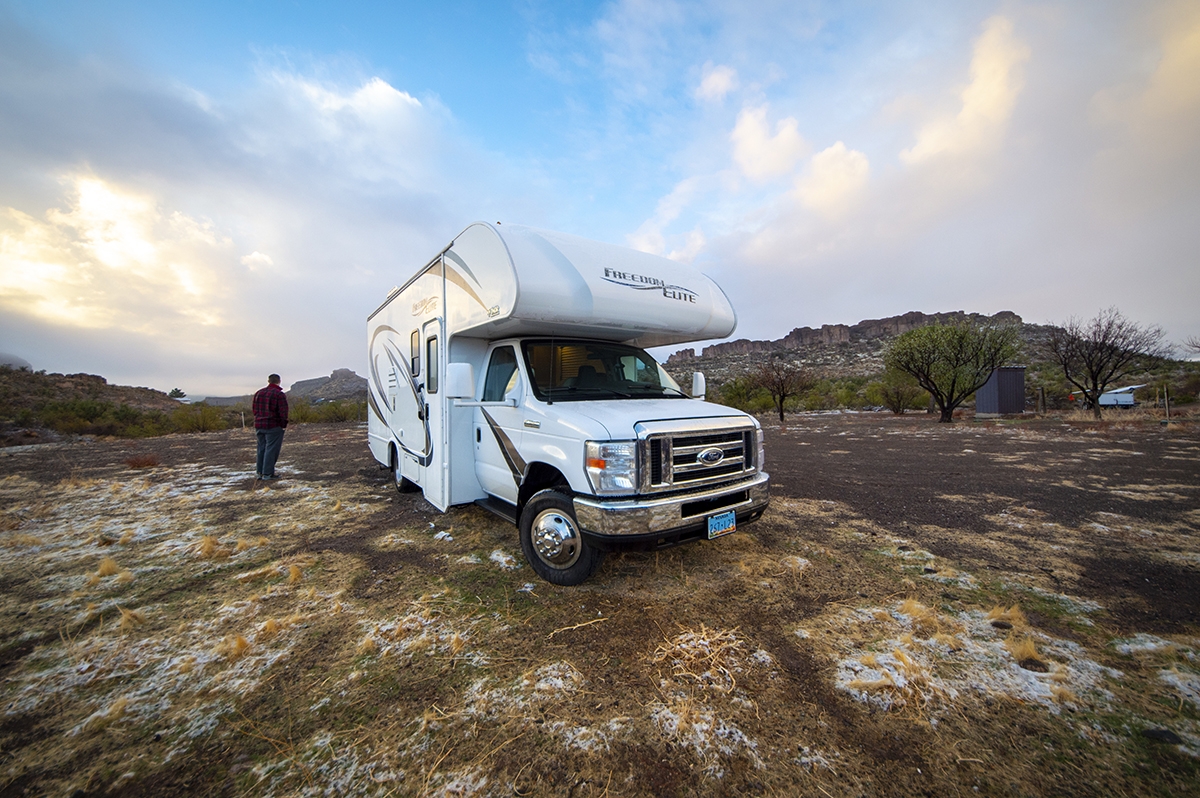 Our first night in, we picked up our RV and drove over 100 miles to HipCamp in Kingman, AZ – and for the first meal on our first night in the RV we opted for… In & Out.
Honestly, I was too tired to think to film any of this experience – its just a hamburger people. the sauce is just ketchup and mayo and relish.
But in the end, sleep won out and we quickly passed out, ready to take on the next day.
In the morning, we grabbed a quick cup of coffee and then hit the road.
The first destination on our road trip was the Grand Canyon, but as it was still March at the time of our trip, the weather had different plans for us. When we had booked our trip, the weather had promised dessert temps in the mid 70s – but as we drove towards Grand Canyon, the clouds got darker and snow began to accumulate. And by the time we got to the Grand Canyon, there was easily 6 inches of snow down… and less than stellar views.
Yes, we traveled nearly 2000 miles for THIS view:
Let me tell you, the disappointment was palpable.
After spending a frustrating hour or two rerouting our entire trip to avoid a massive snow storm, the one great thing about a spontaneous trip is that nothing was set in stone anyways!
So we altered our path to look a little something like this:
While we were planning our new route, we were fortunate enough that the clouds finally cleared to finally give us a spectacular view.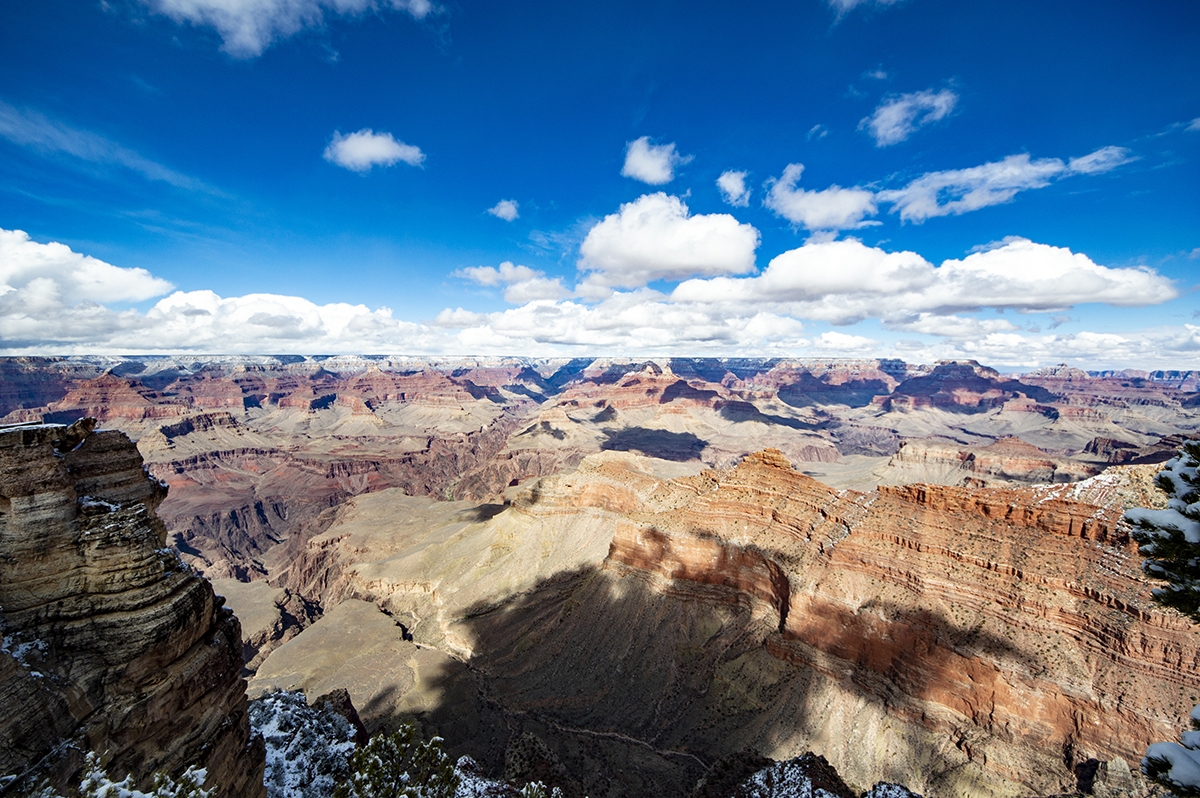 With all of the snow on the ground, we made the decision to skip the treacherous hiking down and opted to get a quick lunch at the El Tovar restaurant on the edge of the Grand Canyon while we planned the details of the rest of our new trip route.
To drink away our woes, we started lunch with a prickly pear margarita – which is not as sweet as it sounds but it was still delicious. For my main course I had a mediocre filet of trout and unremarkable soup and my husband channeled his inner Joe Rogan with an elk burger.
After that we decided to hit the road as we were FREEZING. It was literally colder in Arizona than it was in our home state of Ohio!
A few hours into our new journey, we decided to stop for a bite to eat at the only place we could find along the road: truck stop Indian cuisine.
Honestly this was pretty good Indian food. That or, nothing else could've disappointed us as much as the start of the day had – so we would have eaten anything. I don't remember specifically what we got as the menu only had a few items on it, but it was enough to sustain us for the final few hours of the long drive back.
That night we boondocked at night in the parking lot of the Hoover Dam Lodge casino because we weren't sure where else to go – and awoke to a spectacular view of Lake Mead.
We went into the hotel just for a hot breakfast before we started the actual meat of our RV adventure. Breakfast was just breakfast but it is always fun to look up and see some fake strippers spinning above your head while you eat.
After breakfast we were amongst the first to arrive at the Hoover Dam – which I felt was a unique experience to see the entire thing practically empty. Unfortunately we weren't allowed to go on any tours, so our trip was quick but still a lot of fun to see.
But now, it was time to disappear into the wild for a bit – like we had been wanting to do since day one…
The Valley of Fire is about an hour northwest of Vegas – and it's name lives up to the hype with red rocks all around.
For lunch, we decided to stop at the seven sisters and fry up some brats on the stovetop of the RV. Toppings included this prickly pear cactus hot sauce, leftover pickled onions that came with our Indian food, some ketchup and mustard, salsa and some cheese. We had also made breakfast burritos with scrambled eggs in the morning, which I also forgot to document – but the extra ingredients made for great brat toppings.
If you've never enjoyed brats with curried onions and cheese in the middle of the dessert – I actually highly recommend it.
We spent the rest of our time exploring the Valley of Fire, spotting ancient drawings dotted amongst the red rocks and hiking until our feet hurt.
Finding the Pastel Canyons was a highlight of our trip – we were actually happy that a snow storm ruined our original plans.
We slept under the stars on the very edge of Lake Mead – and might have even seen a UFO as we were packing up to head back to Vegas…
We definitely want to do more RV camping in the future – what do you recommend we try cooking on the road next? Let me know down in the comments below!
Our next stop is Vegas – and let's just say, the food in Las Vegas is a little bit better than the food you can find in the middle of the dessert.