Whole Baked Fish | Legend of Korra Inspired Recipes
The Starving Chef is supported by Hungry People like you. When you make a purchase through an affiliate link on my site, I may earn a little bit of cash on the side (at no extra cost to you) to help keep my kitchen running. Read our disclosures here.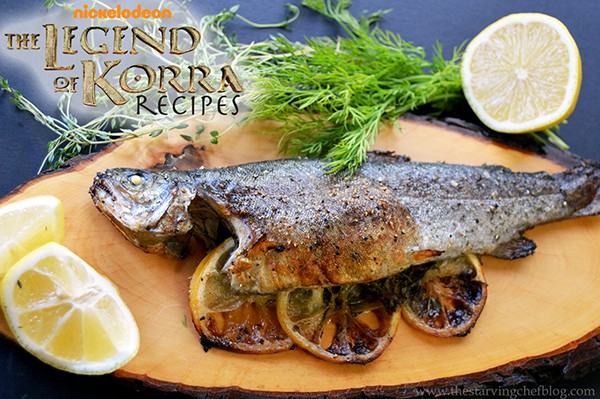 Growing Avatars must remain well fed. When Korra first arrives in Republic City, she realizes she doesn't have any yuans to pay for the many delicacies the city has to offer. She heads to a small park where her and Naga catch some fish in true water tribe style.
While Korra's method for making fish might be simpler than my own, food-bending is what I do best, so I wanted to make mine super delicious too – I'll leave the Avatar stuff to her.
Plus, I'm not intending on sharing my meal with a hobo any time soon.
I filled my fish, after rinsing it, with homegrown oregano, thyme, and dill, then added some slices of lemon for good measure. I've never baked a whole fish before, so I'll admit here I wasn't quite sure how this was going to turn out!
Next, I brushed the fish all over with the melted butter, and generously sprinkled it with Himalayan salt and rainbow peppercorns.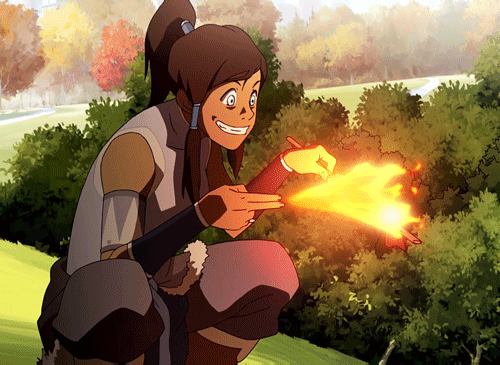 If I were a firebender, I would have then fire roasted the fish until it was baked through, but instead I'll have to rely on the oven to do the cooking for me.
I cooked the fish until it's skin was crispy and it's insides were tender, about 25 minutes. The fish flaked right off the bone and melted in my mouth. Regardless if Korra's fish were caught illegally and shared with a homeless man, I'd like to think it was equally as delicious as my own.
Whole Baked Fish | Legend of Korra Inspired Recipes
During her first visit to Republic City, Korra roasted her own fish for a quick snack.
Ingredients
Instructions
Preheat the oven to 350 F. Clean the trout, removing all insides.

Fill the cavity with fresh sprigs of oregano, dill, and thyme, then arrange lemon slices on top of the herbs.

Brush the outside of the fish with the melted butter, and sprinkle with salt and pepper as desired.

Bake the fish 20-25 minutes or until the skin is puffed up and crispy. Enjoy!