Winterfell Roasted Balsamic Mushrooms | Game of Thrones Inspired Recipes
The Starving Chef is supported by Hungry People like you. When you make a purchase through an affiliate link on my site, I may earn a little bit of cash on the side (at no extra cost to you) to help keep my kitchen running. Read our disclosures here.
Winterfell – home to the Starks for thousands of years. It's the last stronghold en route to the Wall; meaning weary men on their way to the Night's Watch frequently stopped there for a quick and hot meal.
If you aren't caught up on the most recent season of Game of Thrones – BE WARNED! There's gonna be BIG OL' SPOILERS IN THIS POST!! Don't say I didn't warn you!
Winterfell will undoubtedly play a major role in the defeat of…one side or the other. I have a feeling Winterfell will probably fall to the Night King in the first few episodes. I also have a feeling that the Night King is a Stark himself – and may even use the crypts located beneath the castle and the dead within them to take Winterfell for himself.
If you can't tell, I'm a bit of a GoT conspiracy theorist – and I strongly believe that the Night King has bigger plans than what we've thus far been lead to believe.
ANYWAYS.
Parts of the crypts of Winterfell extend into tunnels and root cellars where hearty food can be stored for the long winter.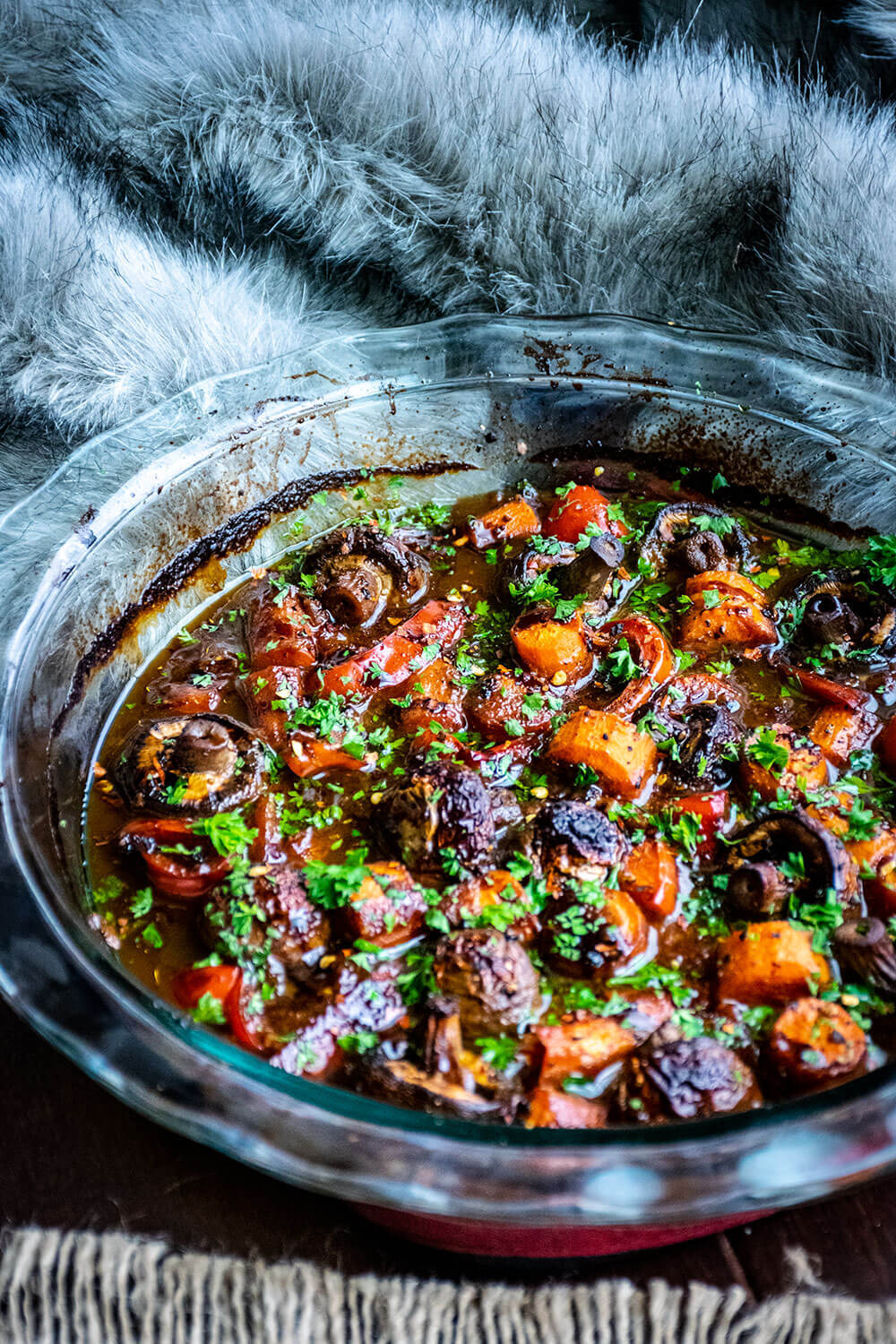 I'd like to think vegetables like mushrooms and carrots were readily available – but as the inevitable cold approaches, fresher veggies like peppers would need to be used up as to not soil the rest of their supply.
If there's one thing for sure, the once young and fresh faces of the Starks have been hardened by fire and ice – or just violently killed outright.
Here's to hoping the last remaining Starks survive long enough to retake their home – and perhaps return to some semblance of normalcy; thought that's probably too much to ask from GRRM.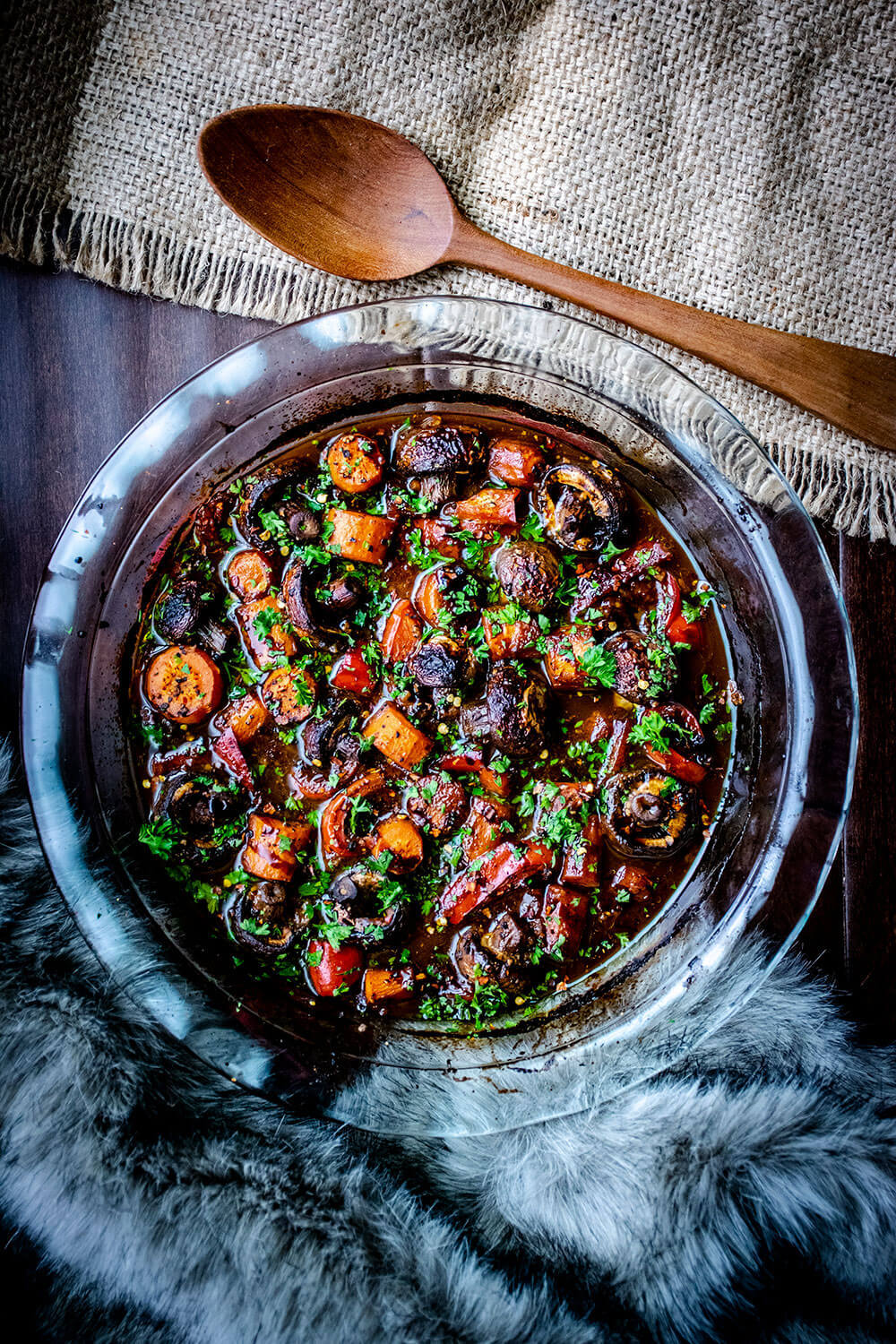 Winter is coming.
Winterfell Roasted Balsamic Mushrooms | Game of Thrones Inspired Recipes
Slow roasted cellar vegetables found in the crypts of Winterfell; a hearty mushroom recipe based on the show Game of Thrones.
Ingredients
16

oz

white mushrooms

cleaned & trimmed & cut into quarters

3

carrots

chopped

½

cup

red bell pepper

chopped

¼

cup

balsamic vinegar

+ more for drizzling

¼

cup

soy sauce

2

tablespoons

honey

2

tablespoons

yellow mustard

2

tablespoons

garlic

minced

2

tablespoons

mayonnaise

1

tablespoon

fresh parsley

for topping
Instructions
Preheat the oven to 400 F. Wash and chop the vegetables. Arrange the vegetables in a single layer on a deep baking sheet or roasting dish.

In a small bowl, whisk together the balsamic, soy sauce, honey, mustard, garlic and mayonnaise. Pour the sauce over the vegetables and lightly stir to coat the vegetables evenly.

Roast the veggies for 40-45 minutes, until tender and the sauce is bubbling. Drizzle with additional balsamic vinegar, as desired and top with fresh parsley for a pop of color. Enjoy in the crypts of Winterfell!