Spooky Meatloaf and Green Noodles for a Quick Halloween Dinner
The Starving Chef is supported by Hungry People like you. When you make a purchase through an affiliate link on my site, I may earn a little bit of cash on the side (at no extra cost to you) to help keep my kitchen running. Read our disclosures here.
What's Up, Hungry People!
October's here, which means my kitchen is now basically Halloween Central. The scarier the food, the better, right? Plus, with the new season of The Walking Dead just around the corner, let's just say zombies are on my mind!
So, let's dive right into making some delectable zombie meatloaf and intestine noodles, shall we?
To make these zombies, all you need is your favorite meatloaf recipe and a little creativity!
Here's What You Need for the Meatloaf
Ground Beef: The star protein in your meatloaf; offers richness and depth.
Bacon: Adds a smoky, salty layer, and also helps in keeping the meatloaf moist.
Chopped Onion: Brings sweetness and a bit of crunch to the meatloaf and is used for spooky details.
Minced Garlic: Enhances flavor with its strong, aromatic characteristics.
Panko: Acts as a binder and adds a light texture to the meatloaf.
Parmesan Romano Cheese: Boosts umami flavors and acts as an additional binder.
Milk: Helps soften the panko and adds moisture to the meatloaf.
Egg: Another binder that helps hold everything together.
Brown Sugar: Adds a touch of sweetness and helps caramelize the sauce.
Dry Mustard: Adds tanginess and depth to both the meatloaf and sauce.
Worcestershire Sauce: Brings complex flavors including tangy, salty, and sweet.
Sriracha: Spices things up and adds color to the sauce.
Ketchup: Adds sweetness and tang, used in both the meatloaf and sauce.
Mini Mozzarella Balls: Adds cheesy pockets and serves as "eyes" in the skull.
Salt & Pepper: Seasoning staples to enhance all other flavors.
Let's Cook!
Most meatloaf recipes usually call for bread slices soaked in milk. But guess what? I've discovered that Panko is your best friend here! Soak Panko crumbs in a bowl with some parmesan cheese and milk for about 10 minutes. Trust me, Panko acts as an excellent "glue" to make sure your meatloaf keeps its spooky shapes.
Mixing the Meatloaf: The Process
Now, stir in minced onion and garlic into your panko mixture. Add the ground beef, mustard powder, brown sugar, ketchup, Sriracha, and an egg. Get down and dirty—using your hands is the easiest way to mix it all up.
Once you see no chunks of breadcrumb mixture, you're good to go. Then, unleash your creativity and mold that meat into some spOoOoky shapes. Just for reference, cooking a pound of meatloaf all the way through takes about 40 to 60 minutes. So, I usually divide my meat into three separate portions to get more creative.
Building Your Zombie Army: The Shapes
For the skull, form an oval-shaped loaf and use onion pieces to make teeth. Don't forget to add mozzarella balls for eyes and a nasal cavity.
Wrap that bad boy with bacon strips—remember, a single layer does the trick.
And yes, you can also make stuffed braaaaains! I've been dying to use my Jell-O brain mold for something other than gelatin, and this year, it's a meatloaf masterpiece.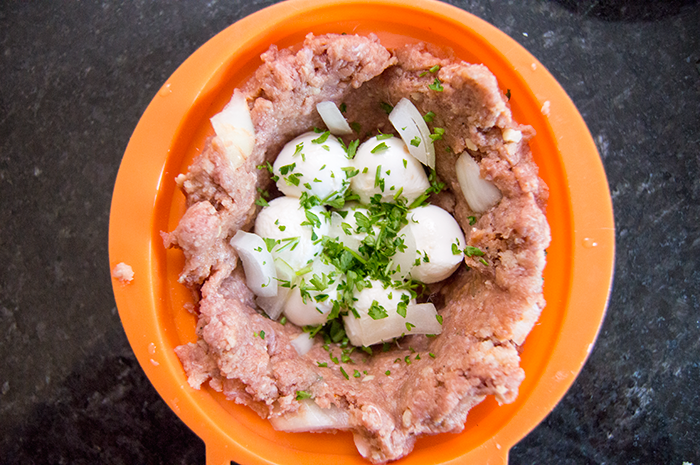 Fill the mold with meat, onions, parsley, and mozzarella balls. Pop it out onto a greased baking sheet—don't worry about any holes; that just makes it more authentic!
Finally I rolled the remaining meatloaf into a ball and created five smaller balls which I rolled into fingers.
At the end of each finger I placed an onion 'finger nail' and then wrapped the hand in bacon, leaving some parts of the meatloaf hand exposed.
Sauce It Up
When it comes to meatloaf, the ketchup-based sauce is my jam. Blend your sauce with Sriracha, mustard powder, Worcestershire sauce, and brown sugar.
Brush it over your brain, the exposed meatloaf hand, and, of course, the skull. It might look grotesque, but that's the point!
Slide your zombie creations into a preheated oven at 350°F. Bake for about 40-45 minutes, and while that's happening, let's focus on the intestines, shall we?
Homemade Green "Intestine" Noodles: How-To
Here's What You Need:
Flour: The base for your homemade noodles.
Eggs: Provide structure and richness to the noodles.
Green Food Coloring: Adds spooky color to your noodles.
Fresh Parsley: Adds fresh herby notes and green color to your noodles.
To give them that ghoulish green tint, mix green food coloring and eggs together in a well of flour. Combine the ingredients using your hands—yes, it'll be sticky, but resist the urge to add more flour.
Tip it onto a floured surface, knead until smooth, and roll it out as thin as possible.
Use your hands to knead the dough until it's smooth. If it's still tacky, keep kneading!
When the noodle dough is nice and smooth, whack it flat with the side of a rolling pin. This ensures any air pockets within the dough are forced out of the dough.
Then use the rolling pin to flatten the dough as thin as you can. If you have a pasta press, I recommend using it.
Generously flour the top of the dough then roll it into a tube. Alternatively, you can use a pizza wheel to cut super thin noodles without rolling the dough into a tube. Which ever method works best for you.
Cut all the way through the roll to form some even sized noodles.
Then grab the loose end of the noodles and shake to unfurl.
Let the noodles rest until you are ready to serve – they will only take about sixty seconds to two minutes seconds to fully cook.
The Final Touches
My zombie's eyes melted completely out of his head – which is mostly the effect I was going for, but I wanted the eyes to still be oozing when served, so I added some fresh mozzarella balls to the skull before popping it back into the oven for the final ten minutes of cooking. I also brushed the remaining ketchup sauce on the meatloaves before cooking the rest of the way.
Time for the Intestines
As the clock winds down on your meatloaf, drop those noodles into simmering—not boiling—water. Keep stirring so they don't clump up. Drain and toss them in a bit of butter, if you like.
If the water is at a full boil, the noodles might cook too quickly. The water should be just hot enough to be simmering and steaming, but not a full on boil. Be sure to stir the noodles constantly so they don't cook into a big dough ball too. Drain the noodles and toss them in a touch of butter, if you so wish.
Then serve the zombie meatloaf on a bed of the green intestine-like noodles!
Spooky Meatloaf Tips
Achieving the Right Texture: To make sure your meatloaf isn't too dense, don't overmix the ground beef and panko mixture. Mixing just until combined will give you a lighter, more tender meatloaf.
Substitute for Panko: If you're out of panko, you can use regular breadcrumbs. Just be aware that this will make the meatloaf slightly denser.
Wrapping in Bacon: The bacon not only adds flavor but also keeps the meatloaf from drying out. Make sure to wrap it tightly to hold the shapes together.
Shape Maintenance: If you're having trouble maintaining the spooky shapes, consider using aluminum foil to support the structures during the initial stage of baking.
Testing Noodle Doneness: Noodles made from scratch cook quickly. A simple taste test can help you determine if they're cooked to your liking.
Color Caution: Green food coloring can stain. To prevent this, consider wearing gloves when mixing your noodle dough.
Creepy? Yes. Delicious? Absolutely. This Halloween, who says you can't have your brains and eat them too?
If you're looking to make this Halloween extra special, this spooky meatloaf and green egg noodles will have your guests screaming in delight—both from the spook factor and the awesome flavors! The meatloaf comes alive with creative shapes, while the noodles offer a creepy green contrast that's sure to raise some eyebrows. Don't forget those hidden pockets of cheesy goodness, they're like little treasures in every bite. So, go ahead and set your table with these eerie, tasty dishes; they're bound to be the highlight of any Halloween feast.
Zombie Meatloaf & Intestine Noodles
This spooky meatloaf paired with homemade green egg noodles is your ticket to a fun and tasty Halloween dinner.
Ingredients
FOR MEATLOAF:
16

oz

ground beef

4

strips

bacon

½

cup

onion

chopped

2

tablespoons

garlic

minced

1

cup

panko

¼

cup

Parmesan Romano cheese

½

cup

milk

1

egg

2

tablespoons

brown sugar

2

teaspoons

dry mustard

4

tablespoons

Worcestershire

3

tablespoons

sriracha

1

cup + 1/4 cup

ketchup

7

mini mozzarella balls

salt & pepper

to taste
FOR GREEN EGG NOODLES:
2

cups

flour

4

eggs

1

teaspoon

green food coloring

4

tablespoons

fresh parsley

finely chopped

salt & pepper

to taste
Instructions
Preheat the oven to 350°F. In a large bowl, whisk together the panko, half of the Parmesan Romano cheese, and the milk. Let it soak for about ten minutes or until the panko is soggy and the milk has been absorbed. Stir in the minced garlic and chopped onion.

Add the ground beef to the panko mixture along with 1/4 cup of ketchup, two tablespoons of sriracha, one teaspoon of dry mustard, one tablespoon of brown sugar, and one egg. Use your hands to combine the ingredients until you can no longer distinguish the panko mixture.

Form the meatloaf into your desired spooky shapes. For the skull, create a tapered oval shape and pinch in the bottom half. Add onions for teeth and press divots into the skull where the eyes should be, placing two mini mozzarella balls in them. Wrap the skull in half-strips of bacon.

For the hand, form a ball and flatten it to the size of your palm. Take five smaller meatballs and roll them into finger lengths. Use onions as fingernails and wrap the hand and fingers in strips of bacon.

For the brain, use a Jell-O brain-shaped mold and press the meat into an even layer on all sides, leaving the center open. Place several mini mozzarella balls, fresh parsley, and chopped onion into the center and cover with more meat. Pinch the edges closed and tip the brain out of the mold.

In a small bowl, whisk together the remaining ketchup, Worcestershire sauce, dry mustard, sriracha, and brown sugar until smooth. Spread half of the sauce onto each meatloaf.

Arrange the meatloaves on a pan lined with foil and greased with cooking spray. Bake for 40 minutes or until golden brown and the sauce has darkened.

While the meatloaves are baking, start on the noodles. In a large bowl, add two cups of flour and make a divot in the center. Crack the eggs into it and add the parsley and green food coloring. Whisk until the eggs and food coloring are combined and the mixture starts to clump.

Continue working with the noodle dough using your hands. It'll be sticky initially. Knead the dough until it loses its stickiness, then transfer it onto a floured surface. Continue to knead until smooth.

Bring a pot of salted water to almost a boil. Roll out the noodle dough into a large, thin sheet. Use a pizza cutter to cut thin noodles, or roll it into a log and cut. Unfurl the noodles and set aside until ready to cook.

Remove the meatloaves from the oven. If the mozzarella eyes in the skull have melted too much, replace them. Spread the remaining sauce onto the meatloaves and return them to the oven for an additional 10 minutes.

During the last few minutes of baking the meatloaves, add the noodles to the pot of almost-boiling water. Stir constantly to keep them separated. Cook for two minutes or until tender, then drain.

Serve the spooky-shaped meatloaves on a bed of green noodles at your next Halloween party and enjoy!