Apple Cinnamon Granola
The Starving Chef is supported by Hungry People like you. When you make a purchase through an affiliate link on my site, I may earn a little bit of cash on the side (at no extra cost to you) to help keep my kitchen running. Read our disclosures here.
Did you know that you don't actually NEED a recipe to make the perfect granola?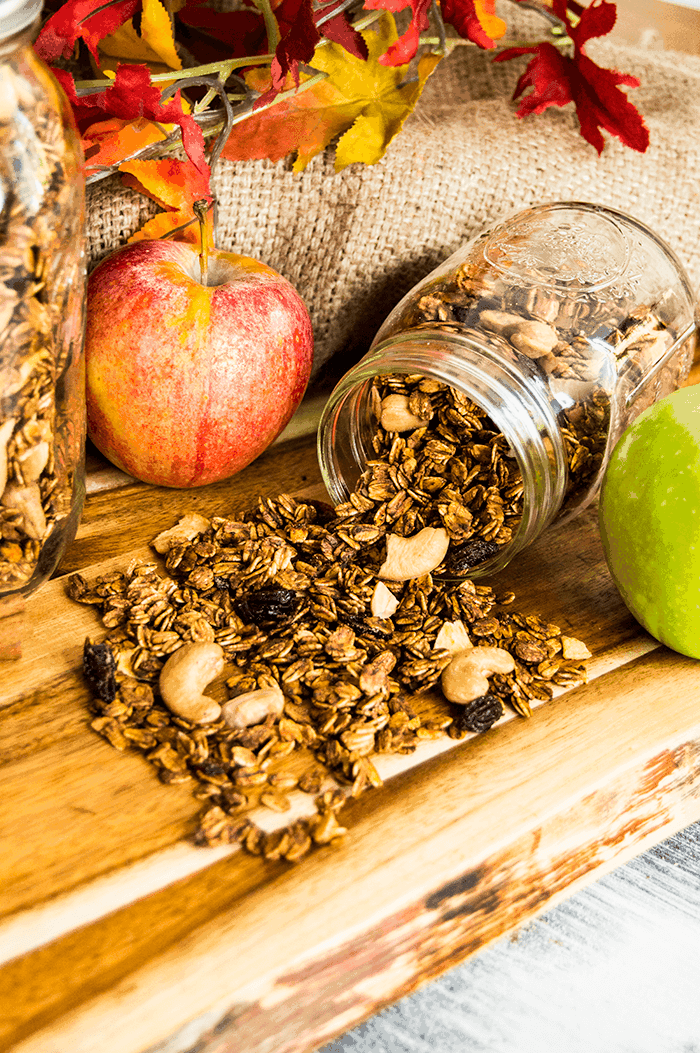 Over at Epicurious, they've got the ratio down pat. 6 parts of dry to 1 part of wet – for this recipe, I ended up drying my own apples in my dehydrator and tossing them in with oats, craisins, cashews, brown sugar and cinnamon. Altogether, these dry ingredients made up 6 cups.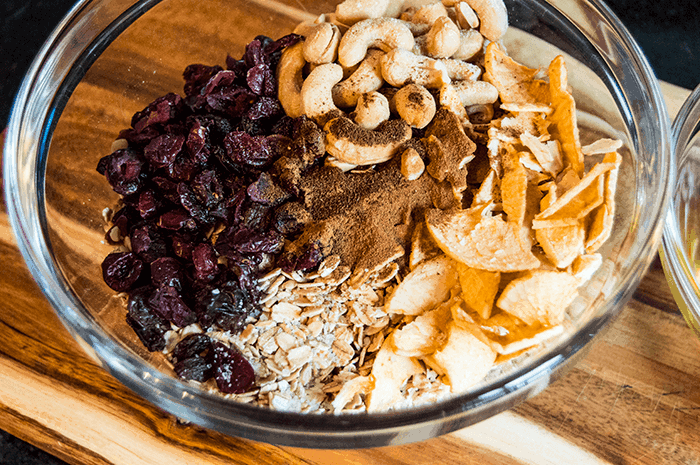 For the wet – just simply honey and egg whites whisked together.
The honey helps caramelize and coat the oats into crumbly bunches while the egg whites help to give the granola a shiny appeal.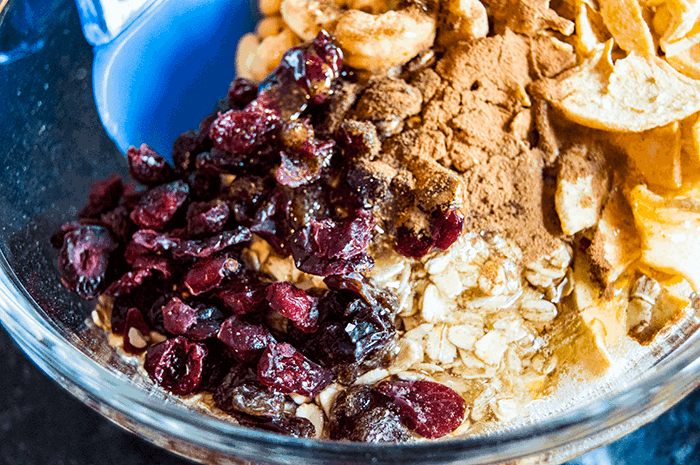 Once everything is combined, it's just a matter of baking it over low and slow heat. You don't want to cook the oats too hot because they will burn, giving your granola a bitter flavor.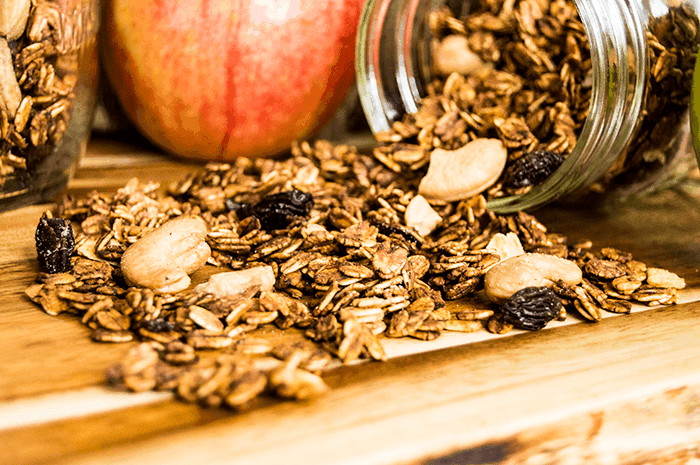 It's also important to keep an eye on the other ingredients to make sure they aren't burning as well.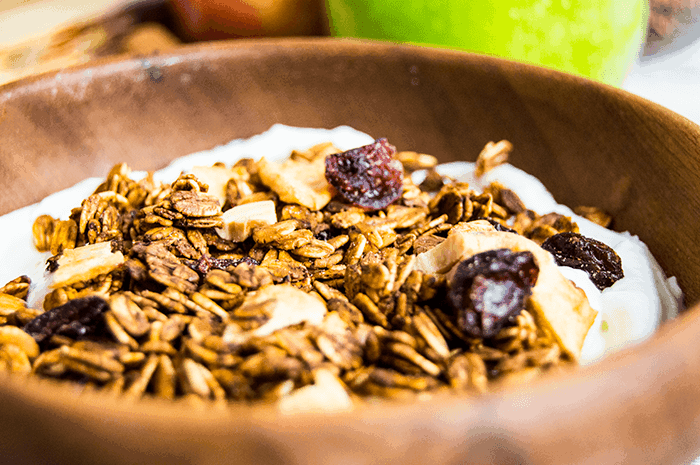 We're talking about 300 F as our cooking temp – 250 might be even better. It's almost impossible to get the exact cooking time for granola because depending on what all you've chucked in there, some things might not be quite ready (aka chewy). Wait to add the fruit until the very end stages. When in doubt, go for the lower temp and a longer cook time – checking on the granola every 10-15 minutes to make sure it's cooking evenly.
Once my granola was done, I gave it a quick taste. If it seems to bland, while it is still hot, toss in some brown sugar or chocolate chips.
I ate mine every morning with a big bowl of plain Greek yogurt – it was so good, I didn't even need the flavored stuff!
Apple Cinnamon Granola
Easy granola that uses all the flavors of fall!
Ingredients
5

cups

rolled oats

½

cup

dried apple bits

follow dehydrator instructions for homemade

¼

cup

craisins

¼

cup

cashews

3

tablespoons

brown sugar

+ more as needed for flavor

2

tablespoons

cinnamon

½

cup

honey

1

tablespoon

coconut oil

melted

2

egg whites

whisked
Instructions
FOR HOMEMADE DRIED APPLES IN DEHYDRATOR (OPTIONAL):
Core, peel and thinnly slice the apples. Arrange the apples in single layers on greased dehydrator pannels. Turn the dehydrator on to medium heat. Dry for 24 hours, until the apples are slightly browned and wrinkly. Store in an air tight container at room temperature until ready to make the granola.
FOR GRANOLA:
Preheat the oven to 250 F (for a smaller batch, heat the oven to 300 F). In a large bowl, stir together the oats, cashews and cinnamon.

In a smaller bowl, whisk together the honey, coconut oil and egg whites. Pour the wet mixture into the dry mixture while stirring until the dry mixture is completely coated.

Spread the mixture onto a greased or parchment lined baking sheet. It's okay to have big clumps – but feel free to break up as desired.

Bake for 45 minutes to an hour at 250 F (40-50 minutes at 300 F). Stir every 10-15 minutes to cook evenly.

While the oats are still hot, stir in the dried apples and craisins. Taste a piece. If it is too plain, sprinkle on brown sugar. Cook for another 10 minutes then remove from the oven and cool completely.

Transfer the cooked granola into large baggies or mason jars. Serve with yogurt and fruit. Enjoy!