Kevin's Famous Chili from The Office
The Starving Chef is supported by Hungry People like you. When you make a purchase through an affiliate link on my site, I may earn a little bit of cash on the side (at no extra cost to you) to help keep my kitchen running. Read our disclosures here.
Why waste time say lot word when few word do trick?
The Office is hands down one of the funniest shows of all time. I've lost count of the number of times I've watched it – and it's been my go to bed time show since college. I can literally tell you what episode is on with my eyes closed.
With an assortment of relatable characters that work at the fictional paper company Dunder Mifflin, this show is definitely a classic. If you've ever worked in an office environment yourself, you will definitely be able to match each person to someone you know in real life.
If you haven't seen The Office, it's on Netflix (or at least was, in 2020). Settle in and prepare to laugh, cringe and feel the love all the way from Scranton, PA.
Kevin Malone works as an accountant at Dunder Mifflin – though his accounting skills are questionable at best thanks to his use of fake numbers such as "keleven."
King of adding awkwardness to many moments throughout the show, the one scene Kevin is probably most known for is his disastrous adventure in chili making. So today we're making Kevin's Famous Chili – with a recipe straight from Kevin himself.
I adapted this recipe from a few sources, most namely Binging with Babish and Screenrant's versions of the chili. Though the ingredients mostly come from Kevin's monologue at the beginning of the episode where he describes how chili is "what he does best."

"At least once a year I like to bring in some of my Kevin's Famous Chili. The trick is to undercook the onions. Everybody is going to get to know eachother in the pot. I'm serious about this stuff. I'm up the night before, pressing garlic, and dicing whole tomatoes. I toast my own ancho chiles. It's a recipe passed down from Malones for generations – it's probably the thing I do best.
Kevin says…as he drops the entire pot of chili all on the carpet.
But let's be honest, who hasn't suffered a loss such as this? It's devastating. I once dumped an entire bot of chicken stock down the drain after simmering it for hours, so I feel this moment in my very soul.
For my chili recipe, I'm using a 96% lean ground beef sirloin – you don't want to use anything less than 90% lean because otherwise your chili will become greasy and separate. You can precook and rinse the beef of the fat if you can't find any super lean beef – but adding it raw is definitely recommended for a nice, smooth chili.
I will note that even though Kevin mentions he toasts his own ancho chiles, we weren't able to find any fresh ancho chiles at our grocery. So instead, I opted to use a dried variety that I found. Feel free to toast the peppers yourself or go the pre-dried route. The end result will practically taste the same either way!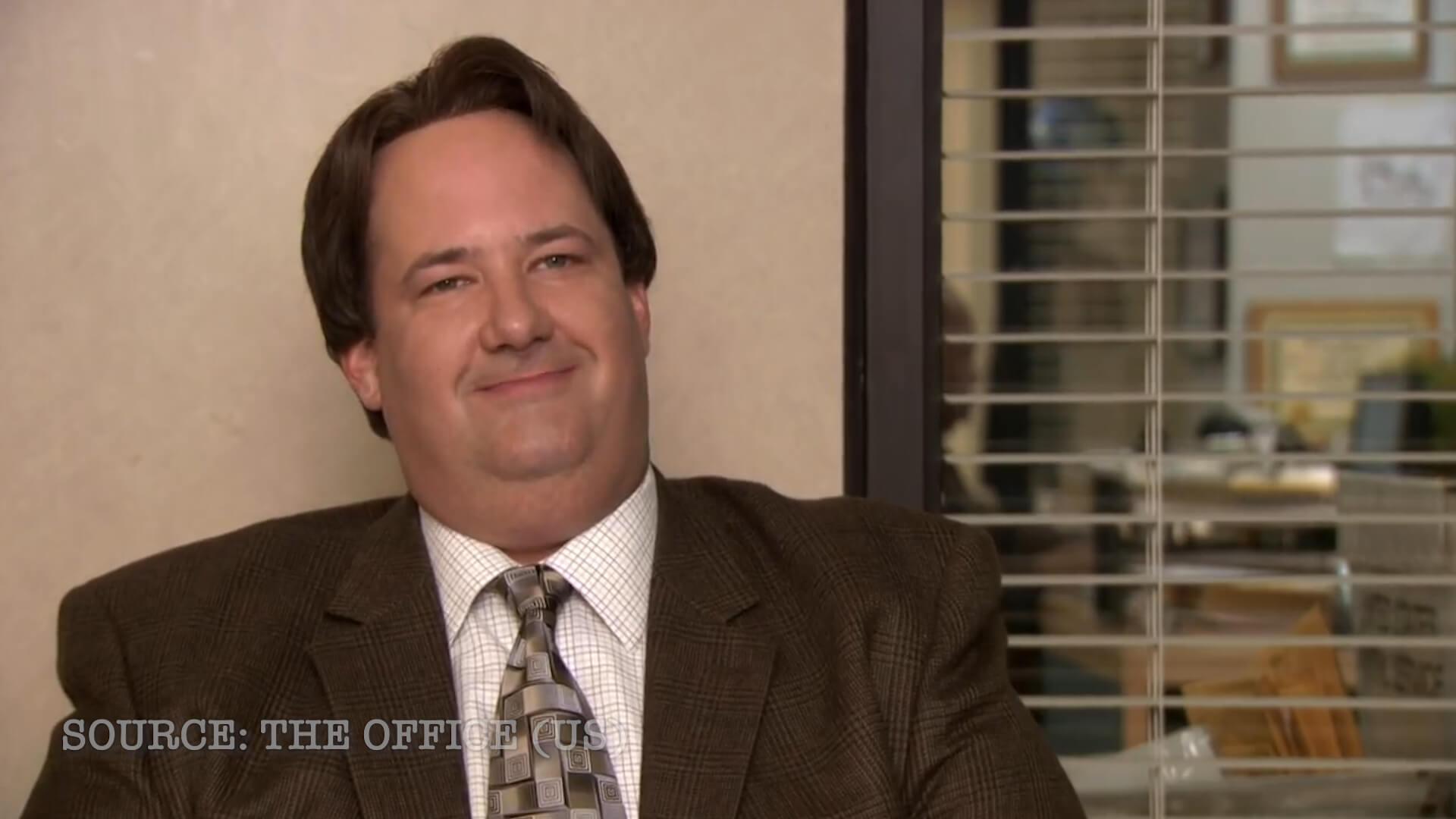 As someone who has spent years in an office environment, eating at your desk is commonplace and I can attest the way to win your coworker's hearts is to cook them delicious food on a consistent basis. Heck, our office neighbors throw their own chili cook off every year and it's fab!
Just don't forget to add your favorite toppings like cheese, plain greek yogurt and green onions.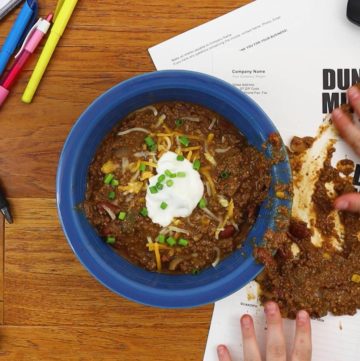 Kevin's Famous Chili from The Office
Kevin's Famous Chili recipe from The Office – a delicious copycat recipe straight from Kevin Malone himself!
Ingredients
32

oz

96% lean ground beef

2

teaspoons

paprika

2

teaspoons

cumin

1

tablespoon

cocoa powder

1

tablespoon

thyme

2

tablespoon

brown sugar

¼

cup

corn meal

2

dried ancho chiles

2

tablespoons

olive oil

1

cup

onion

chopped

1

Anaheim or poblano pepper

chopped

2

jalapenos

chopped

16

oz

kidney beans

drained & rinsed

14

oz

creamed corn

1

tablespoon

garlic

minced

1

teaspoon

sea salt

1

teaspoon

pepper

1

cup

tomato

chopped

24

oz

lager or light beer

cheese

for topping

plain Greek yogurt or sour cream

for topping

green onion

chopped for topping
Instructions
In a food processor pulse together the paprika, cumin, cocoa powder, thyme, brown sugar, corn meal and dried ancho chiles. Combine until powdered.

In a large pot over medium high heat, add the olive oil and heat until shimmery. Add the onions and lightly saute until the onions are 'sweating' but not browning – about 2-3 minutes. Then add the Anaheim and jalapeno peppers. Continue to stir for another 2-3 minutes until the peppers are starting to soften.

Stir in the kidney beans, creamed corn, minced garlic and tomato. Season with salt and pepper to taste.

Pour in the lagers and bring to a light simmer. Then add the raw ground beef. Use a spoon to break up the beef and stir it into the liquid. Bring to a rolling simmer then cover.

Reduce the heat to medium-low and continue to simmer for at least one hour or up to six hours, stirring occasionally. The longer, the better the flavor!

ALTERNATIVELY: Carefully transfer the chili to a crock pot and slow cook for 6-8 hours.

Serve the chili hot with your favorite toppings like plain Greek yogurt, cheese and green onions. Enjoy!
Video