Make-Ahead Corn Casserole
The Starving Chef is supported by Hungry People like you. When you make a purchase through an affiliate link on my site, I may earn a little bit of cash on the side (at no extra cost to you) to help keep my kitchen running. Read our disclosures here.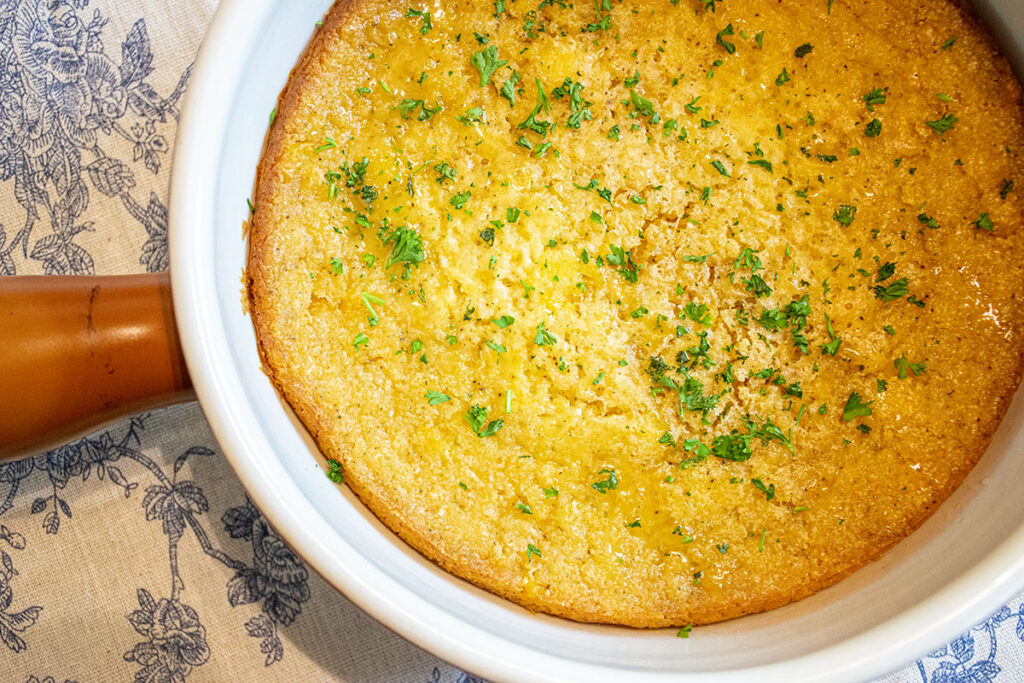 It's Corn! …bread casserole
In need of a make-ahead recipe for the holidays? Baking dishes ahead of time – whether a few days or a few weeks (and freezing!) – it's the perfect way to save essential time on the day-of so you can spend more time that matters with friends and family.
This cornbread recipe actually benefits the most from being baked at least 24 hours in advance. The flavors have more time to marry in the pot and for the overall dish to finish setting to make for a more stable dish.
Making Cornbread Casserole Ahead
As a criss-cross between a cornbread and corn casserole, this dish utilizes boxed cornbread mix for the base and then is enhanced with whole kernels and creamed corn for a sweet and savory side dish perfect for the holidays.
cornbread mix – use a classic boxed mix like Jiffy (affiliate link) to build the base of your casserole
creamed corn – adds a smooth consistency to the dish
whole kernel sweet corn – for enhanced sweet flavor and texture
sour cream – helps create a smooth batter and adds some twang to the flavor
black pepper – offsets the sweet flavors for balance
butter – because what else goes better with corn than butter!
Once everything has been mixed and baked, I recommend letting the casserole set at room temperature until no longer steaming hot then cover with foil and chill for up to 48 hours in advance; or cool completely, wrap tightly with plastic and foil and freeze for up to 6 six weeks ahead of the holidays (thaw before baking).
The day you plan to serve your cornbread casserole, set it out early in the day and let it come to room temperature prior to reheating.
Keep it covered while reheating to ensure you won't have a burnt casserole! I reheated mine for about 30 minutes and ended up with a casserole with the perfect scoopable consistency.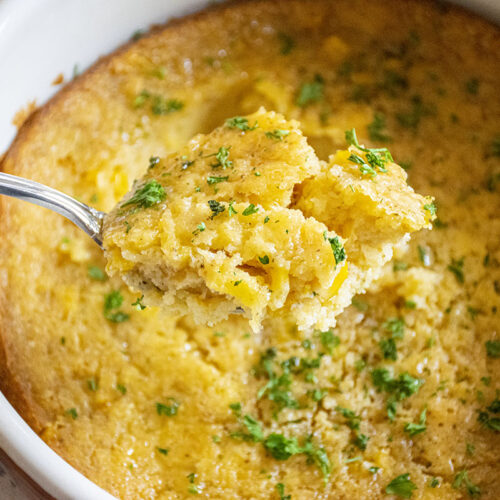 Make-Ahead Corn Casserole
A simple make-ahead cornbread casserole that uses boxed mix for a base.
Instructions
Preheat the oven to 350°F. In a large bowl, whisk together all of the ingredients until a thick batter forms.

Grease a casserole dish with butter or cooking spray. Pour in the batter and spread it to the sides of the dish.

Bake for 60-65 minutes or until the center of the casserole is set. Remove from the oven. Set 30 minutes at room temperature for best results (if serving right away).
FOR 24-48 HOURS IN ADVANCE:
Cool until the casserole is no longer steaming. Cover with foil and chill for up to 2 days. Prior to serving, bring the casserole to room temperature. Reheat at 350°F for 30-40 minutes. Sprinkle on fresh parsley prior to serving.
FOR FREEZING (UP TO 6 WEEKS AHEAD):
Cool to room temperature to prevent condensation from forming on the plastic wrap. Cover tightly in plastic wrap then wrap the entire casserole dish with foil. Freeze for up to 6 weeks. Thaw in the fridge for 24 hours then bring to room temperature prior to reheating. Reheat 350°F for 30-40 minutes. Sprinkle on fresh parsley prior to serving.