Making "PAWPSICLES" from Zootopia
The Starving Chef is supported by Hungry People like you. When you make a purchase through an affiliate link on my site, I may earn a little bit of cash on the side (at no extra cost to you) to help keep my kitchen running. Read our disclosures here.
What's Up, Hungry People
Let's hop to it – it's time to join the Zootopia Police Department to fight crime with Officer Judy Hopps! As the first bunny in the PD, Judy is ready to take on anything… even parking duty.
If you haven't watched Disney's Zootopia yet, do yourself a favor and pop it on your TV right now! The story follows Officer Judy as she attempts to solve the mystery behind missing animals all over the city of Zootopia.
In Zootopia, we witness the unlikely friendship between Nick, a street-smart fox with a quick wit and a penchant for hustling, and Judy, an ambitious and idealistic bunny who aspires to become the first rabbit police officer in the city. Their journey together was not only filled with adventure and mystery but also valuable life lessons about friendship, trust, and breaking stereotypes.
During her quest to write the most parking tickets she can (as meter maid), she meets Nick Wilde and his "son" attempting to purchase a jumbo pop. While the elephant owner initially doesn't want to sell to Nick, a fox, Judy convinces him to sell one to Nick, pointing out the fact the elephant owner is operating his shop with half a dozen health-code violations.
Little does Judy know, Nick and his "son" – who is actually his adult cohort – are actually melting down the jumbo pops and reselling them to hamster accounting firms for a pretty decent profit.
It's quite the little scam they have going – and Judy uses this info to convince Nick to help her crack down on crime in Zootopia.
These "pawpsicles" as Nick sells them as are actually made by refreezing the melted jumbo pops in snowy pawprints – and I have to say, they look pretty dang good.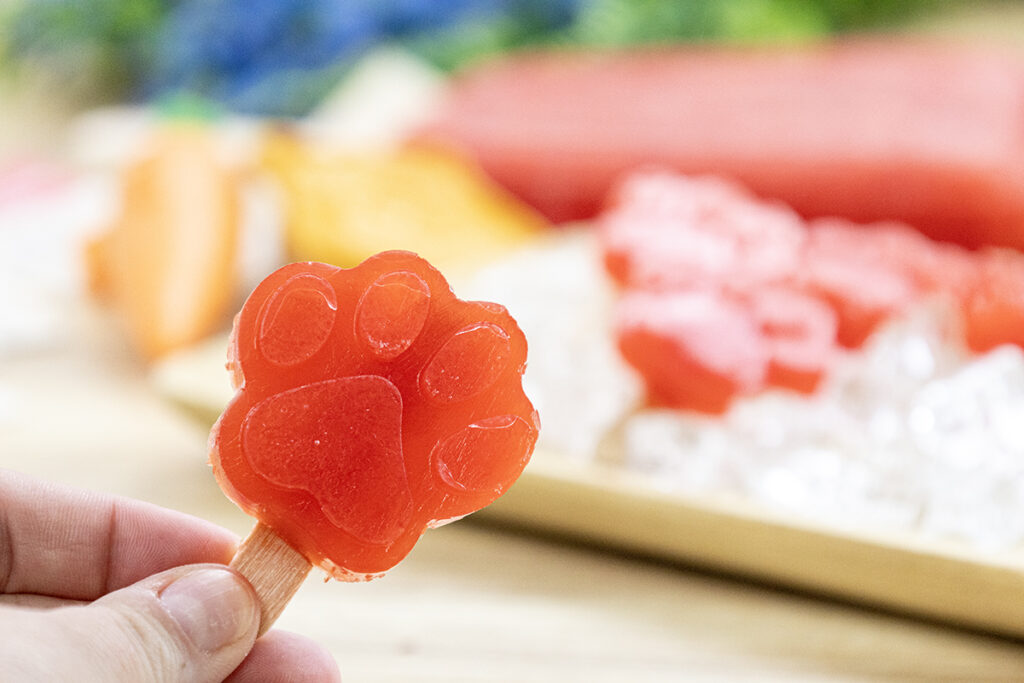 After several requests to make these frozen treats over on TikTok, I knew it was time to make these frosty "pawpsicles" for myself.
Here's What You Need
Cherry flavored gelatin: Provides the base and fruity flavor for the "Pawpsicles."
Corn starch: Gives the ice pops a soft and smooth texture.
Hot water: Melts the gelatin and sugar, creating a flawless base.
Chilled lemonade: Adds a tangy burst of flavor to the "Pawpsicles."
Popsicle sticks: Serve as handles for the paw-shaped ice pops.
Let's Get Started!
If a fox like Nick can make it happen, so can you! Begin by procuring a jumbo pop from a friendly pachyderm, just like Nick did in the movie.
But don't worry if you can't find an elephant to hustle – we've got a backup plan! You can easily make these ice pops from scratch.
Get Your "PAWPSICLES!"
Officer Judy Hopps was never short of resourcefulness, and neither should you be! To make "Pawpsicles" from scratch, combine cherry flavored gelatin with a hint of corn starch in a mixing bowl. The addition of corn starch is the secret to achieving a soft texture.
Just like the harmony between predators and prey in Zootopia, pour one cup of hot water over the gelatin mixture and stir until everything is dissolved. The hot water will melt the gelatin and sugar, creating a smooth and flawless base for your "Pawpsicles."
Tips for Making Homemade Popsicles
Gelatin Consistency: For a firmer texture, use less hot water and more gelatin. Adjust to your preference.
Mixing Corn Starch: Dissolve corn starch thoroughly to avoid lumps in the mixture.
Chilled Lemonade: Ensure the lemonade is properly chilled to maintain the pops' freshness.
Whisking Technique: Whisk the lemonade and gelatin mixture vigorously for even distribution of flavors.
Mold Prep: Grease the paw-shaped molds lightly to facilitate easy removal of the frozen pops.
Smooth Pouring: Pour the liquid mixture into the molds slowly and evenly to prevent spills and air bubbles.
Stick Placement: Insert popsicle sticks carefully into the molds' center to ensure they stay in place during freezing.
Freezing Time: Allow the "Pawpsicles" to freeze for at least 6 hours or overnight for best results.
Removing from Molds: Gently run warm water over the back of the molds to loosen the popsicles before unmolding.
Storage Tips: Keep the "Pawpsicles" in an airtight container in the freezer to prevent freezer burn.
Troubleshooting:
Too Soft: If the "Pawpsicles" are too soft, try adding a bit more gelatin or freeze them longer.
Too Firm: If they are too hard, reduce the amount of gelatin or shorten the freezing time.
Flavor Intensity: Adjust the amount of chilled lemonade to achieve the desired level of tanginess.
Sticking to Molds: If the popsicles stick to the molds, let them sit at room temperature for a few minutes before trying again.
Whether you're a hustler like Nick or as determined as Judy, making "Pawpsicles" will surely leave you with a satisfied smile, just like the characters from Zootopia.
So, gather your ingredients and embark on this culinary adventure inspired by the wonderful world of Zootopia. Don't forget to let me know what other fictional feasts you'd love to recreate in the comments below!
Frozen "PAWPSICLES" from Zootopia
Learn how to make delightful "Pawpsicles" with cherry gelatin, corn starch, chilled lemonade, and popsicle sticks – a tasty tribute to Nick Wilde and Officer Judy from Zootopia.
Equipment
popsicle sticks

pawprint molds

freezer space
Ingredients
1

box

cherry-flavored Jell-O

or favorite Jell-O flavor

1

teaspoon

cornstarch

1

cup

hot water

1

cup

lemonade

chilled
Instructions
In a mixing bowl or cup with a pouring side, mix the Jell-O packet with cornstarch and hot water. Stir until the Jell-O is completely dissolved.

Pour in the chilled lemonade and whisk to combine.

Carefully pour the liquid into the molds. Place a popsicle stick into each mold. If the popsicle sticks are too long, cut them in half.

Freeze for 8-10 hours or until fully set. Just prior to serving, allow the popsicles to sit out for a few minutes to loosen from the molds.

Serve immediately and enjoy your "Pawpsicles"!