Morel Mushroom & Black Truffle Pizza
The Starving Chef is supported by Hungry People like you. When you make a purchase through an affiliate link on my site, I may earn a little bit of cash on the side (at no extra cost to you) to help keep my kitchen running. Read our disclosures here.
A few weeks ago I went hunting for morel mushrooms – and while morel season may be coming to a close, you can still find a few out in the wild if you look real hard.
This pizza is hands down the most expensive pizza I've ever made. With a crust brushed with homemade black truffle butter and topped with morel mushrooms, this whole pizza would probably go for over $100 at a restaurant.
About a year ago my fiance bought me a black truffle as an exotic ingredient to test out in day-to-day cooking. After making recipes like parmesan truffle fries and popcorn, I ended up freezing most of it in the form of butter that I could pull out for special occasions, such as this one.

Morel mushrooms are tricky to find due to their short and delicate growing season. We were lucky to find as many as we did on our foray into the forrest. It's important to soak your morels in salt water for at least 8 hours so that you kill any critters that might hanging out in the nooks and crannies.
Morel mushrooms are different from other mushrooms due to the fact that they are entirely hollow on the inside. while the big ones are the most desired, the smaller ones can taste especially nutty and earthy and add tons of umami flavor.
When it comes to unique pizza flavors, this one takes the cake – er pie. Pizza pie!
It's salty, savory and bursting with umami flavor. Whether or not you make your crust from scratch is up to you; store bought varieties can usually be found in your grocer's deli or even in the frozen section.
Plus, it's probably the most expensive pizza I'll ever eat – with truffles coming in at around $100 dollars an ounce and morels around $90 dollars per pound, if you have enough determination to forage for them in the wild, this pizza is actually practically free.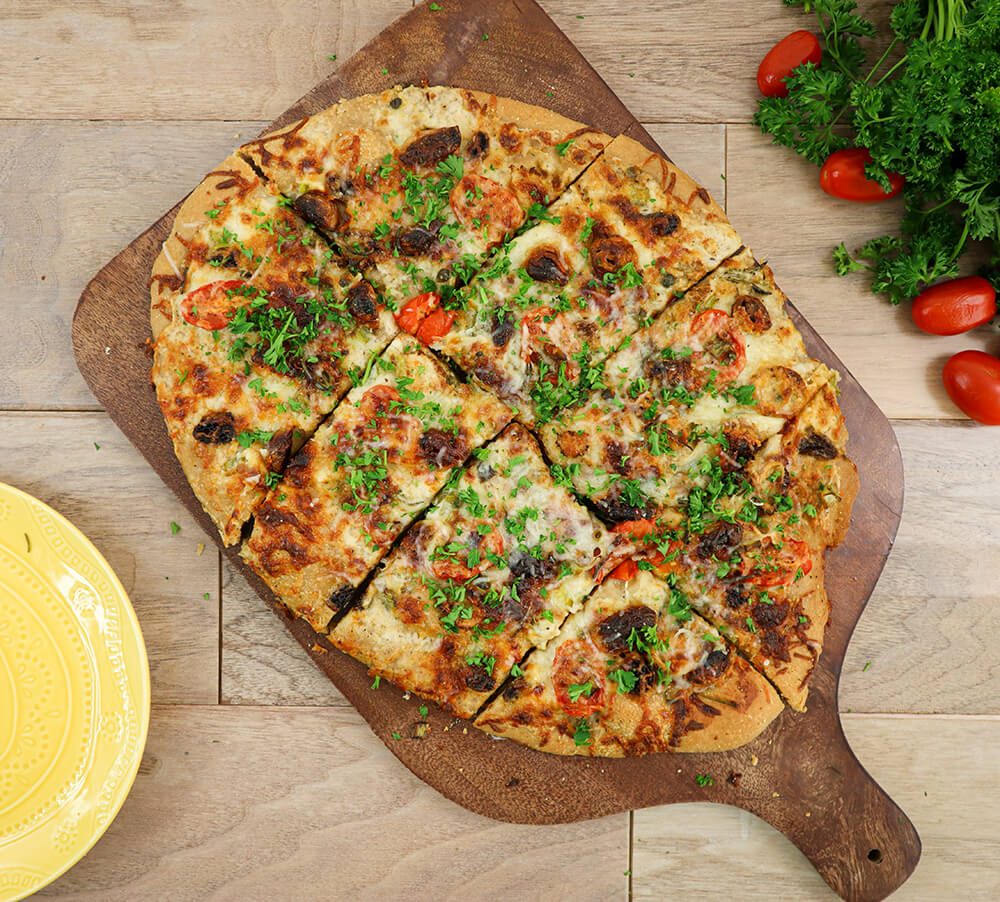 For my crust, I brushed it generously with black truffle butter – but if you don't have your own black truffle butter, can you definitely swap it out for some regular salted butter instead.
Butter truly is the key to a perfect golden brown crust.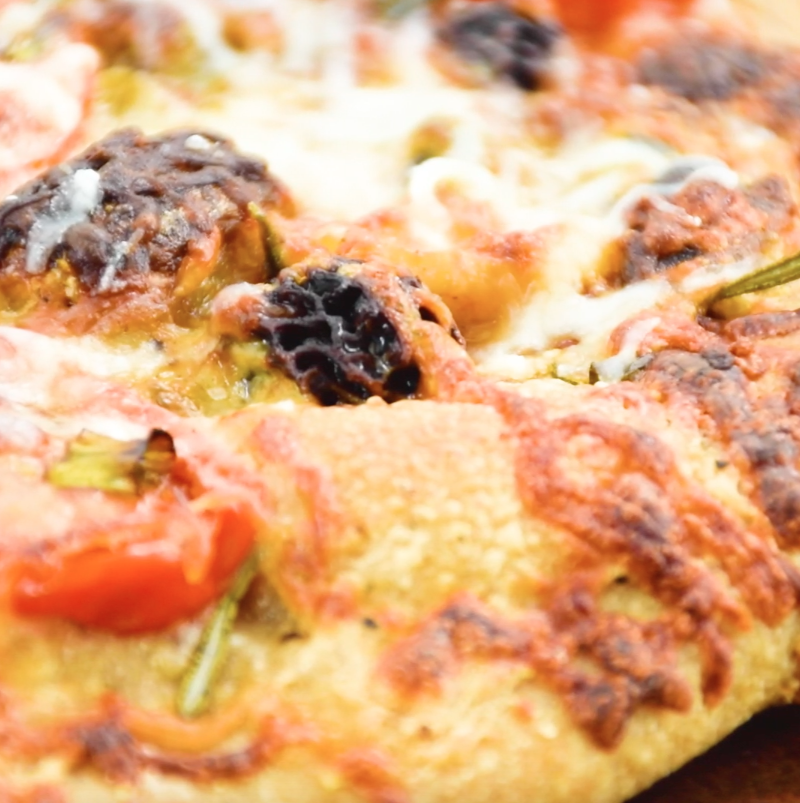 Plus with additions such as slow roasted garlic, cherry tomatoes and capers, each bite is packed full of amazing and unique flavor.
Trust me, once you have a truffle crust pizza, you'll be straight up addicted!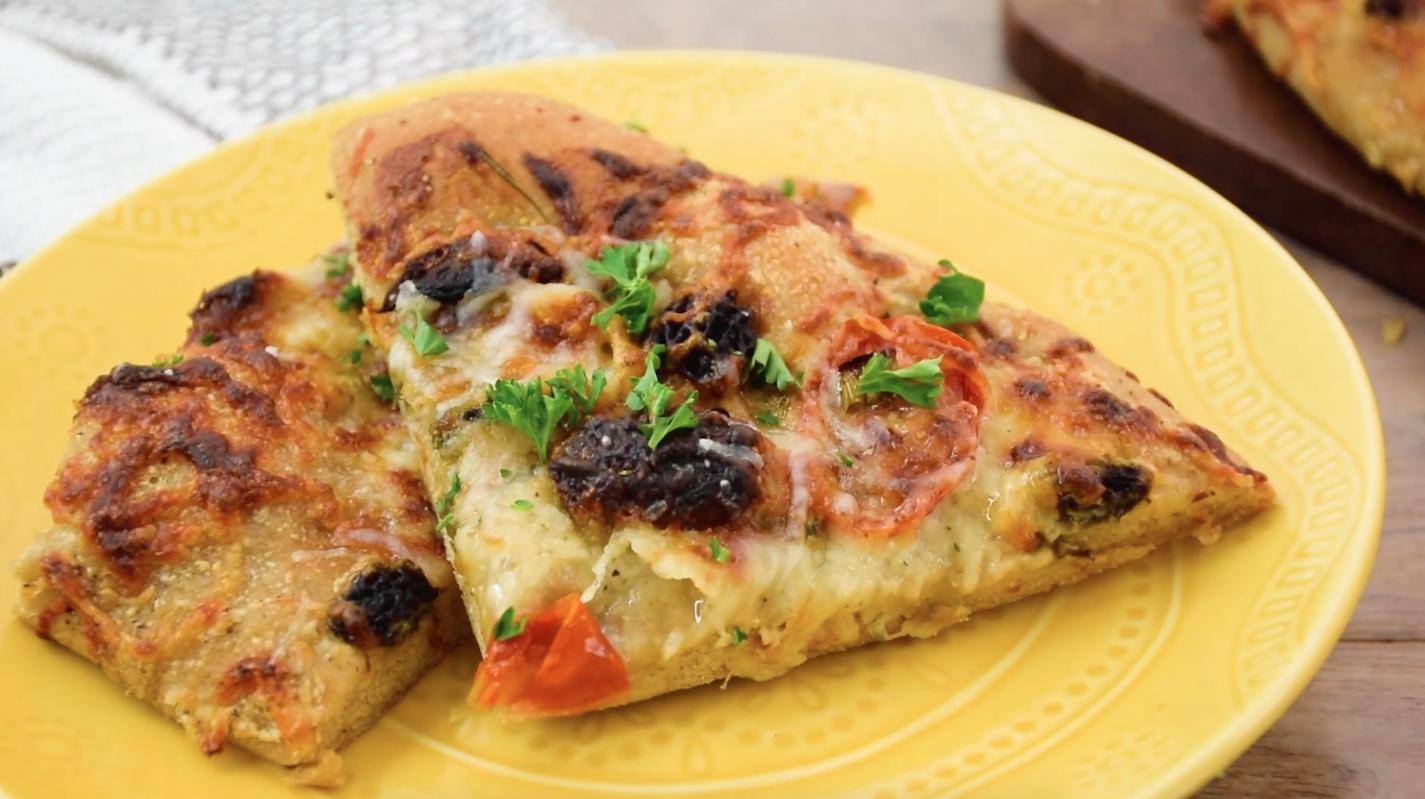 What's the most unusual topping you've ever had on a pizza? Let me know down in the comments! I need to know what I should forage for next.
Morel Mushroom & Black Truffle Pizza
A uniquely flavored pizza – with a black truffle crust and topped with fried morel mushrooms, you'll be left foraging the fridge for more.
Ingredients
16

oz

raw pizza dough

homemade or store bought

2

tablespoons

corn meal

for dusting peel

8

oz

morel mushrooms

cut into rings

¼

cup

black truffle butter

melted

¼

cup

Alfredo sauce

¼

cup

Parmesan cheese

shredded

½

cup

mozzarella cheese

shredded

¼

cup

roasted garlic cloves

4

cherry tomatoes

cut in halves

2

green onion

chopped

2

tablespoons

capers

2

tablespoons

rosemary

¼

teaspoon

pepper

1

tablespoon

olive oil

½

teaspoon

salt

to taste

1

tablespoon

flour

for dusting
Instructions
Prior to cutting morels, soak in a cool saltwater bath for at least 8 hours if fresh picked. This will kill any bugs hidden in the nooks and cranies. Gently rinse and let dry before cutting into rings or long strips.

Preheat the oven to 425 F. If using, place a pizza stone in the oven and let preheat for at least one hour prior to cooking.

Dust a large clean surface with flour. Roll out the pizza crust to be about a half inch thick. Sprinkle the corn meal onto a baking sheet (or onto the pizza stone directly. Assemble the rest of pizza directly on the preheated pizza stone very carefully).

Brush the pizza crust with the melted black truffle butter edges to edge. Then spoon the Alfredo sauce into the center of the pizza dough and spread to the edges – leave about a half inch crust all the way around.

Spread the Parmesan cheese over the pizza followed by about 3/4 of the mozzarella cheese. Arrange the morels, roasted garlic, tomatoes, green onion, capers and rosemary.

Add a generous cracking of fresh peppercorns and sea salt to taste. If there's any remaining truffle butter, drizzle it over the pizza. Drizzle the olive oil over the morels. Sprinkle on the remaining mozzarella cheese.

Bake the pizza for 15-25 minutes, until the pizza crust is puffed up and golden brown. Enjoy