Mrs. Weasley's Bangers & Mash | Harry Potter Inspired Recipes
The Starving Chef is supported by Hungry People like you. When you make a purchase through an affiliate link on my site, I may earn a little bit of cash on the side (at no extra cost to you) to help keep my kitchen running. Read our disclosures here.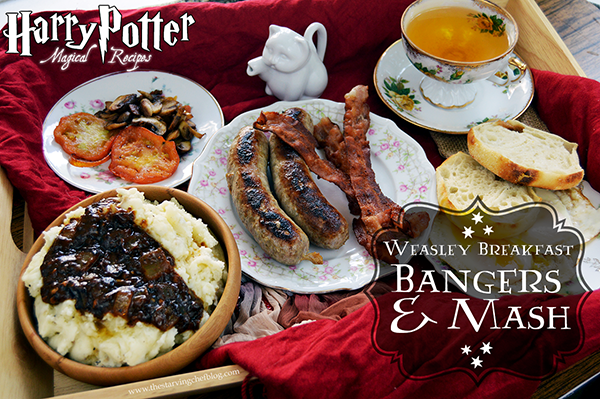 What's up, Hungry Muggles
If there's one thing from the Harry Potter universe that I would give anything to try (except for, you know, doing magic), it would be to eat a meal prepared by Molly Weasley.
(Also just a heads up, there will be mild *SPOILERS* for the Harry Potter series in this recipe.)
Whenever Mrs. Weasley was around, there were sure to be some delicious homemade treats to snack on. Cooking breakfast for her family was a common occurrence throughout the books, and she always made sure to give Harry an extra helping of everything.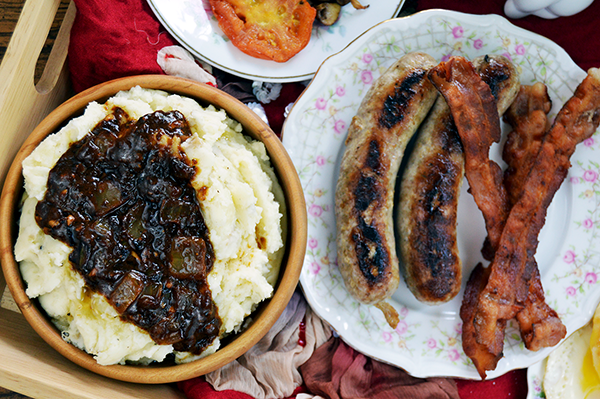 This breakfast was inspired by the second Harry Potter book, Harry Potter and the Chamber of Secrets, when Ron, Fred, and George break Harry free from the Dursleys.
When they arrive back at the Burrow in the middle of the night, the boys are confronted by a wide awake Mrs. Weasley, who scolds her children for stealing their flying car. Molly appears to be conflicted on her feelings towards her sons doing something obviously dangerous and her delight with Harry showing up, and she begins cooking a full breakfast.
Bangers and mash is another traditional English breakfast, but it wouldn't be a Weasley meal without copious amounts of other delicious breakfast foods served alongside.
Here's What You'll Need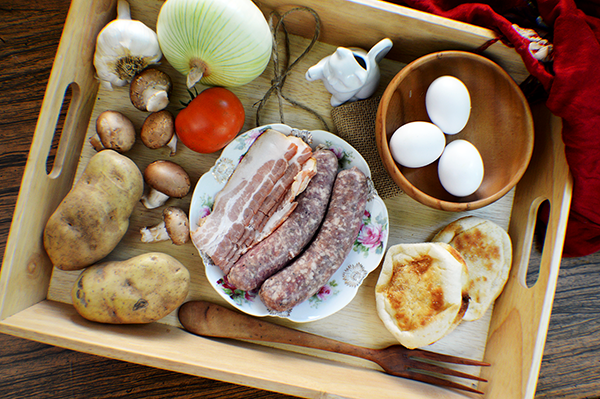 FOR MASH:
russet potatoes: Boiled and mashed to create a fluffy and creamy texture.
butter: Adds richness and flavor to the mashed potatoes.
milk: Helps achieve the desired consistency of the mashed potatoes.
heavy cream: Provides extra creaminess to the mashed potatoes.
FOR GRAVY:
sweet onion: Chopped and cooked to create a flavorful base for the gravy.
butter: Used for sautéing the onions and adding richness to the gravy.
flour: Thickens the gravy and gives it a smooth texture.
white wine: Adds a subtle depth of flavor to the gravy.
beef broth or stock: Provides savory flavor and liquid for the gravy.
FOR SAUSAGES:
spicy sausages: Cooked separately and served as a savory protein component.
sweet sausages: Cooked separately and complement the spicy sausages with their slightly milder flavor.
FOR SIDES:
bacon: Fried until crispy and served as a savory side dish.
fried tomatoes: Adds a tangy and juicy element to the meal.
sautéed onions: Enhances the flavor profile and complements the other components.
English muffins: Toasted and served as a bread option.
fried eggs: Cooked sunny-side-up, provides a delicious and protein-rich addition to the breakfast feast.
Let's Get Started
Let's start by chopping the potatoes into cubes and covering them with a few inches of water in a large pot. Bring the pot to a boil for about 15 minutes or until the potatoes are tender and fall apart when speared by a fork. Drain the potatoes and toss them into the bowl attachment for a stand mixer.
While the potatoes are cooking, let's prepare the onion gravy. Chop up the onions and add them to a hot pan with a few tablespoons of butter. Stir the onions frequently, taking care not to let them brown too much, as they should "melt" into the gravy rather than become crispy.
Continue to stir the onions and add in the flour, making sure to scrape up any brown bits. Add the remaining 2 tablespoons of butter.
Now, let's deglaze the pan with a tablespoon of white wine, then add the beef broth. Crank up the heat to a rolling boil for a few minutes before turning down the heat and allowing the gravy to reduce until it reaches a nice and thick consistency.
While the gravy is thickening up, let's start cooking the sausages. Add them to a skillet with an inch or so of water. Cover and let the sausages steam for several minutes without touching them.
Once the water has evaporated, add a tablespoon of butter to the pan and flip the sausages to brown them.
Keep an eye on the sausages as you make the mash. Use the stand mixer to beat the potatoes into a mash, then add the cream, butter, and milk until the potatoes reach the desired consistency. I personally prefer mine a little lumpy.
Just be sure not to add too much milk or cream, or else your potatoes will turn out soupy and not…mashy.
When your sausages are nearly done, start frying the bacon in a separate pan until it's crispy. You can use the leftover bacon grease to sauté any additional veggies you like. I chose to use some leftover mushrooms and tomato slices from my garden. In the same pan, cook some eggs, sunny side up (or scrambled, if that's how you prefer them!). Finally, toast some bread or English muffins.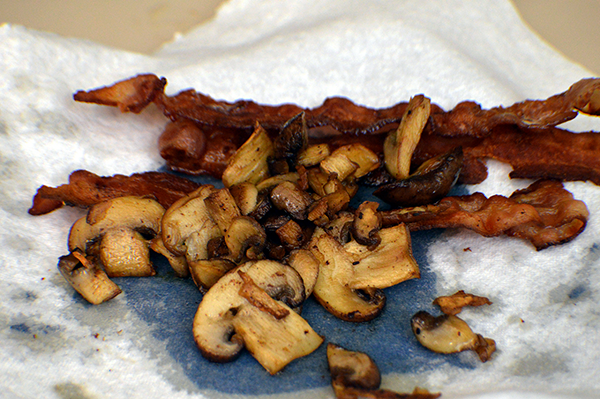 Helpful Hints & Tricks
Additional Tips:
Thoroughly drain boiled potatoes for creamy mashed potatoes.
Simmer sausages in water before browning in a skillet for moist and well-browned results.
Use a cornstarch or flour slurry to thicken gravy if it becomes too thin.
Experiment with different sausages or add herbs and spices to customize the flavors.
Prepare mashed potatoes and gravy ahead of time and reheat gently before serving.
Troubleshooting Advice:
Use a potato ricer or masher for smoother mashed potatoes, or pass them through a sieve.
Adjust gravy thickness by gradually adding more broth or stock.
Ensure a hot skillet and add more butter to prevent sausages from sticking.
Preheat the skillet adequately and avoid overcrowding when cooking bacon for crispy results.
Serve up the bangers and mash alongside the rest of your breakfast goodies and enjoy with a nice cup of tea and cream.
This meal would have made Molly Weasley proud, especially when shared with your family of redheads and friends.
Mrs. Weasley's Bangers & Mash | Harry Potter Inspired Recipes
A heartwarming breakfast inspired by the culinary prowess of the beloved Mrs. Weasley, featuring succulent sausages, velvety mashed potatoes, and a delightful onion gravy.
Ingredients
FOR MASH:
4

russet potatoes

4

tablespoons

butter

1

tablespoon

milk

1

tablespoon

heavy cream
FOR GRAVY:
1

cup

sweet onion

chopped

4

tablespoons

butter

separated into 2 tablespoons

2

tablespoons

flour

1

tablespoon

white wine

¼

cup

beef broth or stock
FOR SAUSAGES:
2-4

spicy sausages

2-3

sweet sausages
FOR SIDES:
10

slices

bacon

fried tomatoes

sauted onions

English muffins

fried eggs
Instructions
Wash and chop the potatoes. Cover them with an inch of water in a large pot, then bring to a boil for 15 minutes.

Chop the onions and add them to a pan with 2 tablespoons of butter. Stir frequently to avoid any sides browning too much. Cook for about 10 minutes.

Drain the potatoes when they are easily broken apart with a fork. Add them to a bowl attachment on a stand mixer.

Use another skillet to prepare the sausages. Start by cooking the sausages in a ½ inch of water while covered. When the water has evaporated, add a tablespoon of butter and flip the sausages every few minutes to brown evenly on all sides.

Add the flour and the remaining 2 tablespoons of butter to the onions, and scrape up any browned bits. Pour in the white wine to deglaze the pan, followed by the beef broth. Bring to a rolling boil for 2-3 minutes before reducing the heat to let the gravy thicken. Stir occasionally.

Beat the potatoes in the stand mixer while adding the butter, milk, and cream.

Serve alongside bacon, fried tomatoes, sautéed onions, English muffins, and sunny-side-up eggs. Nothing brings family together like food – not even magic! Enjoy!